A matter of protocol
Numerous HP ProLiant servers run the Adobe Media Server software among the corridors of content-crunching rack gear. Those four feeds actually get doubled, so that there are four bit rates in HDS [laptops and PCs] and four bit rates in HLS [iOS]. And the job isn't done yet, as Keith Wigmore highlights.
"One more thing about the Adobe Media Server, is that it applies the Adobe Access DRM to the streams," he says. "Each packet is scrambled using AES 128-bit encryption and then the proprietary Adobe Access is used to add viewing policies and make sure nobody can gain access to the decryption key."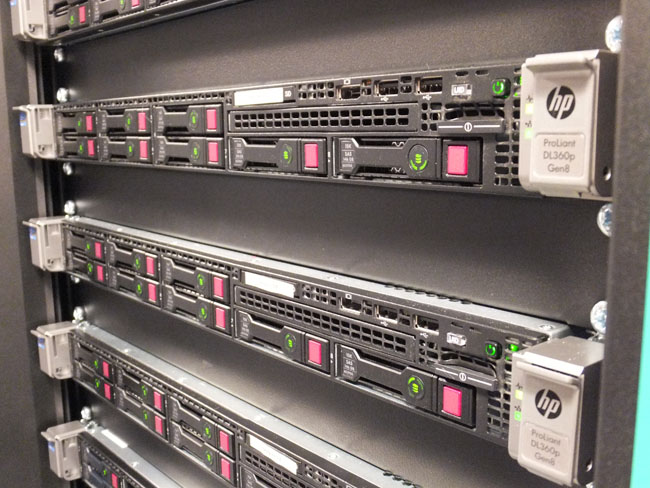 MS IIS Smooth Streaming servers running on HP ProLiant hardware
Pointing to another rack of HP Proliant servers running Microsoft applications labelled "IIS Smooth Streaming Main", he continues. "For Android, what we do here is to take those Harmonic Promedia streams and turn them into a Smooth Streaming Protocol and use the PlayReady DRM.
"In order to support Android-based devices as well, we have to make sure that the video bit rates and resolutions work for a wide range of devices. The testing was very complicated as we had to be sure that making changes to improve performance on one popular Android model, didn't ruin other devices as well."
Needless to say, Virgin Media has a list of supported devices which is steadily growing, and it has recently announced support for Amazon Kindle Fire tablets (based on Android). TV Anywhere is certainly not a one-size-fits-all platform and testing also has to be robust enough to support the different software versions out there too. Hennessy is all too aware of the effort involved.
"Steve Jobs once said that adaptive bit rate delivery techniques are 95 per cent similar but 100 per cent incompatible. Indeed, this is one of the reasons why there are so many challenges around DRM and standards. However, technologies like MPEG-DASH (Dynamic Adaptive Streaming over HTTP) will make a difference to that in the long run.
"As for devices, to reflect on a broader debate in the industry, some would argue that Android platforms are fairly good at video, whereas the Apple iOS platforms are very good at video. With Android, having so many versions and device types, it's quite a challenge – you've really got to do a lot of testing to try and get your delivery right. Customers don't care whether it's you or the device they bought, they just want it to work. So this has been one of the more challenging areas."
Running Microsoft PlayReady servers also provides the opportunity to feed Xbox gaming consoles too, but for now with this platform the focus is on Android. Naturally, there are caching servers for both the Adobe Access HDS/HLS and Microsoft PlayReady Smooth Streaming outputs, again these are running on HP kit.
The caches at the Central Headend are like a gateway to a hierarchy of caching systems that extend across the distribution network, which can include drawing upon the resources of the ubiquitous Akamai. Requesting IP content from a customer owned device such as tablet sets off a chain of activity that Hennessy describes.
Cache on delivery
"Let's say you're the first person to select a new piece of content on the Disney Channel on your Apple device. As it's the very first time this content has been called for, the Akamai server request will come all the way back to the source of the content (typically equipment at the Central Headend) to feed that request. However, the next time somebody else chooses that same piece of content, the Akamai CDN (Content Distribution Network) will deliver it straight from its own edge servers, closer to that customer, because that content has already been called on once and cached.
"The modern platform we're planning to roll out is much more about hierarchical storage, caching and streaming. This is very different to the traditional DVB-C VoD distribution network that demands we have dozens of regional implementations each with the same copy of all the video assets, the same streamers, navigation folders and session controllers.
"It's all about quality and transport versus server infrastructure economics. You don't want a million streams coming from your central headend, you want them distributed out both for cost efficiency and optimised video delivery performance to the customer. This is one way of using a hierarchical CDN to make sure you're efficient in the way you consume shared network capacity on 10Gb and 100Gb pipes."
Microsoft Smooth Streaming Server delivers to PC and Android devices
So far the emphasis has been on what's distributed from the Central Headend and beyond. However, the speed with which a command can be executed at the touch of a button or the tap of a touchscreen has its own story. Although the delivery of Virgin Media's VoD and broadcast TV services (over DVB-C) share the same cable as the IP content, they each take up different proportions of the spectrum available on the HFC (Hybrid Fibre-Coaxial) network.
Similar topics
Narrower topics