This article is more than 1 year old
Fujitsu flasher pleases data-intensive divas – SPC-1 benchmark
Cheap storage array IOPS and lots of them
If you need cheap storage array IOPS and lots of them, Fujitsu's DX600 S3 array can deliver those goods – at least according to an SPC-1 benchmark.
The Storage Performance Council (SPC) is an industry group dedicated to producing objective and vendor-neutral benchmarks to enable meaningful performance comparisons to be made between arrays. Its SPC-1 test simulates business-critical applications processing many complex transactions.
According to the tests, Fujitsu's ETERNUS DX600 S3 array trounced mid-range array competition in the sheer IOPS stakes, recording 320,206.35, and coming second to a 3PAR 7400 with its $1.54/IOPS cost - based on list pricing. The HP number was $0.58, though the difference might well be lost once street and/or bid pricing gets to work.
The DX600 S3 was fitted with 18TB of flash, that's 45 x 400GB MLC SSDs, and you can check out the config details here. We stuck them in a spreadsheet along with others and graphed 'em: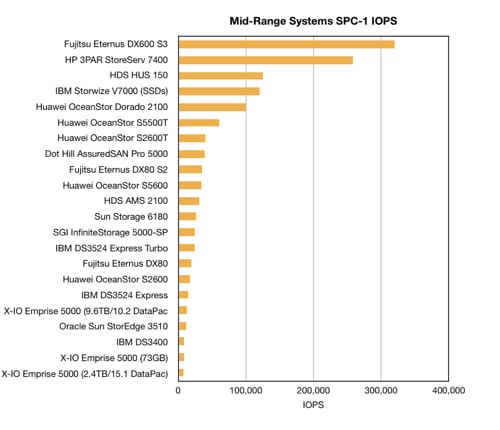 Mid-range storage array SPC-1 IOPS
What this chart doesn't show is that the average response time of the DX600 S3 at 100 per cent load was 0.61 millisecs. The 3PAR 7400's equivalent number was 0.86 – the DX600 S3 is fast.
Interestingly, although the DX600 S3 came eleventh in the overall SPC-1 rankings, it was number 1 in average response time at the 100 per cent load level – being the fastest-ever responding box in the SPC-1 lists we maintain.
Here is the cost/IOPS chart: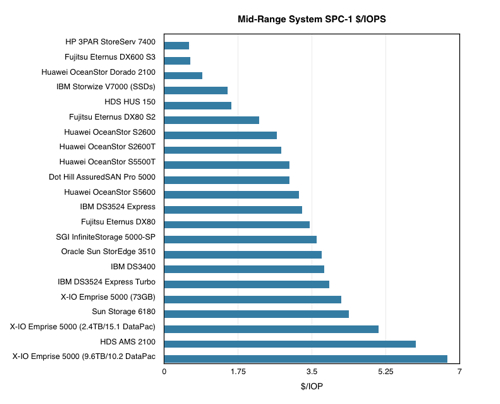 Mid-range storage array SPC-1 $/IOPS
The "net net" of the result is that all-flash systems fly on SPC-1 benchmark runs and disk-based systems haven't a prayer of competing in the IOPS and $/IOPS comparisons.
The DX600 S3 can support a mix of disks and SSDs, so Fujitsu classes it as a hybrid array. Get the all-flash version if you want a mid-range storage racehorse. ®