This article is more than 1 year old
LG takes on Nokia X, Moto G: These are the cheapie 'droids you've been looking for
Though Fino and Bella do sound like cartoon characters
Nokia's X and Motorola's G now have two new rivals to compete for the reals, pesos and quetzals as LG targets emerging markets with landfill Androids.
The New LG L Fino and L Bello, to be launched at IFA in Berlin, will go on sale in South America first but will also be launched in Europe, Asia, and CIS soon after. The budget 3G phones bring the LG G3 user interface down to a lower price.
They may not have the outstanding screen of the 1440x2560-pixel G3 but they are still pretty impressive for budget phones. Quite how impressive we won't know until LG reveals prices, but specs for the bottom end are creeping up.
The L Fino has a 1.2GHz Quad-Core CPU, 4.5-inch WVGA IPS (800 x 480) which works out to 207ppi display, 8MP camera at the back and VGA at the front. The (removable) battery is rated at 1,900mAh and it runs Android 4.4.2 KitKat. The phone is quite thick for its size at 127.5 x 67.9 x 11.9mm.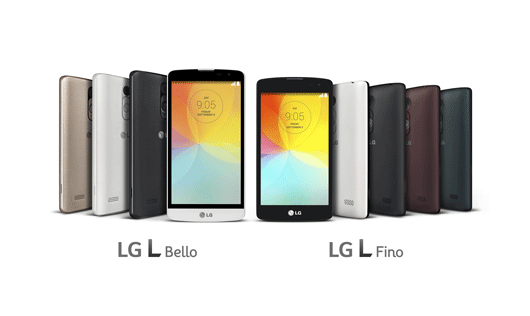 The bigger but thinner (138.2 x 70.6 x 10.7mm ) L Bella has a 1.3GHz Quad-Core CPU, 5.0-inch FWVGA IPS 854x480 pixel or 196ppi display and similarly an 8MP camera, although this time the front facer is upgrade to 1mpixel. The battery is bigger too at 2540mAh.
There are some neat camera functions for selfie lover, with a tap-to-focus Gesture Shot where you open and close a hand in front of the lens to start a three-second countdown before triggering the shutter, which can be combined with a front camera light that reduces the size of the preview screen and adds a bright white background for softer lighting in "selfie mode".
The phone has LG's Knock Code and QuickCircleTM Case gives easy access to frequently used functions such as calling, text messaging, music and camera all from the window without opening the cover.
It's interesting to note that the new LG phones don't have NFC, which is often touted as being such a low-cost option it should be in everything. It may be the case that these phones in the very toughest part of the market need every cent shaved off the bill of materials. Or it may be that LG has twigged that consumers just don't use it. ®