Special Report Check out the Register's interactive mobile coverage Monopoly map (voice only for now) right here.
While all the sexy stuff these days in mobile phones is web, apps and tweeting, voice calls are still the major thing people use mobile phones for. The Register and mobile network survey experts GWS took to the London streets to find out which network is best.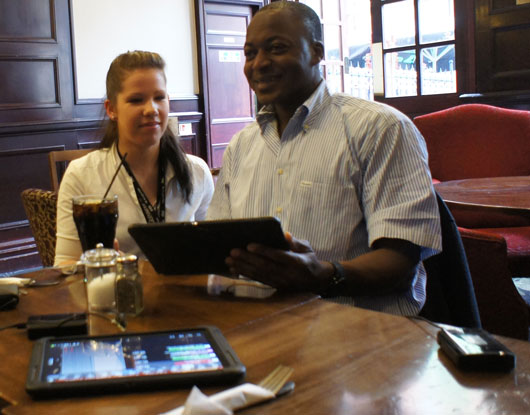 Drissa Coulibaly, GWS Operations Director explains DC-HSPA to the barmaid
The Register and Global Wireless Solutions Inc, aka GWS spent the last week of May and the first week of June testing the mobile phone networks around London. You can read more about how, why and where here.
Voice and Packet Data testing was conducted in tandem. Our backpacks contained both voice test devices as well as two data test devices per operator (3G and 4G). We'll get on to the data in a later article so for now it's the voice.
We'll cut to the chase with the "which one is best". The Winner was Vodafone by a hair over O2 with Three in third place just nudging ahead of EE in fourth place. Our magnificent Monopoly coverage map - for voice only, data will come at the weekend - is here.
Voice testing focused on 3G network predominantly, with fallback to 2G at the network decision level. While for our data testing we separated out technologies, for voice we used what the network chose to give us and tested that.
For the testing we looked at Accessibility (being able to make a call), Retainability (being able to keep the call active to completion) and Quality (the clarity of the call). Accessibility and Retainability were weighted 50/50 into a Reliability score and the Quality was used separately as another ranking factor.
If we had only looked at the reliability scores we would have had a dead heat between O2 and Vodafone for first place and between Three and EE for third place. Only by using voice quality - where Three came top, there was a dead heat between EE and Vodafone for second place and where O2 came last - were we able to produce a meaningful separation of the networks' performance.
To measure quality we looked at the signal to noise ratio of Ec/Io, and although we didn't factor it into the rankings we also looked at how often the call dropped back to 2G. What we did do when a call dropped to GSM was use a metric called RxQual to derive the voice quality so our measurement of what sounded best is a blend of the data.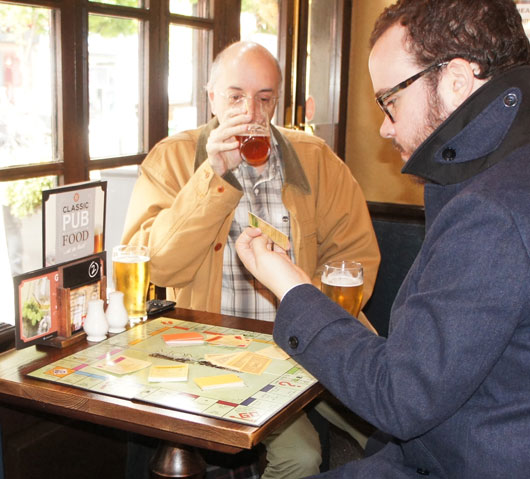 Jasper and Simon look for something to do while Drissa and Fabrice are out testing Oxford Street
The 28 test locations represent places on the Monopoly board, so we had hoped to get a second tier of winners for the colour groups of Purple, Brown, Pink, Green, Blue, Orange, Red and Yellow. We also looked at the London stations. Eagle-eyed readers will spot that we didn't include Fenchurch Street. This is a reflection of our rigour: we tested Fenchurch, but when we looked at the data we found a number of anomalies in the set and as we want all our testing to be something we can stand behind it was dropped from the mix.
The Water Works we used was at Chelsea, The Electricity company was represented by Battersea power station and we took readings around Pentonville jail. We did try rolling three doubles in the hope of getting sent inside but that didn't work.
The results when analysed meant that with reliability mostly in the high 90 per cent range it's too close to call a winner. The worst reliability was O2 at Pentonville Jail at 91 per cent but that was with a low number of calls – 23 on O2 and 89 across the four networks.
Similar topics