Weekend reads to tickle your intellectual palate: From Nazis to Invisibility
Is the Martin Amis magic back or still resting?
---
Page File El Reg's avid bookworm Mark Diston chews his way through some of the latest releases from the publishing world.
The Zone of Interest
Martin Amis is now 66 years old and has a literary career stretching back more than four decades, yet somehow the reputation of enfant terrible still clings to him.
There must be many like myself, who, impressed by the style and wit of such works as Money, London Fields and Time's Arrow, wished that Amis would attempt something with a little more substance than the deft farces of modern England which seem to slip with uncanny ease from his pen.
The Zone of Interest is a brave attempt at just that. The zone in question is Auschwitz in 1942. The novel is narrated by three characters: Angelus Thomsen, a German officer and nephew of Martin Bormann; Paul Doll, the camp commandant; and Szmul, a Jewish Sonderkommando.
The main storyline is based around a vague ménage à trois between the commandant, his wife and Thomsen, which dithers around, seemingly unable to deliver a satisfying conclusion for the characters or the reader.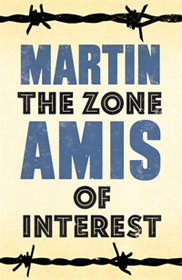 The novel has a strange, understated style. The German officers talk to each other like Sergeant Wilson to Captain Mainwaring: "That was a very silly idea... invading Russia." While gazing towards the crematoria chimneys: "An unsympathetic observer... might find all this rather reprehensible".
Amis still has a few memorable one-liners up his sleeve, such as describing the commandant's eyes as "gruesome whelks beneath his brows."
Yet overall the novel is underwhelming on many levels. The multiple narrators add nothing but confusion to the story. While the novel is full of German phraseology, the characters can't help giving the impression of English ham actors playing a part. Some of the Anglicisms ring fairly true, such as the Waffen SS officer who says: "The Jew needed taking down a peg or two... but this is fucking ridiculous."
One can even grant Amis some poetic license when he describes Der Stürmer as "a wank mag". But when German officers start quoting W.H. Auden, credibility is stretched beyond breaking point – and the commandant referring to himself as "muggins" just sounds plain wrong.
There is a curious continuity error at one point when the commandant is prescribed chlorpromazine, which wasn't even tested until five years after the war ended. But these are small points: the main problem with this book is that nothing of great consequence happens to the main protagonists until we reach the "aftermath" section and discover their respective fates as footnotes.
It would seem that Martin Amis has chosen this grim wartime scenario to give the novel added gravitas. His strength is a broad and sweeping style, which deals adequately with the protagonists' histories and eventual destinies, but struggles with the here and now of characters and a plot, who do little and go nowhere. Amis, like most other writers, doesn't have that rare ability of a Beckett, Proust or Murakami to dissect minutiae and wring some interest from them. The end result is a story that is flat and unappealing.
Alas, The Zone of Interest is a misnomer – this is a dull soap opera set in a cartoon Reich, a kind of 'Allo 'Allo meets Salon Kitty without even the low wit of the former or the camp eroticism of the latter. It is probably the worst of Amis' novels that I have read and alongside his bizarre Stalin biog Koba The Dread; I can only recommend it to the completist.
If you haven't read any Amis, try the titles I mentioned in the first paragraph, particularly Time's Arrow, where Amis – borrowing a plot line from Philip K. Dick's Counter-Clock World – does the Holocaust in reverse, in a much more successful manner.
His autobiography is a good read too, recalling his father and murdered cousin, giving palpable proof that he can deliver more than the quaint English comedies of class and manners of which he is a consummate master. Still, if he is capable of more substantial work, The Zone Of Interest certainly isn't it.
I am reminded of a passage from his 2010 novel The Pregnant Widow where he says: "The world has bad taste... it goes for the obvious... the superficial". Martin Amis has made a successful career pandering to those characteristics and it is to his credit that he hasn't given us another Money or Lionel Asbo. Yet despite the conspicuous shortcomings of The Zone Of Interest, I still can't help thinking he has a classic novel in him.

Author
Martin Amis
Title
The Zone of Interest
Publisher
Jonathan Cape
Price
£18.99 (Hardback)
More info
Publication web site