Vulture at the Wheel Ford has announced its first car with dynamic LED headlights, which apparently provide as much light as Xenon bulbs – and last for the lifetime of the vehicle.
Because LEDs are very much smaller than traditional bulbs, they can affect the whole design of the front end of a car. Ford is trumpeting the freedom it gives them in design; headlights are often seen as the "eyes" in the "face" of a car, so The Register asked Ford: "With LED lights will future cars go a bit squinty like an Alfa SZ?" We were told: "You already can find that today and we will see a democratization of the LED technology in all segments down to Sub B in the coming years."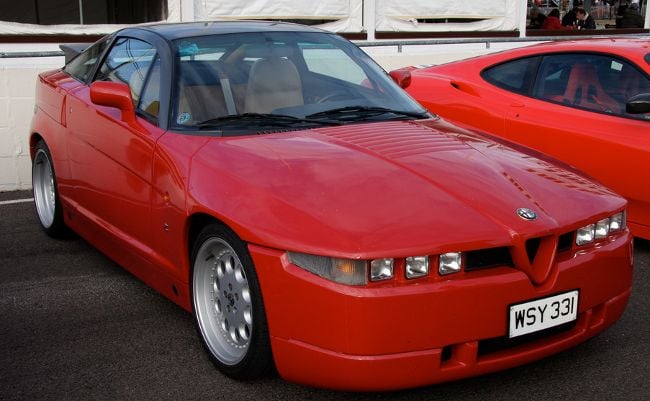 That squinty-eyed Alfa Romeo SZ in full
So expect future Fords to go squinty at the front. Ford says this is a good thing. Chief designer Chris Hamilton said: "For the new Mondeo we really wanted to exaggerate the slimness of the headlights, and LED technology allowed us to do that. That wouldn't have been possible with a traditional halogen reflector".
LEDs are so small they offer designers much more flexibility than traditional bulbs when sculpting a car's headlights, which can help to break up the corners of a vehicle and make it more streamlined. "Slim headlamps can make a vehicle's exterior appear more determined and aggressive," said Paul Wraith, Ford design manager. "They help give the appropriate sense of presence and purpose."
Because of their small diameter, the diodes can be arranged in patterns and controlled individually for special lighting effects, like a series of orange indicator lights that flash in sequence.
It's also possible to dim LEDs, as Ford lighting engineer Andre Baetz told us. "It should be the main goal of a headlamp to provide the right amount of light according to the driving situation. If this requires dimming the lamps, it can be an advantage. The challenge is not to make headlights dim-able but to recognise the situation when it makes sense to dim the lamps. For example, less light is better suited in the bad weather conditions such as fog or rain."
YouTube video of the new Ford Mondeo with the LED headlamps. Footage clearly shows the yellow indicator LEDs flashing in sequence, rather than all at once as current bulbs do.
He went on to explain that there are other things LEDs can do that makes them a good idea. "[In] lighting, the objective is always to provide enough light to drivers at any possible situations for safety and comfortable driving without negatively affecting other drivers or pedestrians.
"The LED technology gives better possibilities to distinguish more in shape, colour and amount of light, which can be well recognised by other drivers and pedestrians."
Because LEDs are low-powered items, we might see a return to parking lights – which, in Baetz's words, is a good thing. "[Having your] parking lights on at night gave [us] a good reason to use LEDs for the position light / park functionality. LEDs enable a long-lasting lighting function at reduced power consumption."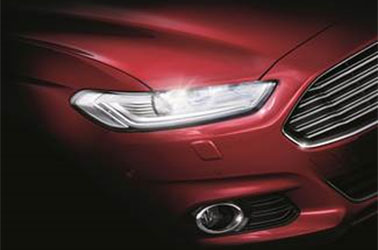 As the LED headlights produce considerably less heat than old-fashioned lamps, plastic internal lenses and components can be used, which are more easily moulded to match the designers' wishes. However, LEDs are very sensitive to heat.
High Power LEDs produce heat on a very small area, so dealing with the heat density is the challenge, so Ford has fitted fans to its new headlights. There is a temperature monitoring system within the headlight units which decides whether the fan needs to be switched on. Fortunately, headlights are generally used at night, when it's cooler, but Ford is confident you can use its LED headlamps while stuck in traffic jams in 45˚ Celsius heat – all this, presumably, during the night.
There are some electrical changes necessary to support LEDs. While halogen bulbs act like a resistor and Xenon lamps need a high ignition voltage, LEDs demand a very precise current supply.
To illustrate how ground-breaking the new Ford lamps are, the company has put together an infographic of lighting milestones yet somehow manages to miss out all the other cars which have LED lights, such as the new Volkswagen e-Golf. ®