Opinion It's that time of year again, when Apple's annual iPhone launch is looming and the mobile chattersphere becomes entirely dominated again by one handset maker.
In 2007 and 2008, that was completely justified. Since then, there have been progressively fewer reasons to define the whole smartphone sector by Apple.
New models have been increasingly non-creative (and not just since the death of Steve Jobs), while Apple remains the second largest smartphone vendor, but with its share falling. Most importantly, the benchmarks are increasingly being set by new arrivals on the scene. As market growth shifts to China, India and other huge Asian countries, it is logical that the expectations of those user bases, in terms of pricing and user experience, should start to drive the market.
Of course Apple will remain significant, and if it can pull off a genuinely innovative iPhone – after three generations of failing to do so – it will start to claw back share from Samsung. But that duel, like that of Motorola/Nokia before it, will give way to the battles of other star players. Soon it will be more important to see whether Apple can gain at the expense of Lenovo, Xiaomi and Huawei than its traditional arch-rival.
Forget London and New York: look to the East
The two giants have enjoyed a period of relative calm after the battle which saw off most of the established handset rivals, relegating HTC and Sony to single-digit share and pushing Nokia and Motorola into the hands of acquirers. Now they need to defend themselves against the new wave of challengers, and the deciding factors will not be the same ones which traditionally obsess critics of the iPhone launches.
Pricing, personalisation, a strong focus on cloud services and streamed content – all these are important worldwide, but particularly in the growth markets of Asia, and these are the areas where Apple, with its uniform and carefully managed user experience and apps base, is weakest.
But the "iPhone 6", and the anticipated "iWatch" will generate vast acres of coverage, more than the combined launches of all the Chinese vendors in 2014, even though they will increasingly be setting the new goalposts for an existing Apple base rather than the market at large. To assure sustained growth in key markets like China, Apple needs to rewrite the rules as it did in 2007, in a way that appeals to the users in the new mobile economies – not just delight its traditional bases.
Next iPhone — anticipation and pressure
The urgency of that requirement is often masked by the fact Apple is so skilled at delighting its existing customers, and because, as a darling of the US stock market, it will always receive greater attention than a non-US company (Nokia used to make the same complaint about the US analysts' parochial obsession with Motorola).
The danger of underestimating Apple's challenges is greater this autumn than at any time during the past year, when there has been rising investor unease about the perceived lack of innovation, and the falling market share in some areas. As a result, Apple's stock price has disappointed recently, at least by its usual high standards, and a new mood of caution has set in.
But US watchers need little excuse to be optimistic about their favourite stock, and the share price has bounced back on expectation of new iPhones and the iWatch, whose launches are presumed to be taking place on September 9.
The firm's share price closed at an all-time high on Tuesday, up 1.4 per cent to $100.53, beating its previous 2012 record, just before the iPhone 5 shipped.
Apple's value rose sevenfold after the debut of the first iPhone in 2007, but it then fell by one-third after the launch of the iPhone 5S and 5C. However, analysts are back on message now, and are predicting record sales for new models this year, despite the rising competition from Chinese brands.
Activist investor Carl Icahn, according to Bloomberg, is convinced that Apple is undervalued. He has recently pushed the company to buy back more of its stock, and he tweeted this week: "All my chips still on the table and in fact increased position over past year."
This puts huge pressure on Cook and his team to deliver far more than a larger-screened iPhone and a smartwatch – both catch-up moves, despite the excitement they are generating, not innovations. While it is natural for Wall Street analysts to focus on US players, industry analysts and reviewers need to take a broader view, and indeed, the investors must be aware of the threats which will, slowly but surely, erode Apple's position, and therefore its stock price, over time. Apple needs to deliver a convincing strategy for growth, and make key decisions about where that will come from.
Three aspects are particularly important:
whether Apple should try to play seriously in the low end smartphone market in order to drive volumes (the iPhone 5C does not count as a serious low cost strategy);
how it can address the move to the cloud in a way that generates new revenues and profits and maintains a distinctive user experience;
and how far new growth will come from iPhones, and how far from new product categories.
Dilemma 1: Premium pricing vs volume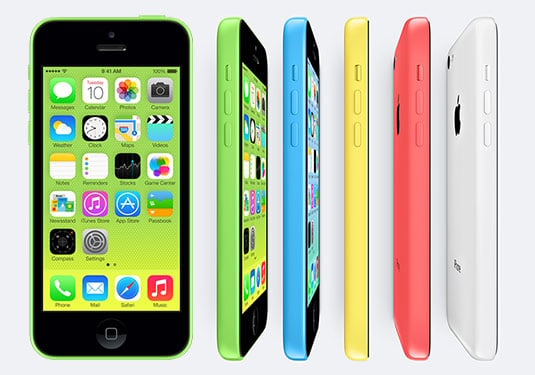 No Apple, the 5C doesn't count as a "budget" offering
On the first issue, the dilemma of balancing Apple's premium brand and pricing against the shift of growth towards entry level smartphones has been present for two years or more. It has not been convincingly addressed. The iPhone 5C was an attempt, but the device largely fell between two camps – not cheap enough to compete with Xiaomi, but a compromise compared to the full iPhone 5S. Indeed, for those wanting a really affordable iPhone, a better solution has often been for carriers to continue to sell the older models such as the 5 or 4S. But for Apple, these are less effective at driving consumer uptake of new services such as Siri.
Apple either needs to remain a premium-only brand and accept a falling market share – a position more like that of the Mac versus PC – or come up with something more compelling for the low end.
The most recent market figures demonstrate the dilemma clearly. According to IDC, the second quarter saw the smartphone segment crossing the 300 million-unit barrier for the first time (with 301.3 million shipped, up 25.3 per cent year-on-year), but while Android's growth out-paced that figure at 33.3 per cent, Apple's was only 12.7 per cent, which was not enough to avert market share slippage, down by 1.3 percentage points.