VMware's MARVIN emerges as 'EVO' for branch offices and web-scale rigs
Converged infrastructure appliance made by Dell, Fujitsu and EMC. Yes, EMC
VMworld 2014 VMware has confirmed its long-suspected move into converged infrastructure hardware by announcing "EVO:RAIL", a new " hyper-converged infrastructure appliance" the company says "is the first solution in a family" of such offerings.
EVO:RAIL will be a 2U, four-node, bundle of compute and storage hardware, plus vSphere, VSAN, vCenter Log Insight and something new called the "EVO: RAIL engine". It's not clear exactly what the engine does, but The Reg understands it's a super-simple configuration and management tool. VMware is certainly talking up speed of implementation as EVO:RAIL's chief virtue, asserting that with its partners it is "bringing the simplicity of consumer appliances to the world of enterprise infrastructure."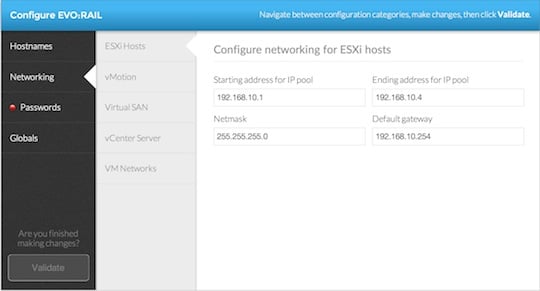 EVO:RAIL's HTML 5 interface. VMware's not calling it a wizard,
is happier describing it as a preference-setting panel
The partner list is fascinating because the second one mentioned is EMC, which is of course a storage company and lacks an obvious piece of hardware capable of fitting the 2U/4 node recipe. We're working from a pre-release canned statement for this yarn, so will update as and when EMC tells us about its contribution to EVO:RAIL.
Dell, EMC, Fujitsu, Inspur, NetOne and Supermicro are also aboard. All, plus EMC, will offer something with at least the following specs:
Two Intel E5-2620 v2 six-core CPUs
192GB of memory
One SLC SATADOM or SAS HDD as the ESXi boot device
Three SAS 10K RPM 1.2TB HDD for the VMware Virtual SAN datastore
One 400GB MLC enterprise-grade SSD for read/write cache
One Virtual SAN-certified pass-through disk controller
Two 10GbE NIC ports (configured for either 10GBase-T or SFP connections)
One 1GbE IPMI port for remote (out-of-band) management
The appliance is being pitched at mid-market and branch office environments and is said to be capable of delivering about 250 virtual desktops or 100 virtual machines. Management comes from the on-board vSphere or a bigger vSphere rig in a data centre somewhere. The appliance can also be hooked up to VMware's Air public cloud to make a hybrid rig.
VMware says this version of EVO:RAIL can scale to 16 nodes and that new appliances will automatically be discovered and integrated into the rig. There's mention of future versions of the product scaling higher.
One extra version already revealed is EVO:RACK, a cut of the product that runs on Open Compute hardware designs and therefore seemingly destined for web-scale operators. VMware has announced it has joined the Open Compute Foundation as a gold member, so is clearly serious about getting into the web-scale caper.
Partners will price their own EVO:RAIL boxen and The Reg's virtualization desk expects announcements about just what's inside a node, and what they cost, to flow not long after the VMworld 2014 keynote concludes at about 11:00 Pacific Time on August 25th. ®