VMworld 2014 Atlantis reckons it can make servers fly faster than anybody else when running virtual desktops. All you need is its USX software and SanDisk flash DIMMs running in an x86 server, an IBM xSeries one in this case.
Combine all that and you get Atlantis's first all-flash, server-based hyper-converged architecture.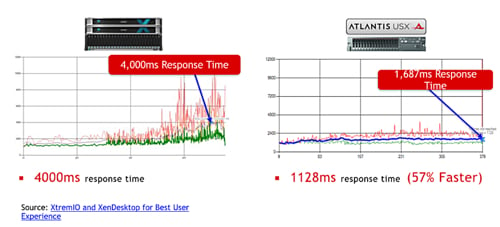 Click chart to enlarge it
Atlantis has compared a server using EMC's XtremIO all-flash storage and Xen Desktop with its xSeries-ULLtraDIMM-USX setup, and claims the xSeries box is 57 per cent faster in terms of VDI response time, we're told.
It also compared its xSeries-ULLtraDIMM setup against a Nutanix appliance running Citrix XenDesktop on Microsoft's Hyper-V, saying its setup can run 126 desktops per server – more than Nutanix's 100. It also has a 50 per cent faster response time.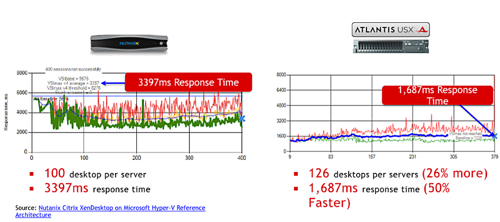 Click chart to enlarge it
The xSeries setup involved a minimum of three servers with combinations of eXFlash ULLtraDIMMs, PCIe flash cards, flash drives and SAS disks, plus 10GbitE networking and USX 2.0.
Just like Pernix is positioning itself as the ultimate ESXi caching software tool, Atlantis is saying USX is the single best VM-accelerating storage software tool because it runs as an abstraction layer over any and all storage, including VSAN, and uses both flash, if it is present, and memory to accelerate IOs.
Storage, it says, is software, and we run it faster than anyone else.
See it at the Atlantis-SanDisk demo at VMworld in San Francisco, California, this week. ®