Former smartphone giant BlackBerry has another trick up its sleeve for its comeback, alongside the oddest looking phone in recent years. The Passport is expected to be unveiled next month, along with an intriguing bit of software, the as-yet-unannounced BlackBerry Blend.
Part of the forthcoming 10.3 BB10 release, Blend "casts" messaging and Personal Information Manager (PIM) onto a local screen, such as a PC Mac or a tablet, using the BlackBerry device as a secure communications gateway. It's a cross between Palm Desktop and Nokia's Lifeblog software, but looks very well thought out, and is designed to appeal to consumers as well as BlackBerry's core enterprise customers. Blend also appears to be a replacement for media transfer, which is not a strong point of the current BlackBerry Link suite.
Here's a peek at the latest, spotted in a video bundled with a recent leak of a 10.3 OS beta release.
The glimpses we've seen so far don't fully explain the mechanics. Will BlackBerry Blend pull all of its information from the mobile device (over Wi-Fi or Bluetooth) over a secure point-to-point connection? Or will it pull it from the 'net, using the rather higher bandwidth typically available to a PC or Mac? There are advantages and disadvantages to both approaches – and once we see the software, we'll see the reasoning.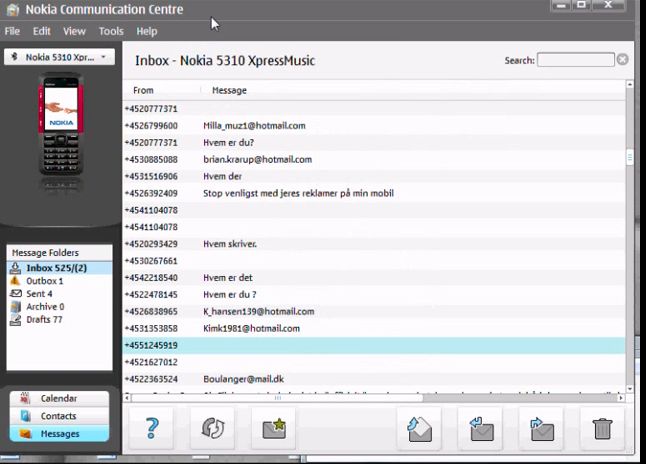 Nokia Suite, er... Communications Centre, from 2009
What's odd and interesting is that this was doable in the 1990s, long before smartphones and Bluetooth, over infrared software using third-party applications for Psion and Palm handhelds. But nobody has thought to do it since. Nokia's Suite allowed you to read and send SMS messages, but Nokia never developed the Suite into a rich PIM and messaging hub.
Perhaps this was out of a fear of offending its partners, or Nokia reasoned that corporate users were wedded to Outlook, and a Palm Desktop would simply get in the way. (I've heard both accounts; both Symbian and Nokia considered it at various times).
Today, PCs and Macs don't come with an integrated PIM, and Outlook is overkill for most users, and painfully sub-optimal for handling IMAP messages. Perhaps Blend is in with a shout – if it works well.
BlackBerry has (quite rightly) clamped down on leaks and has yet to mention Blend in any public statement. We shouldn't have to wait long to see it in action. ®