This article is more than 1 year old
LG pokes G3 Stylus at Samsung's Galaxy Note
Want more? You'll have to wait for IFA
The mobile phone company once known as "Lucky Goldstar" has taken a trip back into the past and will launch a phablet with a stylus at German phonefest IFA.
The G3 Stylus may have the same name as the wonderful G3 phone, but despite having a similarly sized screen at 5.5 inches, it's a significantly lower specification. Notably, the screen resolution is 960 x 540 (200ppi) as opposed to its sibling's 1,440 x 2,560 (an astonishing 534ppi). The new device has a 1.3 GHz Quad-Core CPU, 8GB memory, plus a MicroSD slot, 13Mp camera at the back and 1.3Mp at the front, a removable 3,000mAh battery and doesn't have any 4G support.
With specs like these, it seems silly to use the G3 moniker. We can expect the device to be cheap but it will need to be capable of taking on the Samsung Galaxy Note 3 Neo, which is falling down the price curve and which has more memory, has support for 4G and better screen resolution. Like the new LG, the Samsung's Galaxy Note 3 Neo has a a stylus.
The G3 Stylus has a similar raft of camera features to the recently announced Fino and Bella phones: that is to say tap-to-focus Gesture Shot, where you open and close a hand in front of the lens to start a three-second countdown before triggering the shutter, which can be combined with a front camera light that reduces the size of the preview screen and adds a bright white background for softer lighting in "selfie mode".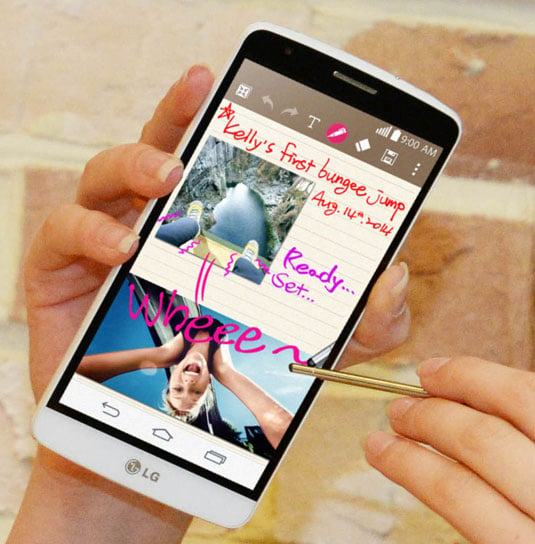 In keeping with the budget positioning and like the Fino and Bella, the G3 stylus will launch in Latin America – Brazil first – before it arrives in Asia, the Middle East and Africa, and CIS.
In the obligatory canned quote, Dr Jong-seok Park, president and CEO of the LG Electronics Mobile Communications Company, said: "The LG G3 Stylus is the perfect tool for consumers who don't want to be bogged down carrying a laptop, tablet and smartphone. It gets things done and lets you have fun while doing without having to compromise on quality, style or user experience."
Someone ought to ask him about "getting bogged down carrying a smartphone".