This article is more than 1 year old
Our LOHAN spaceplane ballocket Kickstarter climbs through £8000
Through 25 per cent but more is needed: Get your UNIQUE rewards!
Our Low Orbit Helium Assisted Navigator (LOHAN) Kickstarter campaign got off to a flying start over the weekend, attracting 160 backers who pledged a total of £6,000 toward the New Mexico launch of the Vulture 2 spaceplane.
So inspiring was this first flush of support that our plucky Playmonaut and apprentice Special Projects Bureau boffin Katarina were keen to hit the streets on Sunday to do their bit for the cause: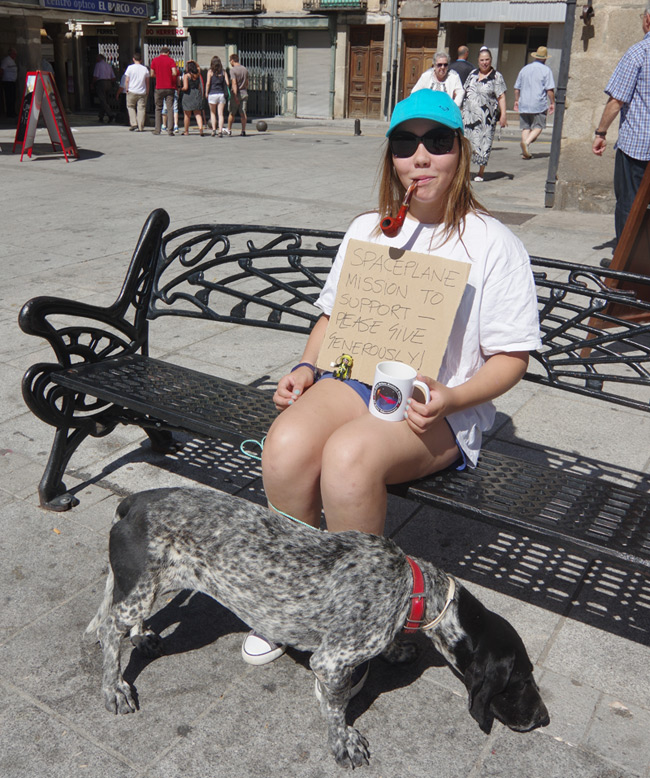 Sadly, pickings were a bit slim, despite the proper tin-rattling accessories of hand-crafted sign, custom collection receptacle and obligatory dog on string. Having the sign in English probably had something to do with it.
No matter, every little helps and we ask readers to get themselves down to Kickstarter and grab a bit of merchandise. You'll have to be quick if you want one of our engraved beer tankards. We've got 100 on order and over half of them have already been snapped up.
For those of you not up to speed on why we're having to shift the launch to the US of A - Spaceport America to be precise - it's because some smarmy Spanish bureaucrat put the kibosh on us importing the required motor reloads for the Vulture 2. You can read the gory details here.
So, we need you support to get ourselves and our kit across the Pond. A couple have people have suggested that £30k is a bit steep, but by the time we've paid the cost of producing the Kickstarter rewards and stumped Kickstarter fees, we'll actually be left with just enough to pay Spaceport America, fly the team and equipment over and do the job on a bare-bones budget basis.
So, a beer-fuelled jolly this most certainly isn't. Furthermore, we'll be working with Colorado-based Edge Research Laboratory, whose members have volunteered to assist with the launch, so we're grateful to them for helping to keep costs down.
We're working on some new Kickstarter rewards for the end of the week, including a quite sensational "attend the launch in person" package. If you've enjoyed the epic LOHAN saga over the past four years, prise open your wallet and chip in a few quid, and help us finally get the Vulture 2 in the air. ®
---
More from the lovely LOHAN:
---