Logitech G19s

For a gamer, one of the joys of mechanical keyboards is their lack of rigidity, but the G19's membrane made the keys far too stiff for my liking. Typically, Logitech products exude quality but for such a hefty price tag, I expect the kind of flexible feeling from keystrokes that the Mad Catz S.T.R.I.K.E 7 manages.
The unbelievably huge cord and need for mains power means this keyboard could be quite inconvenient if I want to show it off at a LAN party. Once plugged in though, the LCD screen, internal memory and customisable backlight are bound to impress and provoke envy all round.
Evidently Logitech still has what it takes to astonish. Who would have thought I could monitor my in-game stats and even watch a movie on a keyboard? Easy to use software, six-key rollover, backlighting and multi-media keys make this a top of the range gaming keyboard that just needs more development to truly come close to replicating the feeling of mechanical keys.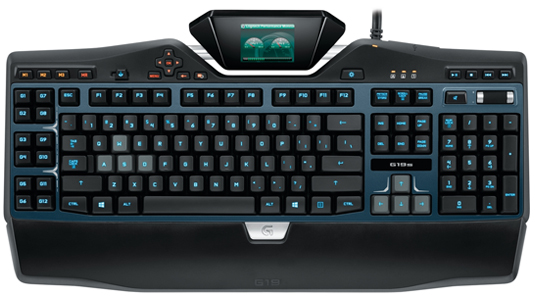 Logitech G502
Logitech products last forever and that's why I'm a diehard fan because it makes them worth the substantial asking price. There may be more innovative and visually exciting options out there, but if I want to be sure I'm not going to have to replace my mouse for the next five years, I find Logitech is a safe bet.
I was surprised how small this mouse was, but due to ridges on the sides it is extremely easy to grip. The G502's sensor is impressively exact, there's no hardware acceleration across all DPI settings and the braided cable is light, smooth and remarkably flexible. The large scroll wheel feels great and has a dual mode – the middle click is much more defined as are each of the side scroll buttons.
All the other buttons give great tactile feedback and seem to require the perfect amount of pressure to operate. The super simple artisan Logitech Gaming Software configures most aspects of the mouse and DPI/Profile lights automatically turn off unless I am adjusting the settings. Adjustable weights are now accessed from a nifty new magnetic door.