Mad Catz S.T.R.I.K.E 7

The nifty scorpion background image on the STRIKE 7's screen makes me come over all Transformers: Age of Extinction. What a beast and definitely the Grimlock of this round-up. The STRIKE 7 was surprisingly easy to set up – even the firmware update only took a second to install. Possibly the greatest strength of any gaming keyboard is the ability to customise. The STRIKE 7 wins hands down at this, as it is completely modular and I have total control over its layout.
There are five hardware components: the main keyboard, an LCD touchscreen, a number pad, a function strip with programmable keys and various palm and wrist supports. The components look and feel very spaced out but this doesn't stop the STRIKE 7 being easy to use and sufficiently sturdy and ergonomic. The touchscreen interface is extremely handy – not just for gaming but for changing music, controlling volume levels and opening applications very quickly.
This being a non-mechanical keyboard, I was impressed by the fact that Mad Catz appears to have managed the near-impossible by making a membrane layer that's astoundingly thin but imposingly robust and still somehow gives the keys a close to mechanical feel. It also comes with a unique screwdriver for the keyboard and a key removal tool, a nice little extra feature for OCD key-cleaning types. Extra macro keys are a big bonus for those who like to program commands to a single button.
This isn't a cheap keyboard but out of all the keyboards reviewed using the S.T.R.I.K.E 7, it seemed most obvious where my money was going and this keyboard made itself a permanent home on my desk. All hail the rubber dome!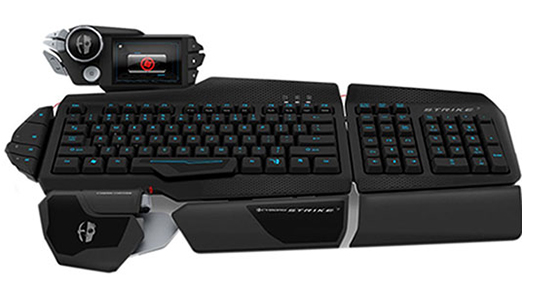 Mad Catz R.A.T TE
So my faithful R.A.T. 7 has gone a bit grey round the edges from my grubby paws and looking for a replacement I am reminded how much of a sucker I am for Mad Catz's unique aesthetic. The R.A.T. TE, the latest progeny of the RAT series, comes sporting lightweight material construction and an 8200 DPI laser sensor, and what a whippersnapper it is.
The R.A.T. TE is very lightweight compared to the Logitech G502 and its hollow ergonomic design is perfect for claw grip gaming. This is also complemented by its low height and boxy shape. I'm still not used to the lack of palm support when using my R.A.T. 7, but I do enjoy the relative freedom it gives my fingers.
The thumb buttons are particularly useful for macro customisation and paired with the intuitive A.P.P. mouse customisation software interface, it's a cinch to modify settings. If you're a fan of Mad Catz, the unique blue and black identity for the R.A.T. TE and its relatively sensible pricing makes this new edition a must-have.