Roccat Ryos MK Pro

Managing to develop a mechanical keyboard that is comfortable and has enough customisation for the most discerning of gamers is no small feat. Roccat's first venture into mechanical keyboards functions flawlessly and with four key switch styles available and individually back lit keys, it manages to be flexible enough to almost but not completely justify the lofty price.
A healthy blue glow gives the Ryos a Sci-Fi aesthetic, as does the big and hefty and slightly boxy Volvo-like casing, but it comes across as sturdy rather than nasty. Just like the Razer Black Widow stealth, the MX Brown switches feel great and have me skeptical about the historical superiority of MX Black keys for gaming keyboards. My only quibble was being unable to configure on the fly, instead having to implement configuration functions from the setup utility.
EasyShift[+] and ROCCAT Talk are nice additions and integrated USB and Audio ports mean connecting my other peripherals is a cinch. I'm impressed by Roccat's commitment to developing and innovating gaming peripherals and have to admit I can't wait to have a play with the keyboard/mouse pad combo that is the Roccat Sova.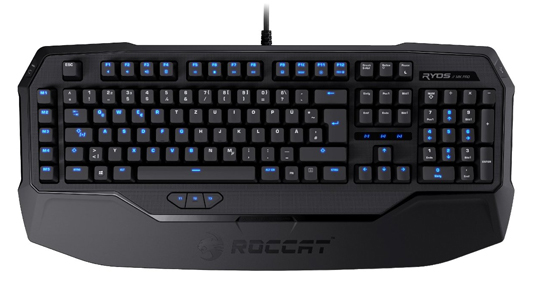 Roccat Kone XTD
So the Tyon wasn't available for me to review at time of writing, which is a shame because it looks like an awesome mouse. Still, the Roccat Kone XTD with an 8200 DPI laser sensor has enough customisation on board to keep me busy in the meantime.
Becoming accustomed to the layout and using the Easy-Shift[+] button and software takes some commitment, but all the programming and fiddling is ultimately worth the edge it gives me. The soft plastic coating that gives it an awesome texture and super comfy full hand support is embedded with a striking array of multicolour LEDS that change with whichever profile is active.
It's good stuff but bear in mind this mouse is for right-handers only, with no south paw support. For the hefty price tag there's also space for four five gram weights in the undercarriage this is a solid gaming mouse but just like the Razer Blackwidow Stealth keyboard, it's a questionable upgrade.