SteelSeries Apex

SteelSeries has a subtle but impressive design style and the non-mechanical Apex looks very alluring with its super bling strip lighting around its exterior. There are 20 programmable keys for skills and utilities and valuable raised dots on the W key, which are particularly are very convenient as they prevent my finger from straying during a 3am session.
It's a super quick and very responsive keyboard. The keys feel secure and well made and the key colour isn't purely for decorative purposes either. The keys are split into five independent zones and each zone's colouring can be configured using the Apex software.
This enormous keyboard has a monster space bar to suit gaming that works out quite well, as do the additional arrow keys (and strangely diagonal keys), helpfully included. At half the price of most of the keyboards reviewed, I'm definitely impressed.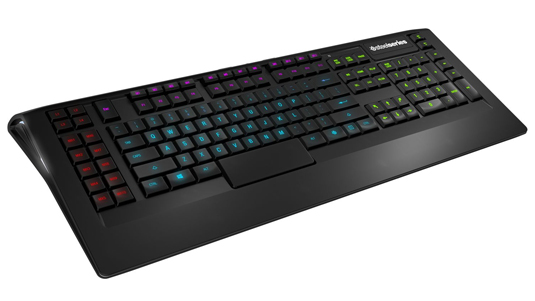 SteelSeries Sensei Wireless
I really like this wireless ambidextrous symmetrical mouse but when folks moan and groan about laying down £70 for the all important rodent, I have to take stock and ponder whether the Sensei can justify being over twice that price tag. Having an LCD screen on the base to access saved profiles is impressive, as is the notable polling rate of 1000Hz which helps to reduce input lag – but it's not £150 impressive. Also, the inability to adjust the shape or weight of this wireless symmetrical mouse raises questions too.
That said, it is astonishingly comfortable and beautifully designed. This mouse glides across any surface and during my tests put in a battery life of around 17 hours before a recharge, although the maker claims 20 hours – close enough.
The software displays a lot of information but manages to be clear and concise with actions of the buttons and choice of colours along with a host of other settings. If you're keen on customisation, the following should keep you busy: CPI programming, battery saver settings, sleep timer, acceleration and deceleration sensitivity, lift distance, angle snapping and, finally, the polling rate.
The solid charging dock weighs a ton and acts as the wireless receiver. This combination seems like it could have been better thought out, as it makes the unit as whole quite hard to lug about. A strangely compelling gaming mouse but ludicrous in price and portability. ®