A mix of 3D printing, medical imaging and software which joins the two together is helping reduce the length of time taken to complete certain complex operations.
Today, 12 National Health Service (NHS) hospitals are supported in the validation of patient surgery prior to an operation with models made by Stratasys 3D printers produced by UK medical 3D printing specialist Replica 3DM.
By printing a 3D model of the parts of the patient the surgery team is about to operate on, the doctor or doctors can practise the procedure ahead of the operation and ensure that anything which has to be fitted marries up neatly. With an accurate 3D model, the surgeon can have a better idea of what is going in inside the patient than can be gained by simply looking at a screen.
Originally established as a 3D modelling department of Salisbury District Hospital, Replica 3DM has since extended its medical 3D printing capabilities to NHS hospitals across the UK, primarily offering its services to Trusts that do not have in-house access to 3D printers. The Stratasys printers Objet24 and Objet30 Pro 3D Printers are hugely expensive and the cost can only be amortised over a number of hospitals.
How it works
The doctor sends a standard DICOM file, which is produced by MRI or CT scanning of the patient, to Replica3DM – where it is converted to a file format which can be used for 3D modelling, such as STL using one of a number of programs, typically the Brazilian PD software InVesalius. The model is then cleaned up on-screen to remove artefacts from the scanning process such as scatter using another host of applications including Blender.
When Replica3DM has a good virtual model, the company quotes a printing cost to the doctor. Given the expert time, the capital equipment and the material cost this is likely to be far from inexpensive but then hospital theatre time is horribly expensive too.
Assuming the doctor gives the go-ahead, the 3D model is printed in hard white plastic and dispatched. The service typically takes around five days.
The physical 3D printed models that are used as surgical guides to test implants for size and fit pre-surgery. This includes re-bending of titanium implant plates to the patient's exact specifications and preoperative investigations across maxillofacial, orthopaedics, neurology, spinal and ears, nose and throat wards, to identify the correct procedure and improve outcome.
The company also produces a number of cranioplasty models in which the unaffected side of the patient's face is mirrored to produce a 3D printed reconstruction prior to the fitting and placement of a titanium plate.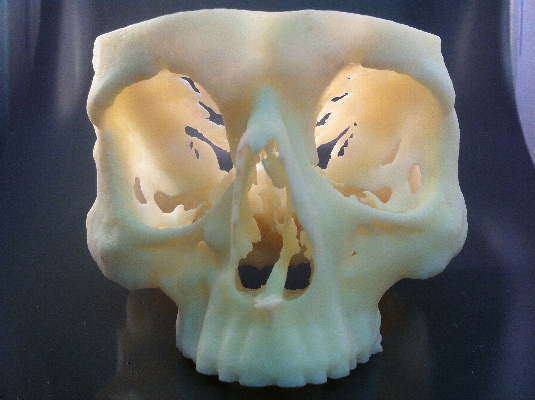 Make your own spare parts
"To us, 3D printing and the medical profession go hand-in-hand, particularly in the planning of complicated procedures," explains Matthew Sherry, MD and founder of Replica 3DM. "A 3D model equips surgeons with a hands-on perspective which cannot be achieved by looking at a computer screen. They can easily rotate, inspect and analyse each surgical procedure on a case-by-case basis, enabling them to pre-bend implants knowing that they will perfectly fit the patient.
"This is instrumental in eliminating potential problems during operations and can be used as a visual aid when explaining the surgical procedure to patients."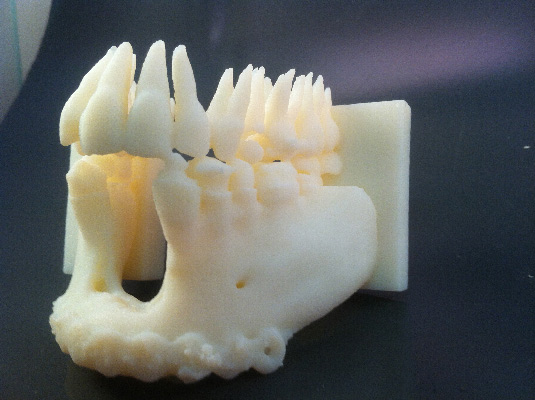 Interestingly, mandibles are the part most requested from Replica3DM
According to Sherry, the ability to use 3D printed models to pre-bend titanium implants has reduced surgery time significantly.
"In the past, surgeons would depend on surgical experience to fit the plates during surgery. This could not only be quite costly, it may also crucially require longer patient anaesthesia times," he explains. "As demonstrated in a recent maxillofacial procedure at Salisbury District Hospital, the ability to pre-bend the titanium plate prior to surgery enabled surgeons to secure the perfect custom fit. This reduced the number of incisions required and overall theatre time, directly impacting the quality of patient care.
The company doesn't currently produce models from ultrasound, but, we wonder, if the technology was used to produce 3D models from the scans of unborn babies would that be a cool advance on the printout on the mantelpiece or would it be just that little bit creepy? ®