Hybrid array vendor Nimble Storage saw revenues grow strongly as storage giant incumbents were unable to deliver equivalent price/performance products.
Revenues were $53.8m for its second quarter, ended, an 89 per cent increase year-on-year and beating its own guidance of $49m to $51m.
There was a net loss of -$26.1m, 149 per cent deeper than a year ago, meaning losses are increasing faster than sales revenue. But it was smaller than the Street's estimate.
Nimble CEO Suresh Vasudevan's canned quote was pretty enthusiastic: "We added a record 663 new end customers during the quarter, ending with a total of 3,756 end customers, an increase of 115 per cent from Q2 of last year. During the last four quarters, we added a total of over 2,000 new end customers as we continued to increase our share of market. We also closed a record number of deals with a value over $100K during Q2, including the largest deal in our history."
Take that, Nimble nay-sayers.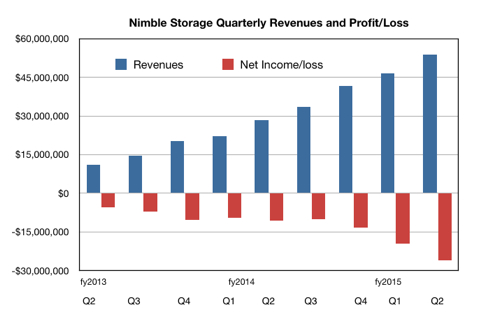 Nimble Storage revenues up to its fiscal 2015 second quarter.
William Blair analyst Jason Ader said Nimble had "continued [its] land-and-expand success (large enterprise and cloud service provider customer bases up 81 per cent and 119 per cent year-over-year, respectively)."
He sums it up like this: "Overall, in line with commentary from our reseller contacts, the company appears to be firing on all cylinders as it continues to make inroads against large storage incumbents and disrupt the market at large."
Nimble says its financial objectives are:
Driving strong revenue growth and increasing our market share
Maintaining industry leading gross margins
Steadily progressing towards our long-term target financial model of 16-20 per cent operating margin by delivering sequential improvement in operating margin every year.
It is "on track to achieve break-even on a non-GAAP basis by the end of our next fiscal year (FY16)," meaning by 1 May, 2016. That means, we think, a GAAP profit (the industry-standard accounting measure we use) later in 2016 – a longish time to wait.
Fibre Channel support should be added around January 2015 and this could/should increase its revenues in larger enterprises. Ader comments: "We believe that the addition of Fibre Channel support, the newly released high-end platform, and the general availability of its new scale-out software should expand the company's addressable market beyond the midrange and enable it to continue taking share from vulnerable incumbents."
Tech giants like Dell, EMC, HP, IBM and NetApp appear unable to respond to Nimble's success by developing competing products.
Stifel Nicolaus MD Aaron Rakers points out: "International expansion remains [a] growth river. EMEA and APJ contributed 17 per cent of bookings in F2Q15, down from 19 per cent international contribution in the prior quarter. Nimble's international direct sales force is now in 19 countries (vs. 13 in the prior quarter) while Nimble has international distribution arrangements in an additional 26 countries (vs. 21 in the prior quarter)."
Any worries on Nimble's horizon? We can't see any. Fellow hybrid array newbies Tegile and Tintri are also growing strongly but they appear to be taking share from the incumbents and not each other or Nimble. We also can't see how the incumbents could lower prices to meet the price/performance levels of Nimble, Tegile and Tintri without drastically affecting their profitability and pissing off their shareholders.
The trick would be for them to bring out hybrid array product ranges which don't impact their mainstream array revenues but that seems like an impossible marketing trick to pull off.
Incumbent impotence is set to continue. The outlook for Nimble's third quarter is for revenues between $56m and $58m – the midpoint being 71 per cent higher than the year-ago period. ®