This article is more than 1 year old
Reg man looks through a Glass, darkly: Google's toy ploy or killer tech specs?
Tip: Put the shades on and you'll look less of a spanner
Review Seldom has a device been so reviled and praised at the same time. But is Google Glass the future of wearable connectivity or simply the toy of the self-appointed tech elite?

Is it perhaps something in between?
I'm by no means an early adopter of gadgetry. I buy kit only when can I see a clear use for it and I don't immediately see a use for Glass. On the other hand, I am knee deep in Google's cloud services so Glass should appeal. But does it?
First, let's the get the issue of price out of the way. At £1,000, the Explorer Edition is seriously overpriced. That said, it's really more of an advanced beta product for developers than a fully-fledged consumer item. In due course the price will fall and the product will be more developed – which makes the question less: "Would you pay a grand for Glass", than "Would you pay half as much for Glass Mk. 2"? This, then, is much a test of the concept as the product.
Step into the world of the Glasshole
We all know how Glass basically works. You pop it on your noggin and you can see information presented in a small screen that appears to float in front of your right eye.
As with everything made by Google, the more invested you are in Google's cloud services, the more reward you get. If you don't use Gmail, don't have your contacts in Google and don't store your music on Google Play, there is arguably little point in buying Glass. Seamless access to the Google cloud is one of the main reasons for this thing existing.
Set-up is easy. Download the Glass app (available for iOS and Android – I used the latter, naturally), pair Glass to smartphone and you are good to go. Glass can slurp data via your phone using Bluetooth or more directly using the built-in Wi-Fi radio.
I left my Glass hooked up to my Moto G and let the phone worry about what sort of data connection it was using. Once connected, it stayed connected.
At a mere 43g (1.5 ounces), Glass is certainly no chore to wear. In fact, even if you are not used to wearing spectacles, it soon becomes easy to forget you are wearing the thing. Between the bendy nose stems and adjustable prism, getting Glass sitting comfortably is the work of seconds no matter what shape your head.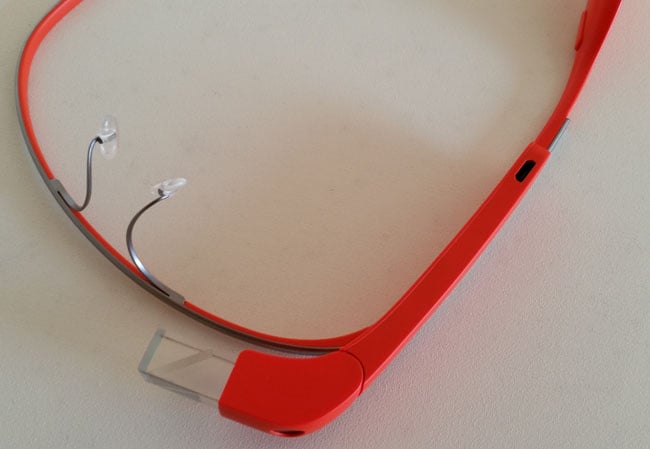 Nose grips
Similarly, when the screen is not showing any information, your brain quickly starts to ignore the slightly dark shadow the prism housing casts.
The one design failing I have to flag up actually has nothing to do with wearing Glass but rather with not wearing it. Since the legs don't fold, it's a tough gadget to stow away when you are not wearing it. Glass Mk 2 really needs to be a device you can fold up and slip into your shirt pocket like a regular pair of sunglasses.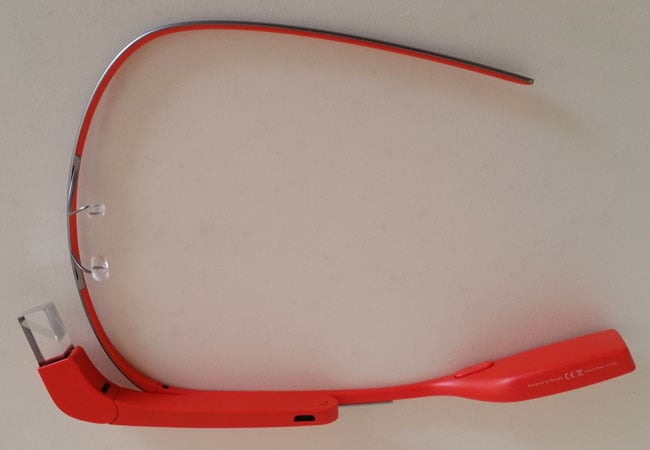 Cross your legs! OK, Glass, I see you won't
Google does supply a semi-rigid case for Glass but it's a rather big and bulky affair and no answer to the question "Where do I put this thing when I'm not wearing it?".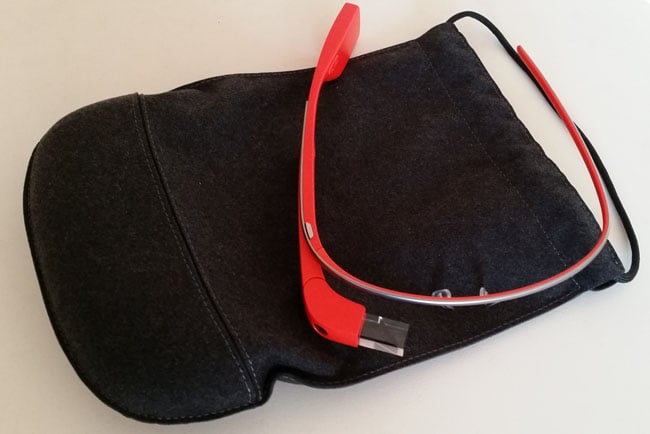 The bag is big and bulky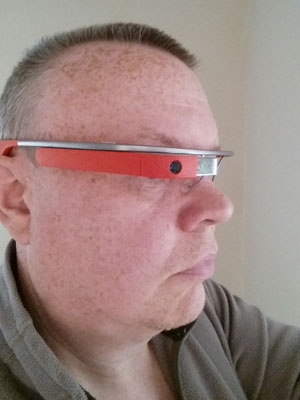 Sans shades, it all looks a little bit Borg
Glass can be worn with or without shades or lenses. These attach and detach very easily and have the benefit of making the whole rig look a little less obtrusive and the wearer less of a spanner. For those of us with less than perfect eyesight, Glass can also be used with prescription frames.