This article is more than 1 year old
LOHAN wrapped in vinyl as Kickstarter campaign hits £18,000!
Sample stickers fly in, custom pint tankards fly out door
Our Kickstarter bid to raise £30,000 for the New Mexico launch of our Vulture 2 spaceplane hit £18,489 this morning (Monday 1 September), shortly after we took delivery of some sample Low Orbit Helium Assisted Navigator (LOHAN) vinyl stickers.
And very classy they look too. Here are a few suggestions as to how those pledging a tenner to the cause might deploy their fetching roundels: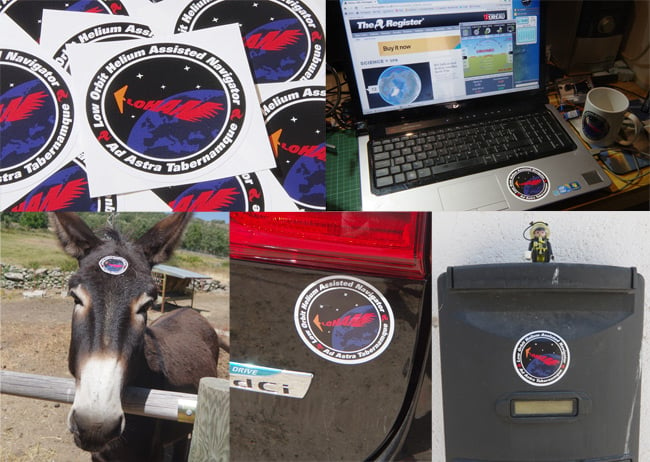 As you might expect, stickers don't adhere particularly well to donkeys, but in the spirit of pushing the envelope of scientific enquiry, we decided to give it a go anyway.
We're offering a six-pack of these versatile adhesive artworks: three with US LOHAN logo, and three with the European flavour. It's a nice reward for a affordable amount in support of audacious ballocket missions.
For a bit more cash, you can get a LOHAN mug, t-shirt or engraved glass pint tankard. The last item is proving particularly popular, so get in there while you can.
For keen UK spaceplane fans, we've come up with another way to acquire a tankard. For £120, you can meet myself and LOHAN rocket wrangler Paul Shackleton at Vulture Central in London, view the Vulture 2 and shake hands with our plucky Playmonaut. We'll present you with the tankard in person, and provide refreshments.
The date of this early evening exclusive viewing is tba, depending on the LOHAN schedule. There are just 25 invites available.
We are eyeing further rewards, including a similar chance for US rockoon aficionados to hook up with us in New Mexico, so keep watching Kickstarter – and the skies, naturally. ®

---
More from the lovely LOHAN:
---