FIRST LOOK: Gartner gurus present all-flash prognostications
Diagram key to array success?
---
Gartner's gurus have completed their prognostications and their all-flash array magic quadrant has been released upon an anticipative flash array world - and The Register has seen a copy.
The diagram is the key: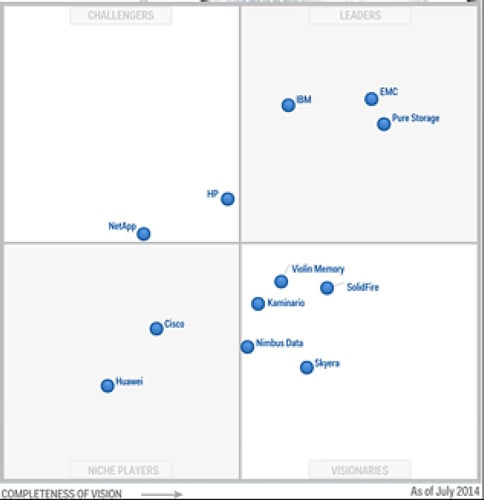 Gartner Magic Quadrant for all-flash arrays. (Apologies for the poor pic quality – it was scraped off SolidFire's website.)
OK. The leaders' box has just three occupants: EMC with the highest ability to execute and Pure Storage with a fuller "completeness of vision". IBM was ranked second to EMC in its "ability to execute" but behind both EMC and Pure in terms of its "vision completeness".
In the Challengers' quadrant, we find HP with more vision that NetApp, which is just above the boundary with the niche players – and that's before NetApp has announced FlashRay.
In the Niche players' square, we find Cisco and Huawei – both well separated from each other, and both, we suppose, needing more vision and a greater executive ability.
The Visionaries section has five players:
Solidfire
Violin Memory
Kaminario
Nimbus Data
Skyera
Solidfire is furthest to the right, meaning it is leading on "completeness of vision". Violin is behind on that score but higher on "ability to execute". We think it may jump into the Leaders' box if CEO Kevin DeNuccio has his way. Ditto SolidFire if CEO and founder Dave Wright can ramp up his business. But maybe both will go into the Challengers' box first.
Next is Kaminario, which is lagging behind Violin and SolidFire on both axes. It is doing well business-wise with its high-performance products, and could well improve its MQ ranking next time around.
Then comes Nimbus Data just over the boundary from the Niche players, below Nimbus on ability to execute. Ahead of it on completeness of vision is Skyera, which has just had a CEO change and funding round. Its new CEO will be very keen to lift Skyera out of the bottom ranked rut it is in.
Nimbus Data is unique amongst these companies in that it has no outside funding and is a private company up against competitors with much larger cash resources. Can it keep up?
It's notable that both Dell and HDS have been excluded as their all-flash versions of existing array products do not meet Gartner's criteria for what constitutes a separate all-flash array product.
Dell spokesperson Lon Levitan tells us: "While enterprise flash adoption is clearly on the rise, at Dell, we're seeing that nearly all customers (98 per cent) prefer a flash approach in a hybrid array that mixes flash with spinning drives."
He points out that: "Just this month, research firm IT Brand Pulse announced details of its 2014 SSD Brand Leaders customer survey. Dell was voted by storage users as the overall Price Leader for hybrid SSD/HDD arrays and for All-Flash Fibre Channel arrays, iSCSI arrays, and NAS as well as flash management software. Since historically price has been the #1 barrier to flash adoption, Dell has worked to provide flash at the best economics in the industry."
In case we - or Gartner - don't quite get it, Levitan adds: "An independent study from Storage Strategies NOW a few months ago reported that Dell was chosen as the #1 top choice among IT leaders when selecting a vendor for deploying flash."
Dell, he says, "saw a substantial 7x growth of flash shipments in 2013 and continues to see substantial growth so far in 2014".
When Gartner's AFA MQ excludes Dell and HDS, it's understandable that both suppliers will be concerned that Gartner MQ-worshipping CIOs will only buy AFAs from Gartner's MQ-included suppliers and not them.
The 19-page Magic Quadrant for Solid-Stare Arrays report, released on 28 August, costs $1,995 from Gartner.®