The A-to-Z of storage news: Your quick 'n' dirty tasting menu
Weren't at VMworld? Here's what you missed
The time around VMworld - which runs from 25 to 28 August in San Francisco – saw a frenetic pace of announcements which were obliterated from the main news radar screens by things like VMware's EVO: RAIL. Here'a catch-up list of many of them.
In alphabetic order of the suppliers:
Brocade has extended support for its Solid State Ready program to help ensure all-flash and hybrid arrays work well on Brocade network fabrics. It's "extended its scope to include Ethernet fabrics, solutions testing, and market development investments such as technical and sales support, education, marketing, and awareness activities."
That's alongside Fibre Channel. Program participants include Fujitsu America, Hitachi Data Systems, HP, NetApp, Nimble Storage, Pure Storage, Saratoga Speed, SolidFire, Skyera, Tegile Systems and Violin Memory. Who's missing? Oh yes, Dell, EMC, IBM, and Tintri, for starters.
Cachebox, a server flash caching software supplier with its CacheAdvance software, said it supports Micron's P420m PCIe SSD. The software shows, CacheBox says, "significant performance improvements and latency reductions with MySQL."
Cray announced the CS-Storm, a GPU-dense accelerator supercomputer system based on Cray's air-cooled CS300 cluster architecture. It uses Xeon E5 2600 v2 processors along with up to eight NVIDIA Tesla K40 GPU accelerators per node (for a ratio of up to 8:2 GPUs to CPUs per node).
Stifel Nicolaus MD Aaron Rakers notes: "The CS-Storm provides a peak performance of +11 teraflops per node and Cray highlights that the CS-Storm is one of the most powerful single-node cluster architectures in the industry (a four cabinet CS-Storm system can provide +1 petaflop of peak performance)" He says Cray is targeting the CS-Storm at use cases such as cybersecurity, geospatial intelligence, pattern recognition, seismic processing, rendering and machine learning in the energy, life sciences, financial services, and geospatial intelligence industries.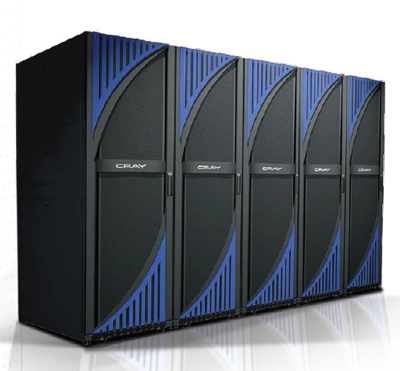 Cray Storm
Rakers adds: "The CS-Storm is available in flexible configurations. For example, a 48U standard rack can hold twenty-two 2U compute nodes, which each have up to 2 Intel CPUs and 8 NVIDIA Tesla GPU accelerators. The CS-Storm is currently in limited availability with GA in 4Q14. Cray has reported that pricing would be roughly $1 million for a fully loaded CS-Storm rack."
IBM is collaborating with Deutsches Elektronen-Synchrotron (DESY), a national research centre in Germany, to speed up management and storage of massive volumes of x-ray data. The data comes from a 1.7 mile long PETRA II accelerator and the Elastic Storage (GPFS re-named) system can cope with more than 20GB/sec. In effect PETRA II is a super microscope that speeds up electrically charged particles nearly to the speed of light – approximately 186,000 miles per second – and sends them through a tight magnetic slalom course to generate synchroton X-ray radiation of its kind.
DESY and partners are building the X-ray laser European XFEL, a research light source that will generate about 100PB of data a year. IBM expects its Elastic Storage to cope with that too. It is the same data volume as CERN's Large Hadron Collider (LHC) generates.
Imation announced its Nexsan E-Series arrays can use 6TB drives, enabling more than 1PB in 12U and more than 3.5PB in a whole rack. Faster 16Gbit/s Fibre Channel support has been added along with snapshot cloning. Also "support for Microsoft's Offload Data Transfer (ODX) to minimise the host resources required for data transfers and eliminate the SAN as a bottleneck for files such as databases and video."
Maxta has produced its MaxDeploy reference architecture based on Intel server boards and SSDs, and systems, as well as disk drives and network softwareitches. It uses MxSP storage software and runs in a virtualised environment.
Yoram Novick, founder, president and CEO of Maxta, commented on the Simplivity-Cisco deal: "We are excited to see additional market validation and continued interest driven by the compelling benefits of hyper-convergence. Maxta's MaxDeploy is a reference architecture for ALL server platforms. With MaxDeploy reference architectures, customers can also benefit from the flexibility to run on all x86 server platforms rather than one or two."
In September Microsoft will add new SQL database service tiers generally available on its Azure cloud with lower prices and better service-level agreements. The details below are copied from a Microsoft blog:
Premium and Standard price reductions: Final pricing will reflect up to 50% savings from previously-published pricing. Updated pricing will help more customers benefit from higher performance and greater business continuity.
Within the Standard service tier, we will offer a new S0 performance level. This new lower cost entry point will enable more customers to benefit from the features in the Standard tier. Performance levels provide a defined level of throughput that can be easily dialed up or down, based on performance demands.
Azure SQL Database will move to hourly billing for the new service tiers. This will provide customers with greater flexibility to shift between service tiers and performance levels, based on demand patterns, to gain cost-effective, reliable performance.
Nexenta made several VMworld announcements:
NexentaConnect for VMware Virtual SAN, adds SMB and NFS file services to VMware's Virtual SAN offering.
NexentaConnect for VMware Horizon is updated and improves upon the automation and acceleration for VMware Horizon Virtual Desktop Infrastructures (VDI).
NexentaStor release 4.1 supports a performance optimised "all flash mode" for low latency all-flash reference architectures, VAAI integration and vCenter Management Plug-in. It has reference architectures with up to 150TB of raw SanDisk or HGST SSDs. It also supports 16Gbit/s FC and 12 Gbit/s SAS interfaces.
Overland Storage has been in an announcement overload state. We noted these events:
It launched of its V3 hyper-converged virtual desktop appliance developed in partnership with Sphere3D, with which it is merging. This turn-key appliance delivers VDI functionality, and "is a hyper-converged infrastructure that integrates compute, storage and network interface, as well as the required hypervisor infrastructure and is managed by the Desktop Cloud Orchestrator management software." There are two models: the V100 and V200 V3 Appliance models serve up to 100 and 200 virtual desktops, respectively and can scale to thousands of desktops. Pricing starts at $60,000.
Overland has a new desktop NAS box, the XSD 40, running its Guardian OS 7.6 software. It's in the SnapServer product line and offers iSCSI block access as well as including BitTorrent Sync integration and print server functionality. Think Drobo as you hear this: "It allows users to mix and match hard drives of different capacities in the same storage array for uninterrupted storage growth." The XSD 40 has DynamicRAID, RDX removable disk storage backup support, and enterprise security integration and improved cross-platform file sharing. It's available from Overland resellers in multiple capacity configurations ranging from 2TB to 16TB. Pricing starts at $949.
Tandberg Data's RDX removable disk storage has dedupe. Its AccuGuard Enterprise software provides source-based data deduplication and "is designed to provide users with a 20x increase in storage efficiency, and frees up to 95 per cent of … network bandwidth compared to traditional backup methods." RDX is now has integration into Overland Storage SnapServer NAS, plus MAC media compatibility, Windows backup, and the RDX QuadPAKTM rack mount kit. "Enterprise customers who need compliance-related secured data retention can utilise WORM technology-enabled RDX media cartridges and rdxLOCK software … available at no charge.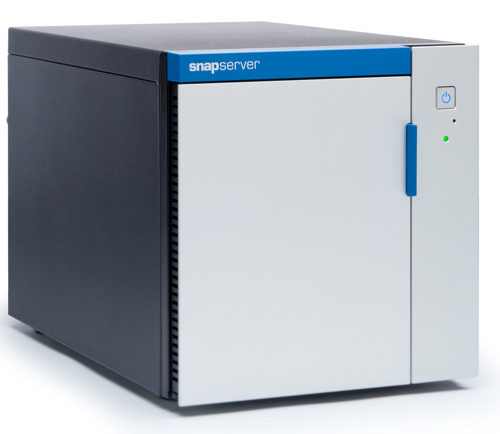 Overland XSD 40 desktop NAS
Quantum "announced StorNext Connect, an easy-to-use tool set that simplifies the installation, discovery, management and monitoring of StorNext environments." Mike Cavanagh, President of Quantum customer Key Code Media, was keen, very keen: "StorNext Connect is a true game-changer for media production. Not only is workflow storage management so much easier, but the greatest benefit is how simple it is to optimise and troubleshoot your deployment."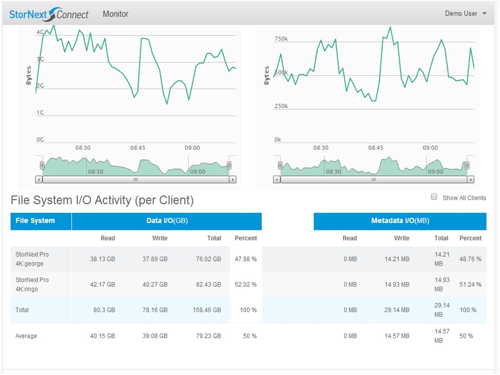 StorNext Connect monitoring view
Seagate's LaCie has a monster capacity lightning fast rack shelf, the 8big Rack Thunderbolt 2 with 8 x 6TB 7,200rpm disk drives and speeds up to 1.33GB/sec. That's 48TB accessed over a single Thunderbolt cable. It beats 8Gbit/s Fibre Channel by being, Seagate says, faster and not needing a Fibre Channel infrastructure.
It says 4K video workflows should benefit from using it: " With this kind of performance, videographers can work directly from RAW files in Apple Final Cut Pro or Adobe Premiere get maximum quality from footage and see edits in real time.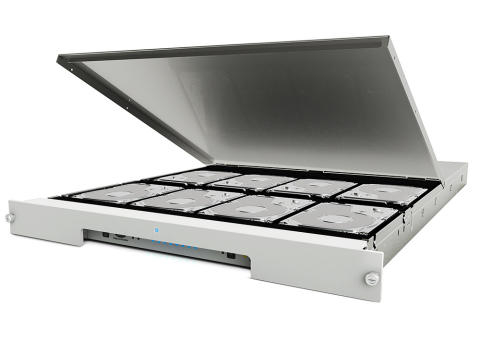 Seagate LaCie 8big Rack Thunderbolt 2
In keeping with LaCie's design emphasis the box has been designed by Neil Poulton which seems overkill when all he's got to play with is the front plate. Check out the bezel in the picture above.
StorTrends said demand for its hybrid and all flash storage arrays for virtual and physical environments is escalating. It says 3500i is the only storage area network (SAN) device to combine solid state drive (SSD) caching and SSD tiering into a single storage appliance. The box enables both SSD cache and SSD tier upgrades: there are options to upgrade from 200GB SSD drives to 400GB, 800GB or 2000GB ones.
WD celebrated the tenth anniversary of its MyPassport drives with a limited anniversary edition in fetching metal cases, using "a unique and innovative radial-spin-design aluminum", smaller than the current enclosures. Capacities go up to 2TB. Buy them at the WD Store and various etailers/retailers and distributors.
Zerto said its Virtual Replication will offer support for Microsoft Hyper-V and replication to Amazon Web Services (AWS). It says "these updates represent Zerto's continued creation of a new hybrid-cloud infrastructure layer called "Cloud Fabric," which allows organisations to seamlessly move and protect virtualised workloads between clouds [and] across … hypervisors such as VMware ESXi and Microsoft Hyper-V, and cloud providers including Peak 10, iLand, Veristor and Amazon." Cloud Fabric connects any hypervisor, cloud or storage environment.
Zerto claims "Hyper-V support in Zerto Virtual Replication will enable protection and replication between Hyper-V environments and cross-hypervisor replication for mixed environments (VMware to Hyper-V and Hyper-V to VMware)."
As you see, a veritable blizzard or blitzkrieg of announcements, and this isn't all of them. Storage is both frustrating and fascinating. It's a struggle to try and make sense of all the separate strands of activity. Good luck. ®