This article is more than 1 year old
iCloud fiasco: 100 FAMOUS WOMEN exposed NUDE online
Celebs victimised as Apple accounts reportedly popped
Naked photos of celebrities including Sports Illustrated model Kate Upton, Jennifer Lawrence and Ariana Grande have been published online by an anonymous hacker who reportedly obtained the explicit pics from the victims' Apple iCloud accounts.
Nude photos of 17 celebrities have been published online. The anonymous hacker posting on grime-'n-gore board 4chan claimed to possess naked pics of more than 100 celebrities in total.
Lawrence's publicist Bryna Rifkin confirmed the validity of the photos and condemned their publication.
"This is a flagrant violation of privacy. The authorities have been contacted and will prosecute anyone who posts the stolen photos of Jennifer Lawrence," Rifkin told Buzzfeed.
However a separate set of images included in the hacked celeb haul purporting to show singer Victoria Justice in various states of undress were called out as fake.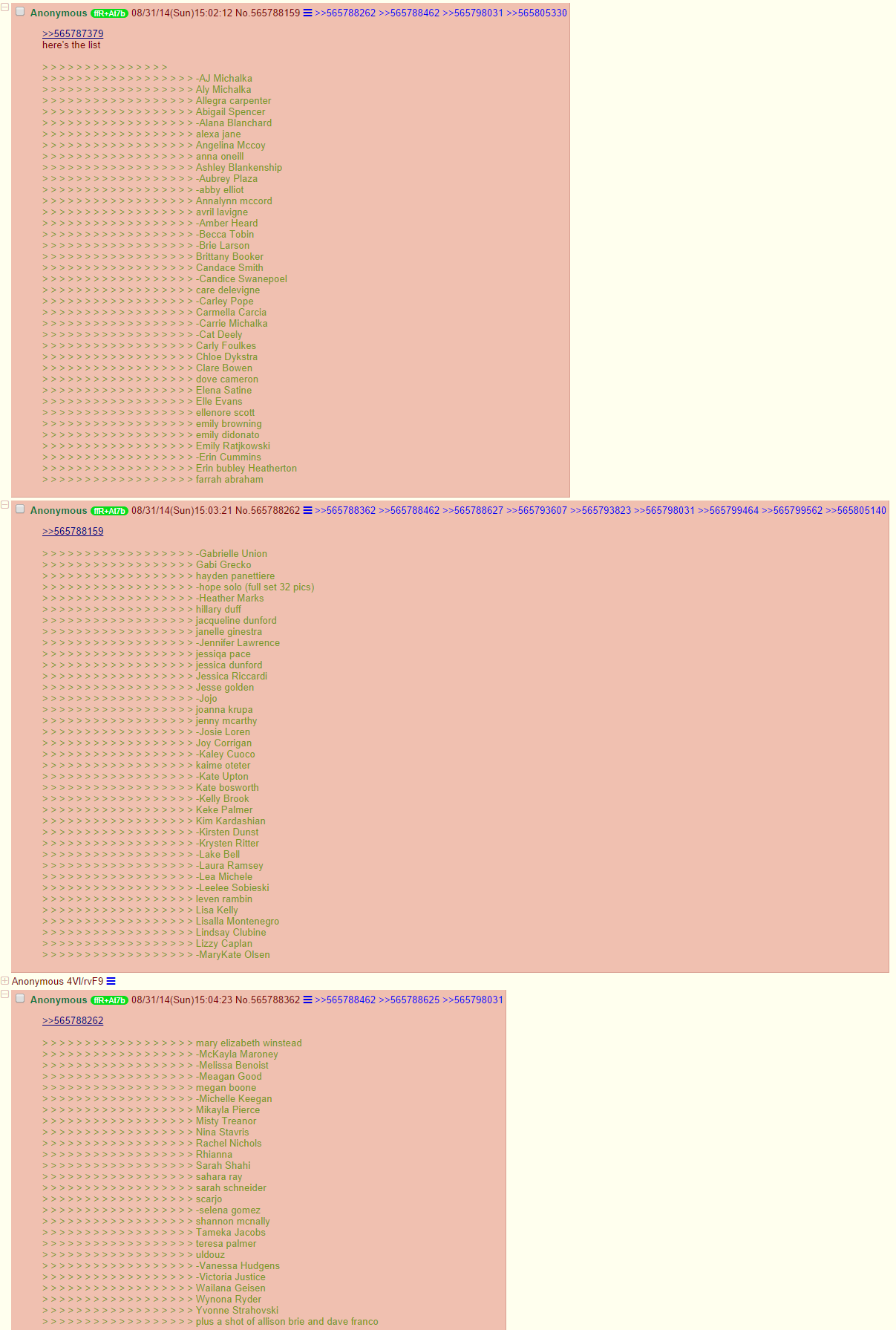 More than 100 celebs' names are reportedly on the lists above
Justice published a photograph where her face was clearly taken from an earlier photo and plastered on the body of a naked woman.
Other photos appeared legitimate but were not yet confirmed by those affected.
The identity of the unscrupulous hacker including any alias appeared to be unknown. They posted the images to the 4chan '/b/' image board from where it was quickly circulated on social media sites including Reddit.
The assailant seems likely to face a well-resourced investigation by US authorities, who take a dim view of this sort of thing.
In June, Romanian hacker Marcel Lazar Lehel, a.k.a. Guccifer, was sentenced and faced seven years jail with three years served for hacking email accounts of former US President George Bush along with other US officials, celebrities and UK pollies.
And in 2011 Florida man Christopher Chaney was arrested after he hacked the email accounts of Scarlett Johansson and some 49 other celebrities and was sentenced to 10 years' gaol.
The hacking serves as a timely reminder to ensure important passwords were not reused across websites or services and were not based on single words or common phrases.
Actress Mary Winstead later posted to Twitter that the photos were genuine, and also noted:
Knowing those photos were deleted long ago, I can only imagine the creepy effort that went into this. Feeling for everyone who got hacked.

— Mary E. Winstead (@M_E_Winstead) August 31, 2014
On hearing of a separate Australian victim whose nude selfies were posted to social media by an iPhone thief, Vulture South recommends readers lock down or delete their explicit photos whenever possible. ®