Weekend reads: Colorless Tsukuru, Kool Korea and strange encounters with IKEA wardrobes
Murakami's bestseller translated at last
---
The Extraordinary Journey of the Fakir who got Trapped in an IKEA Wardrobe
Romain Puertolas' debut novel, translated into English, is an international bestseller. The Extraordinary Journey tells the story of an Indian conman, Ajatashatru Oghash Rathod, who deceives his fellow villagers into paying for him to travel to IKEA in Paris to buy a new bed of nails. He proceeds to encounter some most unlikely adventures as fate takes him around Europe and beyond.
The book is an intensely moral tale, Aja's life is transformed beyond recognition by his encounters with the characters he meets en route. He begins by deceiving his taxi driver for the fare, only to set off an international feud with a family of gypsies. His next deception inadvertently creates a love interest and, after a series of increasingly bizarre adventures, everything works out more or less fine at the end.
Puertolas reputedly wrote his novel on a mobile phone while working as a border guard in France and his professional experience is evident in his acute observations. Aja gets trapped in an IKEA wardrobe and transported to England where he is rescued by illegal immigrants, before being deported and embarking on an incredible tour of Europe and North Africa. There are other twists and turns but I'll say no more here.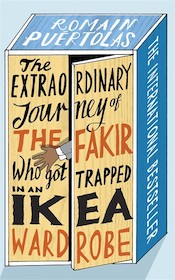 The author's sympathetic treatment of Aja's immigrant friends is surely the result of his personal experience. The anger is palpable in such passages explaining the illegals' motives such as: "So that they could all survive under the sun, without those flies that sat on their lips, after first sitting on cows arses". He goes on, describing the feeling of: "Exiles ... torn from their roots ... miles from the places they know and love ... as if they are floating down a river without a single branch to hold on to".
Puertolas also presents us with some amusing national stereotypes which ring only too true: incompetent, unquestioning UK bureaucrats, inefficient Spanish security, cool celebrities and their hangers on in Cinecittà and gypsy lifestyle to boot.
The characters are deftly drawn; playthings of fate, dragged along by a storyline that lacks feasibility but is most enjoyable. Romain Puertolas has not only written a very entertaining first novel, he presents an underlying subtext about wealth, nationhood and migration that is thought-provoking without being preachy in any way.
The Extraordinary Journey Of The Fakir Who Got Trapped In An IKEA Wardrobe belongs in that genre which might be termed Naive Picaresque, alongside such works as Mark Haddon's The Curious Incident of the Dog in the Night-time and Jonas Jonasson's The Hundred-Year-Old Man Who Climbed Out of the Window and Disappeared. The Extraordinary Journey does for illegals what The Curious Incident did for Asperger's and The Hundred Year Old Man did for the institutionalised old, outlining the plight of their characters by putting them through a series of wild adventures which humanise and validate them.
All three books use simple narrative to tell a complex, unlikely tale with a moral lesson. And like it's predecessors, Puertolas' debut is likely to appeal to a wide variety of readers: male, female, young and old, even hardened cynics like myself. I'd recommend it as a light read, an easy page turner on holiday, en route and en masse. MD

Author
Romain Puertolas
Title
The Extraordinary Journey of the Fakir who got
Trapped in an IKEA Wardrobe
Publisher
Harvill Secker
Price
£13 (Hardback), £9 (Paperback) £8 (ebook)
More info
Publication web site
Similar topics
Broader topics