Woe, Daddy! GoDaddy customers wail as hosting service GOES TITSUP
Support team swamped by calls as websites die
Hosting outfit GoDaddy is suffering what appears to be a pretty widespread outage hitting website operators in the UK this morning.
The company's own site was struggling to load at time of writing. A miserable message wrapped in a pink box on GoDaddy's support page coughs to a "known issue" with its hosting system. However, The Register was unable to access more details because the "learn more" option failed to load when we clicked on it.
According to the same page, GoDaddy's support team are warning of a 19-minute delay in answering telephone queries about the technical blunder.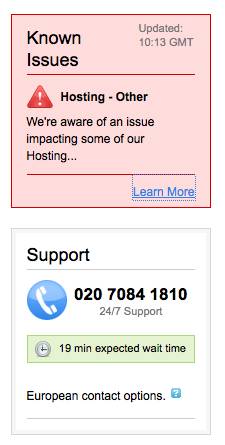 No, Daddy!
It has been suggested on Twitter that DNS issues are crippling the service. but, for now, GoDaddy is not responding to any tweets.
Meanwhile, complaints are stacking up online.
Looks like #godaddy DNS down again :(

— GopalaKrishna (@gopalyendluri) September 1, 2014
Thank you @GoDaddy for my birthday gift... DNS down is the best way to party...

— Carlo Alberto (@lordkada) September 1, 2014
Down Detector has also noted a spike in outage reports hitting GoDaddy customers today. ®