Cave scrawls prove Neanderthals were AT LEAST as talented as modern artists
Gibraltar graffiti matches up well to early Hirst or Emin
A primitive and apparently meaningless marking ground into a rock by a Neanderthal using a crude implement more than 39,000 years ago would appear to support the idea that the pre-human ape-men possessed artistic faculties at least as sophisticated as those of the "young British artists" movement of the '90s.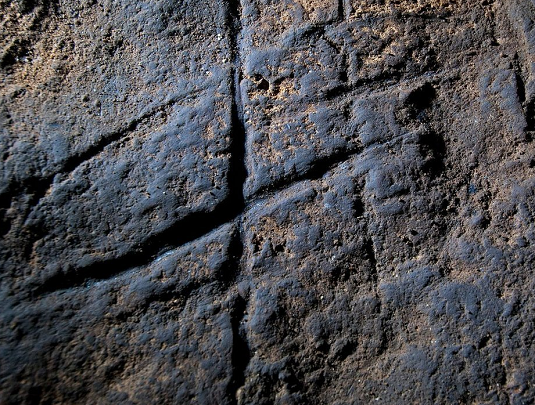 Dahling, such vigour, such intensity
The "engraving", which is described as "bearing a passing resemblance to the grid for a game of noughts and crosses" by the BBC, was found on a rock in Gorham's cave, Gibraltar. Investigating scientists are fairly sure it is the work of Neanderthals, as it was found beneath undisturbed sediments in which Neanderthal artifacts had already been discovered. The rock scribble should thus date from more than 40,000 years ago, prior to the arrival of modern H sapiens humans in the region.
We are told:
Further geochemical analysis of the mineral coating on the engraved grooves suggests that the rock art was created before deposition of the overlying sediment. The [scientists] took microphotographs of the tool marks within the engraving, compared the marks with experimental marks made with various tools, and determined that the abstract cave engraving was likely created intentionally by repeatedly passing a robust cutting tip over the rock in the same direction, and not by incidental cutting associated with other activities.
"The results add to evidence at other sites that Neanderthal intellectual capacity may have previously been underestimated," the discoverers add.
Some would say that the crude scrawl hardly suggests a high level of intellectual capacity, but one must remember that the scientists are only seeking to compare the Neanderthals with major human artists of recent times such as Damien Hirst, Tracey Emin and Katie Paterson. Against this sort of benchmark, it's clear that were the Neanderthals around today they'd be quite capable of selling pieces to Charles Saatchi for a million quid a go, or at the very least of obtaining a hefty European grant.
Full detail on the research which uncovered the excitingly primitive art is to be published in the august Proceedings of the [US] National Academy of Sciences. ®