This article is more than 1 year old
Good luck with Project Wing, Google. This drone moonshot is NEVER going to happen
Let's game this thing out
Comment Google's delivery drones in Oz have a really easy job – fly across a near desert and lower a parcel to the ground. That's easy-peasy, matey. Try that in my Sixth Street home* in San Francisco, the one near the junction with Folsom Street, where (to make the Chocolate Drone Factory's life easier) there is a grassed yard.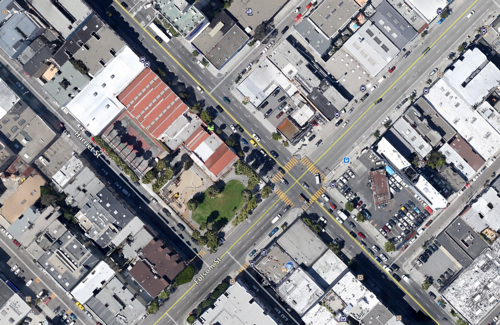 Urban drone delivery area. Source: Google Earth
Of course this all depends on decisions made by the Federal Aviation Authority over the next few years. Currently, Google is lobbying for permissions to fly commercial drones through US airspace via newly formed Washington lobbying group Small UAV Coalition. Google has been forced to test its drones in Australia for the time being.
Right, drone pilot - ah, is there a drone pilot? Will there be ranks of Google drone pilots in a call-centre-like environment? No? Like hundreds of them doing a really, really boring job? Thought not. So these are self-guided drones.
Ah. That means a drone delivery will be like an aircraft delivering a parcel somewhere with no airfield. A parcel-delivering cruise missile, kind of.
Umm. How does it know if there is a yard or parking lot it can use? Suppose overhead power or telephone cables are suspended above it; how does the drone know they are there? Let's say there's a height difference between the drone airport in whatever city the service - Goog Drop, Fedex Drones or UPS Air whatever - is located; how high does the drone have to fly and would it simply take a straight line to the destination?
If that's the tactic and it flies at, say 150 feet, then, oops, it could just fly straight into San Francisco's Transamerica tower. Then there are other unpredictable things in the air, such as birds – which can be a problem for commercial passenger-carrying monster planes, so just imagine what they'll do to your little drone. Having a drone smack into a seabird in mid-flight and crashing into Geary Street could spoil quite a few people's day.
Transamerica Pyramid. Source: Google Earth
A police 'copter or any other service helicopter might not appreciate a delivery drone hitting it either.
3D mapping, radar and more
Before Goog delivery drones are allowed to deliver parcels in any urban area, that area's surface will need to be 3-D mapped with a precision that includes power-delivery cables suspended from cables, tethered balloons as well as the dimensions of surface structures such as buildings, radio masts, satellite TV dishes, bridges, and roads with vehicular dimension limits, like maximum height.
Then there are airports with incoming and outgoing planes. Will these be a drone no-fly zone? There are ports with fixed and mobile cranes and arriving, departing and berthed ships. These need to be mapped as well.
But this humungous 3D mapping exercise isn't enough. The drones will need 360˚ radar to detect other flying objects, work out their course, speed and potential rate of altitude change, and then have the ability to adjust their own flying parameters to avoid a crash. Suppose a drone crashes into two birds, three, even a flock? Perhaps it's on a course towards two flocks? That'll need in-flight computing and then some.
Just imagine the task Goog will have convincing city, state and federal flight regulators and other interested parties, like the police, that its drones are safe, that they will never crash into either the ground or other flying objects, with say, eleven-nines of certainty.
Would any urban authority trust Google drones that far?
Now, imagine I live in a high-rise on the 25th floor and want a drone delivery. Yes, I have a balcony and … it's ludicrous isn't it?
No? Imagine I live in an apartment block and it has a roof. Yes, I have ready access to the roof which has a tangle of air-conditioning units, lift shaft top structures and pipes on it. Of course the city authorities will permit a drone to lower a parcel onto the defined drop zone on the roof – of this and the 50,000 other apartment buildings in San Francisco, the ones in Berkeley, San Mateo, Sunnyvale – this is a joke surely?
Give it up Goog. The task is impossible. It's like self-driving cars taken to a whole new level, with the world's most intransigent and safety-concerned bureaucracies arrayed in phalanxes against you. This isn't a moonshot – it's madness. ®
Bootnote
* The author doesn't actually live on Sixth Street - this is a thought experiment, after all. Vulture Central's backroom gremlins regret to inform you that offerings made to the Great Storage Vulture will still need to be routed via Vulture Central.