This article is more than 1 year old
Sonos burns its Bridges: Our home-grown Wi-Fi mesh will do
Audio streaming now Bridge-free
Until now, wireless speaker bod Sonos has required a Bridge device connected to a home wireless router to set up a mesh wireless network delivering timed audio signals to the speakers in a zone. But no longer – Sonos is going bridge-free.
What it's doing is layering features of its own Sonos Net onto standard Wi-Fi as a base networking platform. Internet audio sources stream data in through the wireless router and then the audio goes between the players using the Sonos mesh overlay.
This was the result of a choice made 12 years ago, when the firm decided to develop its own proprietary wireless network to provide reliable delivery of audio signals to its players. At the time, standard Wi-Fi wasn't reliable enough for this, and Sonos believed that unreliability would spoil the listening experience.
Since then, Wi-Fi has improved, and Sonos engineers started re-examining standard Wi-Fi use about three years ago. The company then began to develop the Sonos software and controller app, with initial testing beginning late last year and a full-scale beta test starting in April. we're told this involved thousands of users new to Sonos and delivery of much free kit to check out audio signal delivery and initial setup.
This software, v5.1 of the Controller app, is now ready. this means Sonos players – specifically Play:1 Play:3, Play:5 and Playbar – can connect by standard Wi-Fi with no need for an initial wired Bridge connection to the wireless router at all. The setup procedure, starting with any speaker and using the Controller app, will take account of this.
Sonos Bridge-free set up via phone Controller app
There are two exceptions. When the Playbar, which connects to a TV source, is grouped with a sub – 3:1 sound– and then a pair of Sonos players for surround sound – 5:1 – a Bridge will still be needed to co-ordinate the various players and ensure they are synchronised properly.
The second exception is where a home has inadequate and/or unreliable Wi-Fi signal due to its internal environment and structure. In this case a Bridge may still be needed to provide the audio signal reliability needed for an uninterrupted listening experience.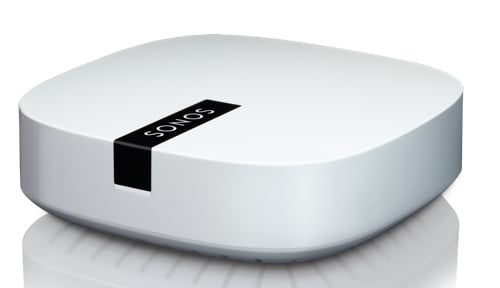 Sonos Boost – a Bridge on steroids
There is an even worse situation where a home's construction is such that Faraday-like cages can exist or the home is so large that Wi-Fi coverage doesn't cover all of it. Sonos is going to introduce a product call Boost, like a "Bridge on steroids", according to Ryan Taylor, who looks after product management for Sonos. This stronger Sonos Net device will work to remedy these two defects and will be available as a product in the coming months.
Taylor said that the effect of these changes will be to make Sonos players more affordable and simpler to set up and configure.
Our observation is that Sonos has focused a lot on software in recent months as that is becoming as important as the base hardware – the Wi-Fi streaming speakers. Its competitors, which include Bose, Musaaic and DST, are catching up in the hardware area and using standard Wi-Fi.
Sonos wants to have better software, and hopes easier setup and lower costs, (with no need for extra Bridge hardware) will be a selling point for customers.
There's more information available here – www.sonos.com/rock-solid-wireless.
Existing Sonos users don't need to change anything. If you still need the Bridge, it is priced at £39.99 with the Boost, when it arrives, priced at £79.99. The lowest cost Sonos speaker, the Play: 1, costs £169.
Sonos comments:
Please note, if you are already a Sonos user and [you] immediately unplug your Bridge, your system will stop working. If you would like to test the bridge-free option on an existing system, you'll need to do the following:

Update the app.
With the BRIDGE still plugged in, select BRIDGE SETUP in your Settings.
Follow the steps described in the app.
Once these steps have been followed you will be able to unplug the BRIDGE and test this simpler setup without the need to reset your system. You can then plug the BRIDGE back in at any time and switch back to "Standard Setup" as you wish.
®