This article is more than 1 year old
Toshiba makes play to replace NFC with own speedy short range tech
New tech's been pretty slow getting to market
+Comment Toshiba is poised to introduce its TransferJet short-distance radio technology which will let consumers transfer content between touching smart devices "in the blink of an eye."
Tosh's Euro subsidiary, Toshiba Electronics Europe (TEE), will launch a family of TransferJet USB and microUSB adaptors for mobile phones, tablets, notebooks and PCs in Europe by the end of December. The point-to-point data transfers run at an effective speed of 375Mbit/s (560Mbit/s raw) across a 3cm distance, with an upper limit of 5cm.
The transfer is started by simply touching the two devices involved together. TransferJet transmits larger files than NFC (Near Field Communications).
NFC is a low-speed, short-range (20cm or less) connection being used in contactless payment systems. The data rate is up to 424Kbit/s raw, substantially slower than TransferJet. But NFC can also be used to set up a link which then uses faster Bluetooth pairing for data transfer.
Bluetooth can work at ranges of up to 100m and move data at up to 2.1Mbit/s – again slower than TransferJet. It also has a 5-6 second set-up period whereas NFC's is less than a tenth of a second. TransferJet effectively has no set-up time need, says Tosh; merely touching the devices involved will initiate the data transfer, so long as the target recognises the source device's MAC address – or the MAC filtering has been disabled.
In effect, users choose which devices are allowed to make a connection.
The devices can touch at any angle but, we understand, the TransferJet part of the devices must be touching; the range is that short.
TransferJet uses a different technology from NFC and the two systems will not clash and can co-exist in a single device.
There is a TransferJet consortium of suppliers who are working on, amongst other things, interoperability, so different suppliers' products can complete a TransferJet data transmission. Sony originally developed the technology and demonstrated it in 2008 - release here. The consortium, administered by Sony, was set up that year and promoter members include Hitachi Ltd, JVC-Kenwood, Nikon, Olympus, Panasonic, Pioneer, Seiko Epson, Sony, and Toshiba.
The first commercial products, like digital camera ones for photo transfer, were introduced in 2010.
TransferJet wireless integrated circuit block diagram/p>
It's been a long time coming to market and one of the problems has been how to use the technology. None of the main mobile phone makers or operating system suppliers, meaning Google with Android, are consortium members, and Sony can't really go it alone with its mobile phones, particularly now it has exited the Vaio notebook business, giving it no in-house source-target device pair.
The Storage Vulture says...
The thing is that the main members of the consortium either produce TransferJet technology or have niche device markets that could use it, like digital cameras.
It seems to the storage Vulture that the problem TransferJet technology promoters like Toshiba need to solve is how to make TransferJet profitable for them. They think the answer is consumers paying for content at things like sports stadiums and pop concerts. So they aim to get the promoters of such events on board by dangling the extra merchandising carrot; get a Kate Bush video while watching her concert, for example, by buying it through your phone and then touching the phone to a kiosk in the venue, rather than videoing it live at the concert and annoying Kate Bush.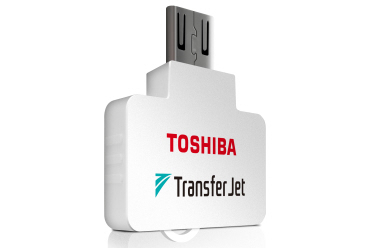 Toshiba TransferJet USB dongle
But somebody has to provide the kiosk. Consortium members hope this will be the venue operator, while the user has to have a TransferJet dongle stuck in their mobile phone's microUSB slot – if it has one. The ultimate aim is to get the technology included in the mobile phone, via an intermediate module availability phase, but that means persuading the mobe manufacturers to do it.
The consortium also want developers to come up with TransferJet-using apps to bolster the appeal of the tech. To that end an API is coming for developers.
In other words the problem is twofold: it's not the technology but, first, the ecosystem; and secondly, defining compelling consumer use-cases that will get the various players excited and bootstrap an ecosystem into existence.
Another delaying factor has probably been Sony's own financial problems and senior executive changes.
However Tosh is now hot to TransferJet trot, hence this announcement about a coming product launch. There will only be Windows host support at first with, hopefully Android, iOS and Mac OS X following, and possibly Linux too.
TEE's general manager of solution marketing, Armin Derpmanns, said in a prepared quote: "This consumer launch is the first stage of the roll out."
Partnerships with mobile phone companies could see modules introduced early next year, with embedded solutions coming later in 2015.
Here is a relentlessly upbeat TransferJet video: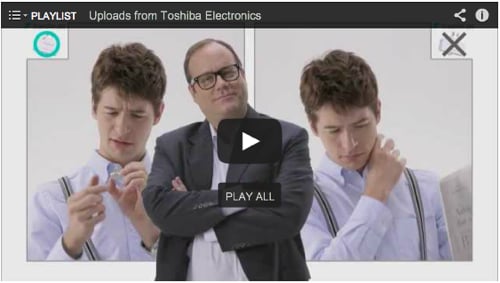 Roll the video by clicking the image
Go to the Toshiba TransferJet webpage for more information. ®