NASA finds ancient films that extend Arctic ice record by 15 years
50-year-old Nimbus satellite sent back single video frames of Earth's cold bits
An ancient and now public trove of imagery from one of the world's earliest Earth-sensing satellites, one of the American Nimbus spacecraft fleet, has been recovered and celebrated for the fact it extends climate records by 15 years.
This feat of data archaeology means that scientists now have access to 250,000 images from the missions, spanning decades – data that's already helping confirm records of sea ice extent from the 1970s,when measurements currently used by climate science begin.
NASA's aims for the first satellite in the series, Nimbus-1, were largely experimental: as the University of Colorado at Boulder notes in this announcement, its real-time observations excited the National Oceanic and Atmospheric Administration for their applicability to weather forecasting.
As a result, NASA ultimately handed its key technologies and outputs to the National Oceanic and Atmospheric Administration (NOAA) – and the focus on real-time observations meant that data tapes and photographic films were filed away and neglected.
As the now-custodian of the data, the National Snow and Ice Data Center (NSIDC), explains, Nimbus' filming technique probably seems impossibly crude today: a video camera was strapped to the satellite; it transmitted stills back to a TV monitor on Earth, and those stills were photographed.
University of Colorado Boulder's technical services manager David Gallaher says by extending the satellite record back to the 1960, science will get a better understanding of things like the natural variability of Arctic and Antarctic sea ice – something vital to a better understanding of climate change.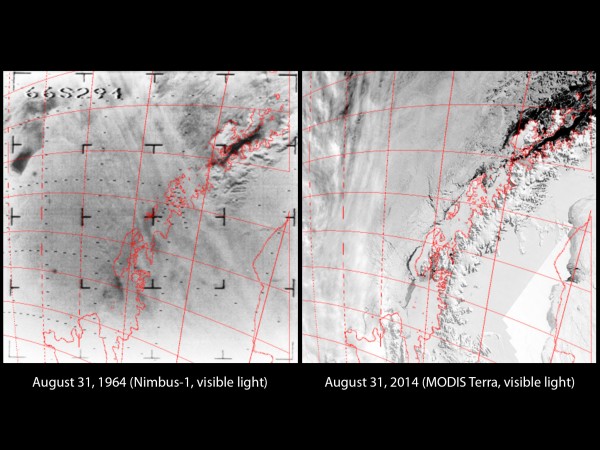 Left: Nimbus image, 1964. Right: MODIS, 2014.
Images: NDIS / CIRES / Uni Colorado
Gallaher notes the images yielded surprises like the biggest Antarctic sea ice extent ever recorded (1964) followed by a record low in 1966. In 1969, the Antarctic sea ice reached its largest extent, earliest in the year.
That data lay mostly in hundreds of 35mm film reels which had passed through a NOAA facility in Maryland before being shifted to Asheville in North Carolina. NASA funding helped the researchers find an old film reader so they could digitise the images, after which, they needed accurate geolocation for each image based on the satellite's orbit.
Both visible light and infrared data have now been released.
Walt Meier of the NSIDC, says the analysis of Nimbus data suggests a 6.9 million square kilometre extent for September 1964, which he calls "reasonably consistent" with conditions between 1979 and 2000. "It suggests that September extent in the Arctic may have been generally stable through the 1960s and the early 1970s", he adds. ®