Blade runner: Cisco ups its UCS server game
Broadens range's appeal to ROBO, clouderati
Cisco has refreshed its UCS server line, updating existing blade and rack products and adding in modular servers for scale-out servers and mini-servers for enterprise-edge situations like remote and branch offices.
It quotes a May 2014 Server Tracker report by IDC, which declared Cisco the leading provider of X86 blade servers in the Americas (based on revenue market share). However, the August IDC server tracker has Cisco at 5.8 per cent factory revenue market share, in joint 4th position with Oracle (5.9 per cent), and behind HP (1st at 25.4 per cent), IBM (2nd at 23.6 per cent) and Dell (3rd at 16.6 per cent).
The big networking kit firm has announced:
Gen 4 rack (C-Series) and blade servers (B-Series)
New M-Series modular servers for cloud-scale use
New Mini UCS small-scale and ROBO use
There is also UCS Director software to orchestrate big data infrastructure workloads.
Cisco's UCS veep and GM Paul Perez, said in canned remarks: "With this expanded portfolio, Cisco is delivering the largest wave of computing innovation since the original introduction of UCS – we are continually challenging and evolving how data centre infrastructure should be architected and managed."
John Chambers' company will have it that the "UCS C3160 Rack Server, featuring high-capacity local disk storage, is ideal for distributed data analytics and object stores, unstructured data repositories, and media streaming and transcoding." The "B200 M4 Blade Server, C220 M4 and C240 M4 Rack Servers continue Cisco's tradition of world-record application performance across a diverse range of workloads."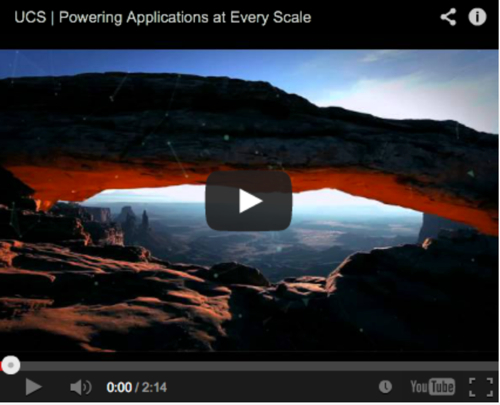 Cisco UCS Video;click the vid image to roll the vid/p>
The M-Series relies on "UCS's fabric computing for a leaner infrastructure for cloud scale applications."
A 2U chassis contains up to eight dual CPU compute cartridges with two independent Xeon E3s, with two or four cores inside. They connect to up to four SSDs and two 40Gbit/s Ethernet links. The chassis is cabled to UCS 6200 fabric interconnect, with up to 20 chassis connectable to a pair of these in a single management domain. The cartridges are swappable to provide server CPU upgrades.
Virtual Interface Card (VIC) tech lets the 2 x 40Gbit/s Ethernet bandwidth by – sub-divided into virtual connects using 10Gbit/s or 1Gbit/s Ethernet connectivity.
The UCS Mini is an "all-in-one [product that] delivers servers, storage and networking in a compact form factor."
The heart of it uses a B-Series chassis and blade servers with the 6324 Fabric Interconnect, which is restricted to a maximum of 15 servers (8 x B-Series blade servers and 7 x rack servers). This contrasts with full-size UCS servers, which can have many, many more interconnects.
The new B-Series and C-series will have specifications released in a few days time, possibly when/after Intel announces its Grantley processors with up to 18 cores per socket.
The UCS Director Express for Big Data "creates a seamless management and automation environment that unifies big data and enterprise applications. Cisco innovation in partnership with SAP and Intel now delivers a single management pane for combined SAP HANA and Hadoop infrastructure."
Get an M-Series datasheet here (PDF).
Find out more about the UCS mini here. Read Cisco CTO Padmasree Warrior's blog on the new kit and its background here.
UCS Mini servers start at under $20,000. ®