This article is more than 1 year old
PHABBA-DABBA-DOO! Samsung Galaxy Note 4, Edge, Gear VR – feast your eyes
The New Mobile Culture – show report
IFA 2014 So what is a rock band doing on stage at Samsung's Unpacked 2 mobile event, the prelude to its showing at IFA 2014 in Berlin? As the enormo projections above them show the keyboard solo being played on a Galaxy handset, all becomes clear... sort of.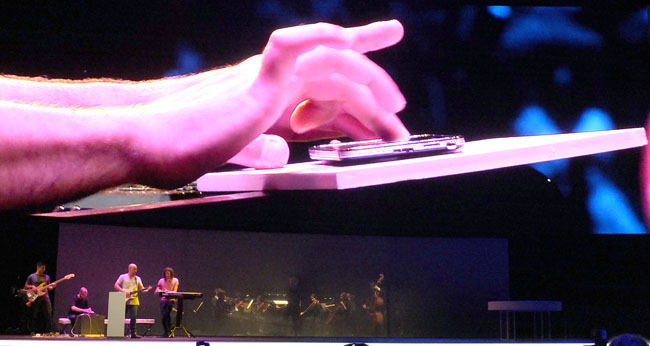 Soundcamp: Samsung's new realtime music solution in action
OK, so the band was plumbed into various synth apps and even guitar amp emulation from third party vendors tapping into "Soundcamp, Samsung's new realtime music solution". Harder to fathom though, was the live nine-piece string section that later appeared behind them.
Still, if we stick with the phones, then the message that Samsung's DJ Lee, President, Head of Sales and Marketing (IT and mobile comms) would later convey seems to ring true. He said, "In the internet of things era, the smartphone will be the hub of human interaction." And judging by the state of the said 'things' that's not too wide of the mark in terms of the consumer experience.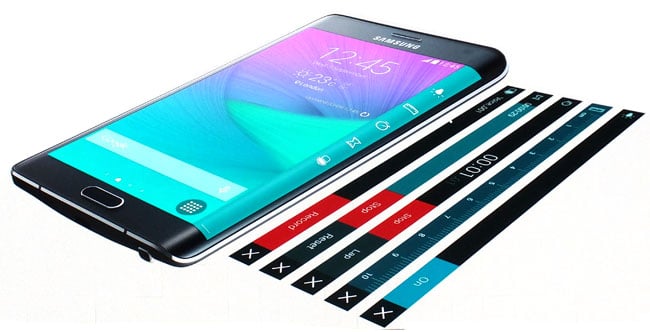 Samsung Galaxy Note Edge can scroll through multiple screen strips with a swipe
Yet in announcing the new Galaxy Note 4 and the inventive Galaxy Note Edge – with its swipeable margin display that can be anything from a news ticker, an app dock, camera controls or even media player transport buttons – the emphasis was not so much on winning fastest, biggest, brightest battles but on functionality.
It seems Samsung, like some of its rivals has woken up to battery anxiety and other user gripes. Consequently, the Note 4 and Note Edge appear to be all about refinements.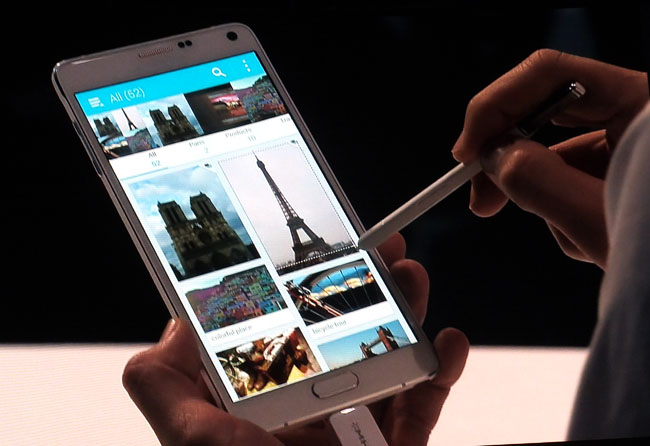 Samsung Galaxy Note 4 gets a better S Pen and more intuitive Multi Window control
This all sits rather well with what Samsung calls The New Mobile Culture. No, this isn't the gunge inside your smartphone's power socket but Lee's vision of the next generation of applications and functionality that we'll have in our hands very soon. He said, "Your mobile experience in our [sic] daily lives will never be the same." I guess we probably already knew that, we'd just never heard it said out loud before.
Announcing the availability of an SDK for the Note Edge today, the product itself remains in the distance, however, it will inherit a good deal of its functionality from the Note 4 which hits the streets in October. The emphasis in the presentation was on design, multitasking, S-Pen and camera.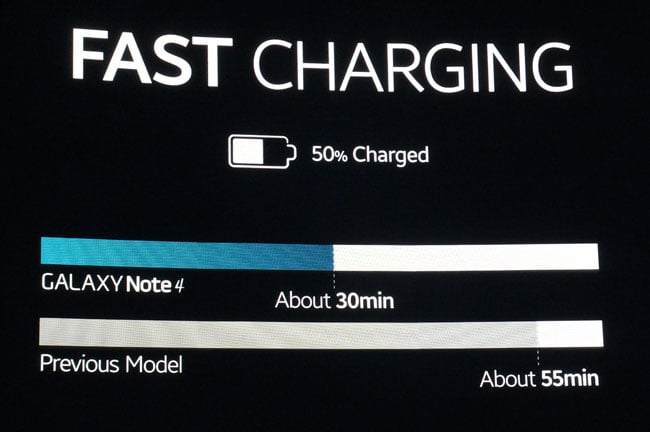 Some battery life improvements but if you can't make a big impression, fast charging is a workable compromise
At 176g and 8.5mm thick the Galaxy Note 4 sports a 5.7-inch 2560x1440-pixel Super AMOLED display that's now tougher than its predecessor, more responsive and has better viewing angles and even achieves a battery duration improvement of around 7.5 per cent over the Note 3. Not a massive amount, but worth having all the same. Fast charging is also part of the package with a 50 per cent top up taking around 30 minutes.
Samsung's Multi Window has been made more accessible too and appears in the Recent key listings. The Multi Window modes go from full screen to Pop-up, to Split or Icon views, which have their own merits depending on what you're trying to achieve.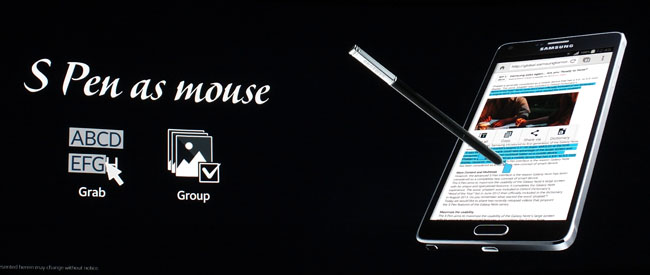 Adding mouse style functionality makes sense in some applications
Talking up the S Pen, nobody was convinced by European Marketing Director Rory O'Neill's statement that "The pen is mightier than the finger or thumb," but granted it does have its uses on the Note at times. Samsung has been working on making the S Pen seem more natural to use, doubling the pressure levels to 2048 and enabling the pen to function as a mouse with multiple selections at once.
Yet Samsung evidently wanted to make a point about its pen power and the surprise appearance of Mont Blanc VP Jens Henning Koch. He went on stage to introduce "fine writing to the digital world" with the Pix and e-StarWalker "screenwriters" that feature six virtual pen nibs for stylised writing.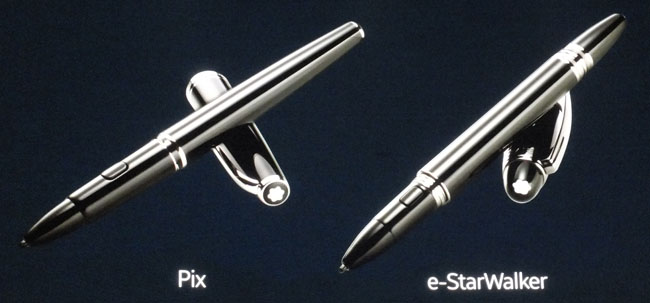 Mont Blanc Pix and e-StarWalker screenwriters