This article is more than 1 year old
Crack team weighs LOHAN's substantial box
41.5kg? Crikey
While our Low Orbit Helium Assisted Navigator (LOHAN) project moves rapidly forwards on multiple fronts, it's worth noting that behind the scenes, there's plenty of grunt work going on that doesn't involve the excitement of strapping spaceplanes to van roofs, rescuing stranded Playmonauts or shaking Middle England.
For example, my colleague Brid-Aine Parnell is currently in the process of obtaining an ATA Carnet to facilitate the movement of the Vulture 2 spaceplane and fantastical flying truss through US customs.
As part of the process, we need to know the weight of the truss, and the substantial box in which our aircraft will make its way Stateside.
LOHAN regulars will recall that we've already knocked up a rugged wooden enclosure for the aircraft, which we used back in April to whisk the rocket ship to Blighty for its vinyl wrap: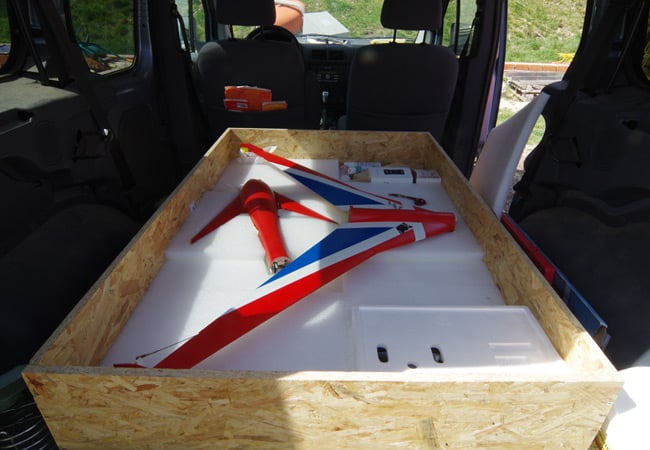 Obviously, kitchen scales aren't going to cut it when it comes to weighing this beast, so after a bit of head-scratching we realised there was a solution close to hand.
Cue a trip to local animal nosh emporium GEBE in El Barco de Avila...
...whose helpful staff - as well as being official suppliers of mutt grub and ass fodder to the SPB - also happen to have a handy set of big scales: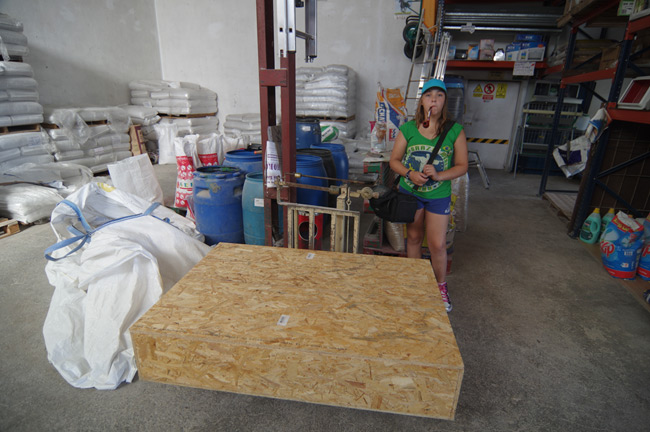 With apprentice boffin Katarina* on hand to oversee the operation, we quickly determined that LOHAN's box tips the scales at 41.5kg, excluding the Vulture 2 and the bits and pieces that will be travelling with her.
The job's a good 'un, and Brid-Aine now has the necessary info to proceed with the carnet application, the better to avoid a pull by grim-faced US airport security operatives.
While she's doing that, there are other heroes performing vital preparatory tasks. Having already magnificently volunteered to assist with the LOHAN launch, David Patterson and his fellow team members from Edge Research Laboratory are currently sourcing lifting gas and balloons on the other side of the Pond, as well as liaising with Andrew Tridgell on a long-distance Vulture 2 radio telemetry hook-up.
Without all these people to spread the load, organising LOHAN would be a near-impossible task. We invite readers to raise a pint or two in their honour, and indeed to salute all those volunteers who've helped us get tantalisingly close to the final big event.
Alternatively, skip the beer and spend the cash instead down at our Kickstarter campaign, where we've just hit £20k of our £30,000 target to enable us relocate to Spaceport America.

There's some good stuff on offer in return for backing the project, including mugs, t-shirts and the chance to meet the LOHAN team and our plucky Playmonaut at Vulture Central. ®
Bootnote
*Katarina's half Brazilian, hence the shirt. Mercifully, I don't have to endure any conversation regarding her mother's national football team for the next four years, with the words "seven" and "one" sufficient to prompt immediate sullen silence.
---
More from the lovely LOHAN:
---