Mac security packages range from peachy to rancid – antivirus tests
Ah, but are you a Windows nasty CARRIER?
---
Updated Independent tests of Mac antivirus products have discovered that the effectiveness of these security packages runs from a risible 20 per cent to an unimpeachable 100 per cent.
German security lab AV-TEST.org put 18 free and paid-for Mac OS X security products and services to the test, discovering widely differing performances in the process (results spreadsheet here). Poor performers included Webroot SecureAnywhere (19.7 per cent scan detection), McAfee Internet Security (26.5 per cent) and Trend Micro Titanium (38.5 per cent).
By contrast, Bitdefender Antivirus for Mac, G Data Antivirus for Mac and Norman Antivirus for Mac aced the test. Avast! Free Antivirus and Sophos Anti-Virus both scored in the high 90s for detection. However another freebie scanner, Avira Free Antivirus, only achieved 68 per cent. Norton Internet Security from Symantec achieved a mediocre 54.7 per cent in the scan test.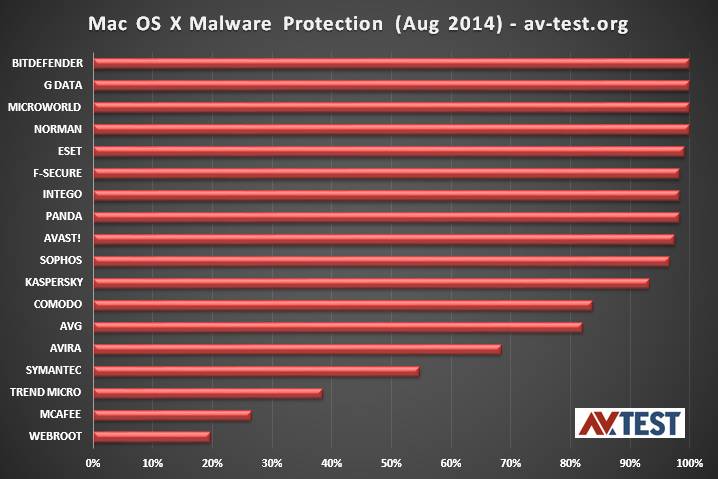 Mac attack
AV-TEST.org's testing methodology involved installing the security products on identical iMacs that were all connected to the internet, so the products could also use their cloud and reputation services. All the products were updated using the built-in functionality before each of the products was run through its paces with a series of on-demand scans and on-access tests featuring around 115 Mac OS X malware samples. The mixed results surprised the well-established security software testing house.
"We expected to see detection rates in the area of 85-100 per cent for most programs, as the malware situation is not as complex as on Windows or Android, and the number of samples of different families is still rather low," explained Andreas Marx, chief exec of AV-Test. "However, we were also surprised by the poor performance of certain products, especially as all of them are developed by well-known security companies.
"I think, all products which are able to detect more than 90 per cent of the malware used for the testing are good and can be recommended, and products scoring more than 95 per cent can be considered to be very good and very effective," he added.
AV-TEST.org also looked for false positives (eg, labelling third party Mac apps as potentially malicious). No Mac test security product flagged any of 100 widely used Mac applications as potentially suspicious or malicious. The lack of false positives during the test-run is a welcome contrast to comparable tests on Windows security software packages, which all too often fall down in this area.
The focus of the tests was on the protection offered by Mac products against Mac malware. These particular tests didn't look at Windows malware scanning, relevant in preventing Macs becoming unwitting carriers of Windows malware even though such nasties don't have a direct effect on the computers of Apple users. Not all Mac security software packages support this type of scanning. A look at this form of functionality may feature in future tests, AV-TEST said in a Twitter dialogue.
Coincidentally, rival security testing outfit AV-Comparatives also released a Mac Security report this week. Unlike that of AV-TEST.org, it also looked at how Mac security packages protected Apple machines from becoming carriers of Windows nasties. Of the eight products tested, all the big name brands scored 90 per cent and above in detecting the 65 test samples. Avast! Free Antivirus and Sophos Anti-Virus aced the text. Intego Mac Premium Bundle also got 100 per cent on the Mac version of the test while proving unreliable in detecting Windows samples (49 per cent). All the other tested products caught all 500 Windows nasties.
Like AV-Test.org, AV-Comparatives found that false positives weren't an issue with Mac security product. A 38 page report of on its test - which provides a review of the products put through their paces as well as raw detection rate figures - can be found here (PDF).
The number of malware samples for the Mac OS X platform is still very small but it would be foolish to infer from this that Macs are immune against viruses, as the "Flashback" outbreak with more than 600,000 infected Macs illustrated. Most security firms have stopped counting the number of different Windows malware strains. If pressed, they say numbers are north of 20 million. Android malware has become the second most common category, with more than one million.
Malware writers focus on Windows and Android, as these operating systems are still much more common and the "expertise" necessary to infect them is straightforward to acquire.
AV-TEST.org registers more than 400,000 new malware samples for Windows and 5,000 new samples for Android every day. This compares to a run rate of less than 100 malicious Mac OS programs per month (or around three per day). Numbers by themselves don't tell the complete picture, of course, because even a single malware variant such as Flashback (mac) or CryptoLocker (Windows) can cause a great deal of financial damage and general chaos.
A history of Mac malware can be found in a blog post by ESET here. ®
Update
Mike Malloy, executive vice president of products and strategy at Webroot, said: "We recently discovered a bug which we believe would negatively impact our efficacy in a test such as that run by AV-Test. This is not to say the test was improperly run; it was an error in our product and has since been fixed."
"Some of the free products are much better than the commercial variants," Andreas Marx, chief exec of AV-Test, told El Reg. "I also noticed that the paid software are a bit more pricy when compared with the Windows versions, despite the fact that the Windows tools have to deal with more than 250 million unique malware and for Mac OS we're speaking only about a few 1,000 variants."
"As you can imagine, we have received quite some feedback on the low detection scores. Some have identified bugs in their software (and already fixed it), others are saying that the malware we've tested against was not seen by their customers and thus, no protection was added yet. However, all vendors confirmed our findings and have updated their definitions so that the current versions should be able to detect all the critters from our test," he added.