This article is more than 1 year old
Microsoft's SELFIE-TASTIC Nokia 830, 730: Complete with DOG SMILE WHITENER
That's what you get with Lumia's refreshed midrange
Vid + Pics In the latest instalment of this year's smartphone camera gimmicks, Microsoft's ex-Nokia division, Microsoft Mobile Devices, showed off some of its own today at the IFA show in Berlin as it refreshed its year-old Lumia midrange and gave details of the next Windows Phone platform update.
Two new Nokia-branded models were unveiled, confirming that the former Nokia phones division is beating a dignified retreat from slugging it out in the premium, $600 market.
The new €330 Lumia 830 is a 5-incher that slims down the current flagship Lumia 930 that it very closely resembles – I'd struggle to tell them apart – into an 8.3mm thick package, with the thinnest hardware PureView OIS unit so far capturing images at 10MP. Yet it retains the Wireless Charging, previously only built into bulky devices.
Microsoft MD also announced a successor to last year's most underrated Lumia, the 720, with two models: the Lumia 735 and 730 Dual Sim sealed unit. The 4.7-inch display models featured a huge wide angle selfiecam with the usual post-processing beautification enhancements seen everywhere these days. But with one new gimmick: it can not only whiten a human's teeth in the image – but whiten a dog's teeth, too.
Improve your dog's smile in a photo? Why couldn't Apple think of this? Or the best PhDs of their generation at Google? This changes everything. Literally.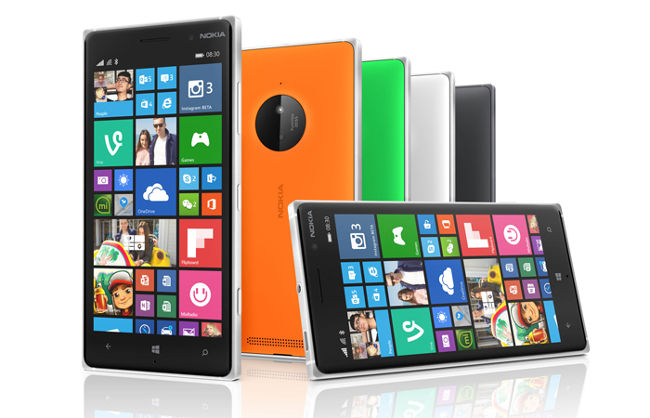 Nokia's Lumia 830 range. Dogs love 'em.
Seriously, though, some of the image enhancements in the forthcoming platform update 'Lumia Denim' and the improved standalone camera module - both due in Q4 - are genuinely impressive, though.
Amongst a bunch of improvements to Windows Phone's imaging system is the ability to capture flash and non-flash images of an object almost simultaneously, and blend them: Not-Nokia calls this "Dynamic Flash". And, the Lumia 730/735's faster hardware enables a shot-to-shot interval of only 42ms. Microsoft noted that means it can take between three and 12 images in the blink of an eye. The improved imaging can also do a dynamic interactive HDR blending, too. HDR is a software technique widely used to enhance high contrast images.
HTC and LG have made much of post-image refocussing on this year's flagships – HTC's One M8 even has two rear camera modules to enable the gimmick. Microsoft Mobile Devices also showed off a kind of Dynamic HDR post-processing blending too.
High end Lumia devices will be able to capture 4K video at 24fps.
These two new mid-range models are Nokia's attempt at putting attractive features into a smartphone at half the price of the original.
The 720 had a superb camera for its bargain price – thanks to a huge aperture lens. And its successor does too, with a similarly large f1.9 aperture. The new dual-SIM 730 goes out for 190 euros before taxes and subsidy, and the LTE version, the Lumia 735 at 219 euros. Street prices with discounts will be lower. It's a sealed package with a 2200mAh battery. Both feature a Snapdragon 400 1.2Ghz quad core with 1GB of RAM, and both models will ship into sales channels in early October. I had trouble distinguishing the 730 from its slimline predecessor the 720 - but the camera button is gone, and will be missed.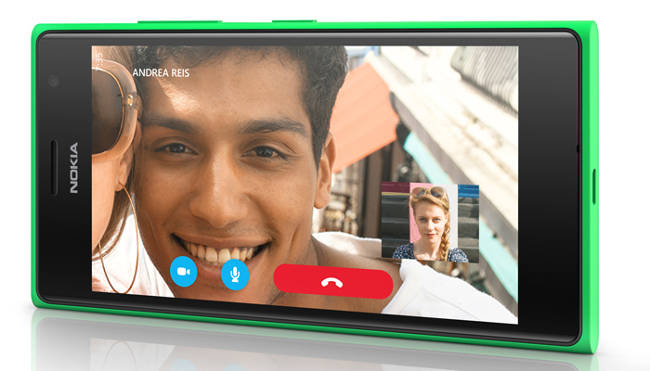 The Lumia 730, showing a Skype chat in session
Cortana update
By Q4, Microsoft said, Cortana should be shipping in a finished state for the UK market. It'll also beta in India, Canada and Australia by the end of the year. Cortana will be able to start without pressing any buttons, using the motion sensor.
Two interesting and useful accessories were shown. An NFC Miracast plate that plugs into your telly with the catchy name "Microsoft Screen Sharing accessory for Lumia HD-10" was shown. And a fancy new second gen wireless charging plate is not only NFC enabled (a fairly obvious addition) but has customisable lighting inside, which can be programmed to blink or glow for specific events. Lumias don't yet have a notification light built in, but this does the same job.
We'll bring you a hands on shortly.
More here: http://conversations.nokia.com
Nokia promo video of Lumia 830. Usual glitzy production values.