Ubuntu 14.10, nicknamed Utopic Unicorn, is coming in just a few months. Alpha releases have been available for some time but beta testing started last week, meaning code is generally stable enough for virtual machines and other testing scenarios.
Ubuntu's current release cycle means that the main Ubuntu line usually sits out the first beta and 14.10 is no exception. There is no beta 1 for Ubuntu 14.10; instead this beta consists of a number of participating "flavors," whose betas are also now available.
If you've never tried anything but Ubuntu, the first 14.10 beta releases make a good time to test alternate waters - especially if you're concerned about your privacy.
Unlike the Unity desktop, which sends your search data to Canonical for matching with Amazon search returns, other flavors of Ubuntu have no such features.
The alternative flavors of Ubuntu include the Xfce-based Xubuntu, the KDE-based Kubuntu, the LDXE-based Lubuntu, GNOME-based Ubuntu GNOME and soon perhaps a Mate-based Ubuntu. There is already a MATE-based version of Ubuntu available, though it hasn't been approved or endorsed by Canonical. That will likely change by the next release if the developers are able to meet Canonical's guidelines for recognition.
Keep in mind that all of these flavors share the same Ubuntu underpinnings - a Debian-based core with the same familiar apt-get package system and access to all the same .deb resources in the Ubuntu community. The primary difference comes down to desktop environment.
Xubuntu
Xubuntu ships with a relatively heavy weight version of the Xfce desktop that includes pretty much everything, the kitchen sink and the Ubuntu Software Center. The first beta version of Xubuntu 14.10 doesn't pack any huge changes, but does have some changes in progress including a few things that will also benefit Debian Xfce users as well.
This release sees some new tools under the hood, including a new display manager dialog that supports drag and drop, Gtk3.12-based themes and a new "minimal" install option that might mean Xubuntu doesn't have to be a heavweight version of Xfce.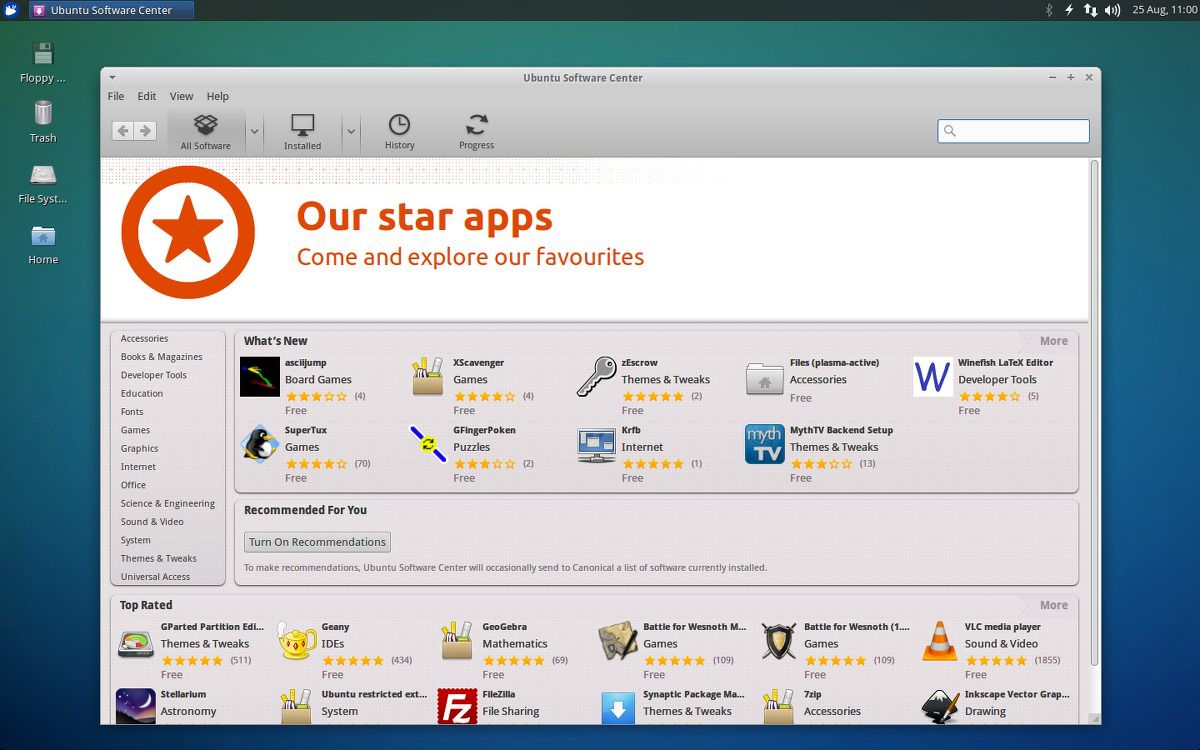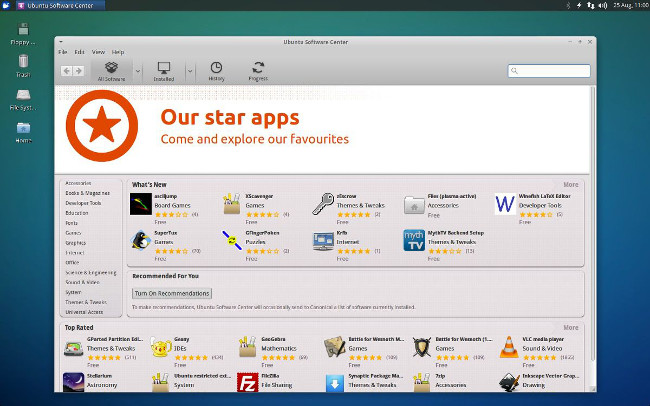 Ubuntu Software Center and the kitchen sink, in Xubuntu (click to enlarge to full size)
14.10 has a revamped power manager as well, which can now control the keyboard-backlight, though I haven't able to get this working properly yet.
Xubuntu appears to have dropped XChat since it is no longer being maintained. Pidgin can still connect to IRC, though heavy IRC users will no doubt like a better IRC client. Fortunately there are plenty in the Ubuntu repos.
Kubuntu
Kubuntu doesn't heavily customize the KDE experience, which makes sense given that part of what's appealing about KDE for many users is the level of customizability. There's no sense over-customizing a desktop that most people are going to tweak themselves.
If you love Ubuntu for the Software Center, Kubuntu might disappoint. Kubuntu uses Muon for GUI package management, which lacks some of the hand holding that made the Ubuntu Software Center friendly to beginners.
Kubuntu doesn't make any major changes in this release, but it will offer some incremental updates to the core system - KDE 4.14 forms the base - as well as updates for all the pre-installed KDE apps.
The KDE developers are hard at work on KDE Frameworks 5 and the Plasma 5 Desktop, but sadly you won't find it in Kubuntu just yet. That's probably a good thing given Plasma 5 still has some bugs and missing features. Still, once you've used Plasma 5 it's hard to go back to the much more garish 4.x line.
If you would like to play with the recently released KDE Plasma 5 desktop there are downloads available. Keep in mind, though, that both Kubuntu 14.10 and KDE 5 are very much works in progress and there will likely be some bugs. Recommended for testing purposes or satisfying your curiosity about the future of KDE, but not day-to-day use at this point.
Lubuntu
Lubuntu is the simplest, least resource-intensive version of Ubuntu you're likely to find. Lubuntu features the minimalist LXDE desktop, which combines Openbox, PCMan File Manager and a handful of other tools for a power-sipping, battery-loving desktop that's perfect for older hardware - particularly laptops.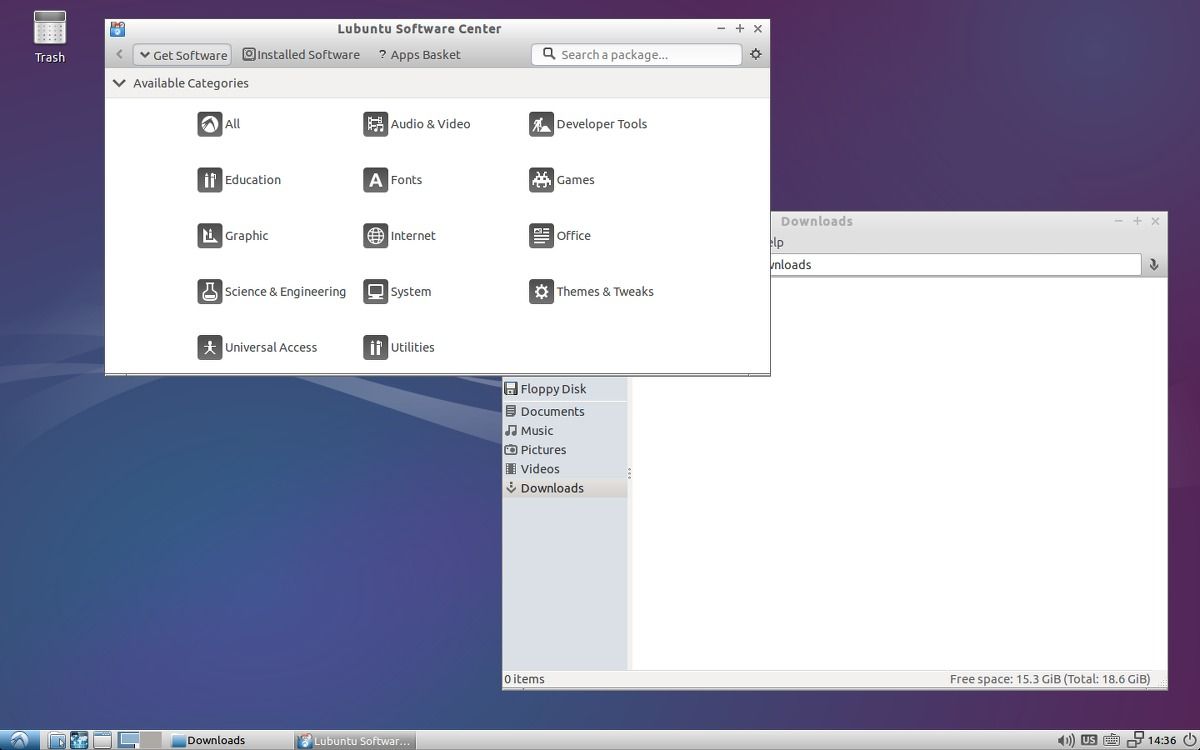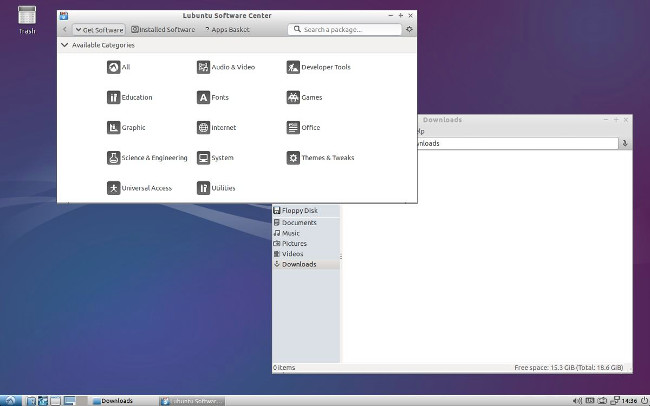 A power-friendly Ubuntu in the form of Lubuntu (click to enlarge to full size)
Lubuntu is coming off its first ever LTS release in the form of Lubuntu 14.04. Having just spent all its effort putting out the stablest possible release, many were hoping Lubuntu would use 14.10 to make the leap from LXDE to the new Qt-based LXQt.