Glove typing made easy
Both Toughpads have 10 point, multi-touch, 284ppi displays. Multitouch has its uses, but it's a nightmare when its raining, as El Reg discovered when it tested the FZ-G1 10.1-inch Toughpad in the shower – all those droplets are interpreted as touches and the screen dances about madly.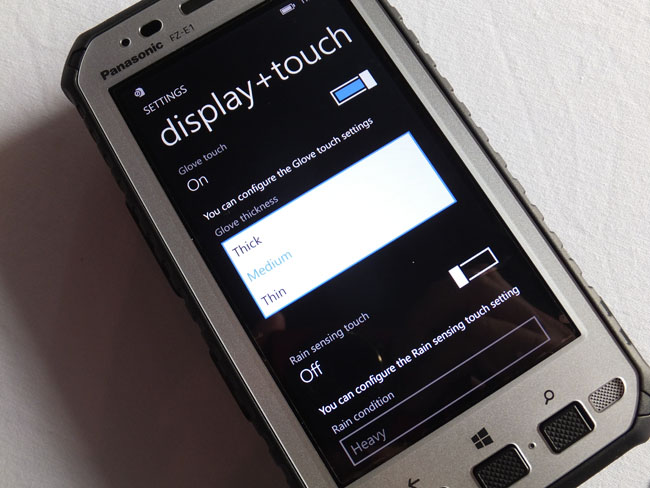 Unique display and touch options for gloves and rain
However, Panasonic has worked around this in its Rain Sensing mode by turning off multitouch and having display respond to just one point at a time which is detected by pressure on the screen. The display has its own Glove mode too, that has three settings based on glove thickness. When tried with heavy duty leather rigger gloves, swipes and typing was surprisingly easy, with latter needing a bit more time to maintain accuracy.
Glovetyping oil rigs, military and sub-zero environments
Getting dunked was all in a day's work for the FZ-E1 and FZ-X1 Toughpads, but surprisingly, Panasonic relies solely on hardware seals to keep out the wet and has no water repellent coatings from the likes of P2i or HzO to provide any further protection. One thing you do get is a fast charger that can belt out 3.6A, but wisely not attempted or even permissible over a USB connector.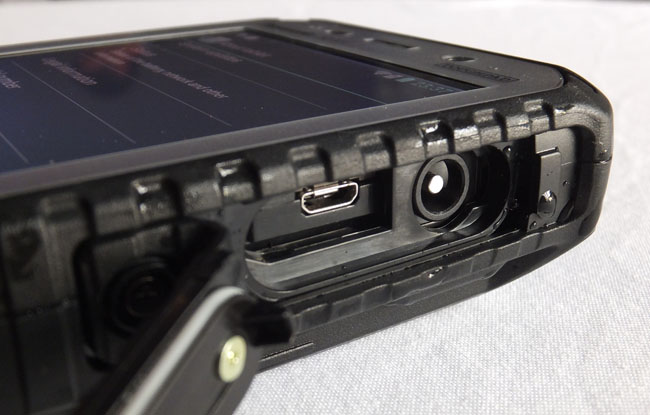 Fast charging socket and USB for data and slower charging if necessary
Although the bar code reader with its support for 36 codes appears to be the only internal expansion option at the moment, Jan Kämpfer, Computer Products Solutions General Manager (European Marketing), hinted at customer modifications enabling customisation for serial interfacing, USB buses, smart card readers and the like could become available at some point.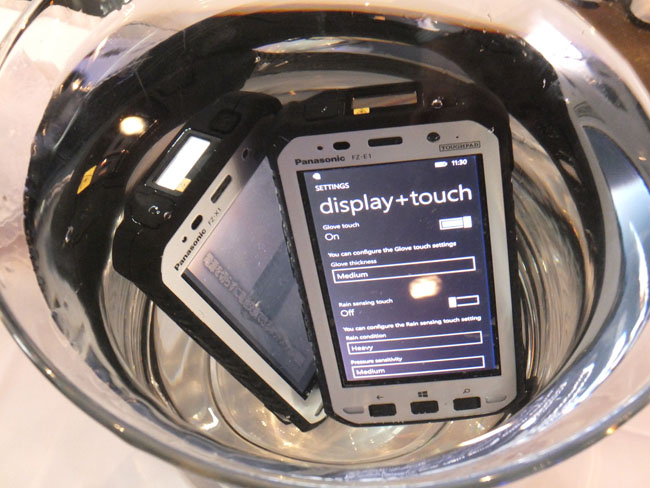 After a spell on the oil rig, always remember to wash your Toughpad
Unsurprisingly ignoring the presence of Panasonic's Android model, Microsoft's Mataic made the case for using Windows 8.1 Embedded as the "one standard enterprise handheld". He claimed its end user familiarity, rapid technology cadence and low cost would revamp the rugged industrial side of the market, which can be less user friendly, lack modern app compatibility and be less straightforward to develop on.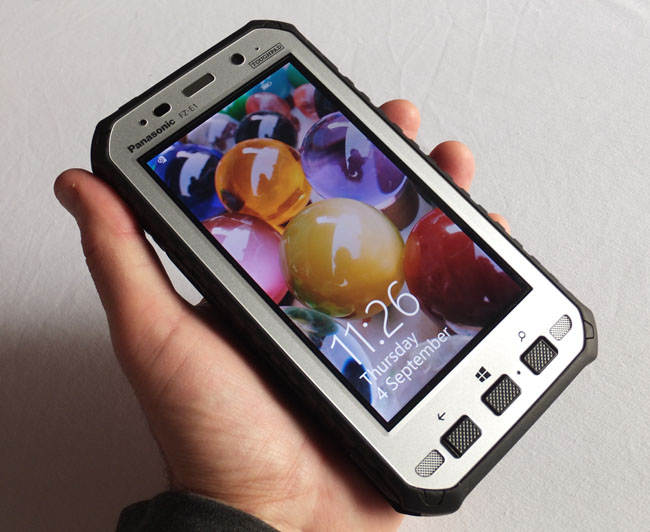 Panasonic FZ-E1 Toughpad Windows 8.1 Embedded or WinPho + security for the rest of us
Moreover, this combination enables the positive rugged industrial features such as peripheral support, developer knowledge and long life cycle to become incorporated too. So that's all right then. Oh and Panasonic chucks in a three-year warranty. And what was that again about low cost? We might have to wait a little longer to see how that pans out.
The Panasonic Toughpad FZ-X1 is available now from £1,229 and the Toughpad FZ-E1 will be available in November from £1,267. ®