Salesforce cloud goes titsup: Users face another long weekend
Service disruption for some, performance degradation for others
---
Customers dependent on Salesforce were kicked offline on Friday morning as Marc Benioff's cloud went titsup.
Sales and marketing teams were left looking at an early start to the weekend as their CRM-as-a-service checked out.
The blank screens seemed to be the result of a problem in two of the company's instances serving EMEA and North America.
It's the second round of problems to strike in a week.
Users on EU1 were struck by performance problems for six hours on September 1 thanks to a network configuration mistake while "operator error" stuck for an hour on the same day on instance EU0. Fifteen instances were hit over the same six-hour period by the same network configuration mistake on September 1, too.
An update on Salesforce's status page at around 8.30am UTC warned of "service disruption" in its EU1 instance for EMEA and "performance degradation" on the US NA7 instance but there were no more details. First reports hit The Reg's editorial desk at around 9.30am BST.
The problem appears to have hit users in Europe first, as organisations logged on at the start of the business day (during pre-business hours in the US).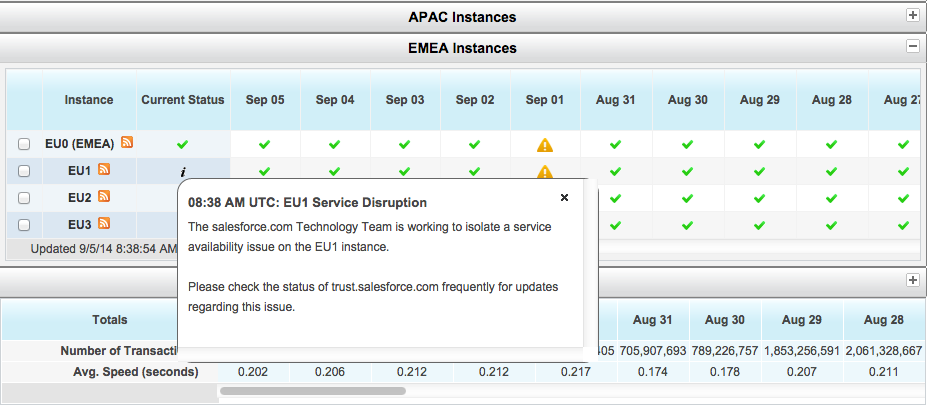 Service disruption hits Salesforce in EMEA
The Reg contacted Salesforce to find out what had gone wrong, but we were referred to the status page.
A spot of planned maintenance led to the last unplanned outage for Salesforce in November last year.
Europe has yet to get a dedicated Salesforce data centre, although a new facility from NTT Communications is due to open later this year. Announced in May 2013, the centre will be Salesforce's sixth worldwide and will support customers in Europe, Middle East and Africa. ®