This article is more than 1 year old
Zuck: Yo, Mexico! My $19bn WhatsApp could connect THREE BEEELLION people
Facebook boydroid frets about EU watchdog
Mark Zuckerberg wore his special altruistic pants on a trip to Mexico on Friday to flaunt his messaging wares in the country, by claiming that WhatsApp could connect up to three billion people globally.
He visited President Peña Nieto in Mexico City on what appeared to be a PR mission to help grow Facebook's business in that region by promoting his Internet.org plan to "make affordable internet access available to everyone".
The free content ad network agreed to buy messaging service WhatsApp in February for a whopping $19bn cash and stock deal.
But the agreement is still being scrutinised by competition officials in the European Union. In the US it's been a different story, with the Stateside antitrust watchdog waving the acquisition through.
"The internet offers huge opportunities for Mexico, from helping to share its talent, culture and businesses with the world and making government services more efficient," Zuck said, in a post on his Facebook page.
"Only about half of Mexico's population is currently online, and the President and I agree that we need to do more to accelerate the growth of the internet in Mexico. I'm excited to see what we can do together."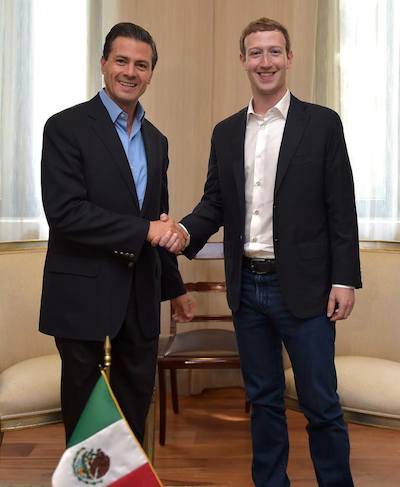 Mexico's Pres Nieto poses with Facebook chief. Pic credit: Mark Zuckerberg
Uncharacteristically, Facebook's multibillion dollar boydroid co-founder dressed up (a little) for the occasion, which was reportedly organised by another well-known billionaire, Carlos Slim, who just so happens to be the man behind Telmex - the biggest telco in Mexico. ®