Weekend reads: Perfidia, Fatherland and The Incredible Unlikeliness of Being
James Ellroy on form and doing what he does best ... again
---
Page File El Reg bookworms Mark Diston and Lucy Orr leaf their way through the latest literary treats from the uncompromising James Ellroy, TV's favourite scientist Alice Roberts and atmospheric comic novelist Nina Bunjevac.
Perfidia
James Ellroy is back on his home turf with the LAPD in his latest novel, Perfidia named after the Glenn Miller hit, which was all the rage at the time of Pearl Harbor. The novel introduces a new protagonist: Hideo Ashida; Japanese, gay and, it seems, the only non-corrupt officer in the entire LAPD.
Perfidia is a kind of prequel to Ellroy's previous L.A. Quartet, so many of the characters from his earlier novels such as The Black Dahlia and L.A. Confidential reappear in this work: Ward Littell, Buzz Meeks and Dudley Smith with his inimitable catchphrase: "I am in no way constrained by the law" all play a major part in the events that unfold.
The novel takes place over the last 24 days of 1941. The prose is as tight and fast moving as ever. Ellroy can out jivetalk Iceberg Slim and Huggy Bear combined and captures the paranoia and war fever in Los Angeles with aplomb.
A Japanese family is found dead, is it suicide or murder? Every member of the LA law enforcement scene are blackmailing and double crossing each other, as Japanese Americans are being interned as a risk to national security.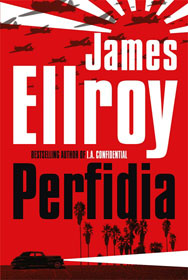 There is a typically Ellroyian ineffectual, left-wing conspiracy of homos, fey liberals and fifth columnists going on in the background – everyone is fucking everyone else, popping pills, getting pissed and tossing around racial slurs like their lives depended on it: "I heard Hitler's gassing Jews, Well someone has to!" "What is the beef between the Chinks and the Japs, they all look the same to me".
The text is swarming with an army of Kike, Coon and Kraut extras, even Ashida succumbs: "He thought in racial slurs now, the world was one fucked up place".
Yes, James Ellroy is back on form in his comfort zone and it shows. He knows the streets of Los Angeles like the back of his hand and the writing is much tighter and more effective than in the latter part of his Underworld USA trilogy, which found his characters and ideas spread further afield and thinner on the ground.
If you are in pursuit of vintage Ellroy, this book is for you. It delivers more of the same at a slightly more extreme level and therein also lies the novel's problem. The cops are a cross between twentieth century cowboys and Judge Dredd, and more of a danger to the public than the criminals and the Japs put together. Summary executions are undertaken on a whim and everyone has a dark, ulterior motive. The violence is of a stylised cartoon nature, the crime an irrelevant sideshow.
While Ellroy can dismiss whole national or racial types with an epithet, his great strength as a writer is his treatment of individuals. Hideo Ashida is a sensitively drawn character and the only device that prevents the novel descending into farce.
James Ellroy's life and work all pivots around a defining moment, the unsolved murder of his mother in 1958. His autobiographical works My Dark Places and The Hilliker Curse are painfully honest accounts of the continuing influence of this traumatic event. It is no wonder that he has a little authoritarian streak. And when it comes to the LAPD and cops in general; to borrow a phrase from George Clinton, "Jimmy's got a little bit of bitch in him".
My beef with James Ellroy is that his novels are all period pieces, he has never really progressed much beyond Watergate and his best work all takes part in the monochrome world of the 1940s and 1950s, before he was old enough to know better, when his mother was still alive.
James Ellroy once acknowledged his reputation as a "right-wing buffoon", but there is a lot more to him than that. At his best, he is a match for those other great radical reactionaries: William S. Burroughs and Louis-Ferdinand Celine. All three are individualists, yearning for a mythical past, full of the most politically incorrect vitriol, yet extremely sensitive to the plight of the individual.
By writing almost exclusively in the past, Ellroy has carefully avoided the pitfalls which Celine and Burroughs encountered. He sells more books, avoids litigation and his life of crime and addiction are well behind him. But his avoidance of more topical themes makes him a lesser writer.
I would love to hear Ellroy on Oliver North, Rodney King and O.J. Simpson. It would be great to hear his descriptions of Michael Jackson's peccadilloes transcribed against the background of 9/11. Or Bush, Blair, Osama and Saddam carving up their little spheres of influence like LA hoodlums. It appears that his Dudley Smith character has recently been spotted in action in Ferguson, Missouri.
Yet Ellroy remains curiously silent on these matters. No one gives a toss about the sex lives of Barbara Stanwyck and Ginger Rogers in 2014, but if the back street abortionist came out with "I scraped Angelina Jolie and the baby had two heads". Now that might be worth a yuk, James. MD

Author
James Ellroy
Title
Perfidia
Publisher
William Heinemann
Price
£18.99 (Hardback) £9.98 (eBook)
More info
Publication web site