Apple iPhone owners in England and Wales are the most likely group of citizens to have their handsets snatched by thieves, the UK government warned today.
Whitehall published its first Mobile Phone Theft Ratio report (PDF) on Sunday morning. It comes after Home Secretary Theresa May said earlier this week that the government would reveal its findings to help Brits make informed decisions about what handsets to buy, based on which is the least likely to be stolen by wrongdoers.
Going by the government's advice, then, it's a bad idea to consider queuing for an iPhone 6, which is expected to hit Apple stores in the not too distant future.
Around 750,000 people living in England and Wales were victims of phone theft in the year 2012/13, the Home Office said. It added:
Mobile phones are increasingly valuable, due not just to the growing sophistication of their technology, but also to the personal and financial data stored on them. Some estimates put the value of data held on typical smartphones at more than the value of the phone itself.
It pored over hundreds of thousands of Metropolitan Police data points detailing handset thefts in London from 1 August 2012 to 5 January 2014 as part of the government's analysis of results garnered from the Crime Survey for England and Wales.
Most victims, the study found, had their phones stolen either from their pockets or while it was left unattended on, for example, a bar table.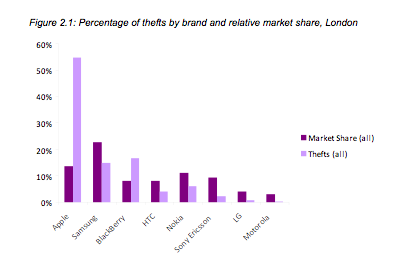 Source: Home Office
Young women aged between 14 and 24 were the most likely victims to be targeted by mobile phone robbers.
Thieves nicked more iPhones in London during that period than any other device. In fact, the data showed that over 50 per cent of all stolen handsets in the capital were Apple mobes.
Blackberry was the second most likely smartphone to be stolen by crims, while Samsung came third on the inglorious list.
"The likelihood of a phone being targeted by thieves is driven by a number of factors, from the overall desirability of the phone itself, to the ease of access to valuable personal data stored on it, to the perceived risk of being tracked once the phone has been stolen," the Home Office report said.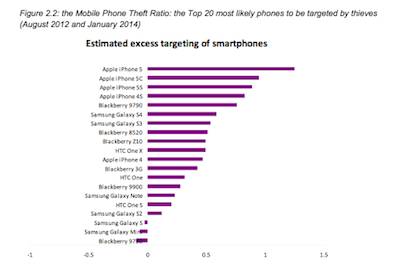 Source: Home Office
However, the government admitted that its data might be slightly rusty given the "widespread introduction of device-based solutions since September 2013", such as Apple's "Find My Phone" security feature.
The government added that iPhone larceny had fallen since Cupertino pushed out its iOS 7 software.
A further analysis of phone theft is expected to be published by the Home Office in 2015. ®