Rod Tucker, a laureate emeritus professor at the University of Melbourne, IEEE fellow, and networking researcher has posted an article that offers very heavy criticism of the Vertigan Review's cost-benefit analysis of Australia's National Broadband Network (NBN).
Tucker's beef is with analysis provided by Communications Chambers, a consultancy firm that offered a view of future broadband requirements. His first complaint is that the analysis the firm produced says that in 2023 Australians will require less bandwidth than Ookla's speedtest site says we consume today!
"Communication Chambers is saying the rapid growth in internet access speed that we have seen in recent years is about to suddenly come to an abrupt end and there is no need for any increase in download speeds in Australia for the next nine years," Tucker writes. "This defies logic, and it's a mystery why the Vertigan panel didn't ask Communications Chambers to check the calculations and fix the data."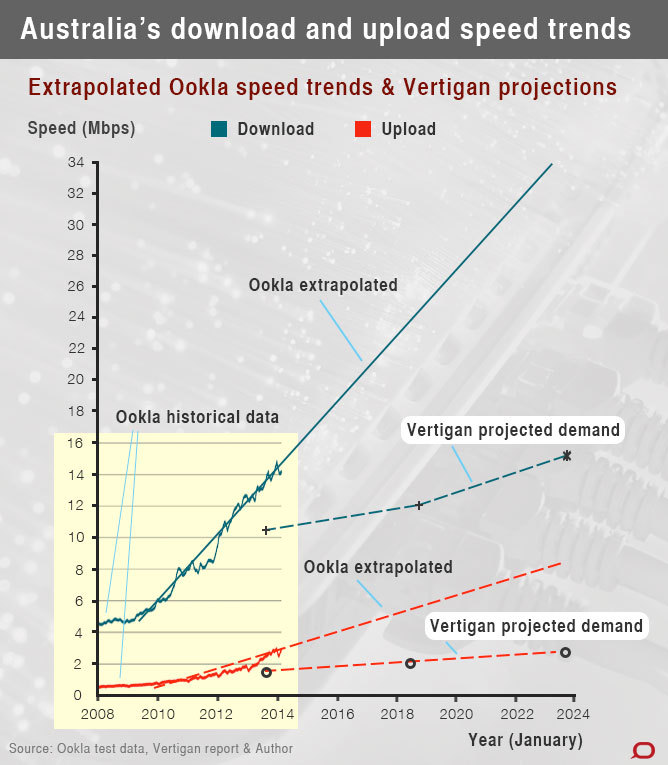 Rod Tucker's comparison of data from Ookla's speedtest and Communications Chambers
Relying on the graph above, the top line of which extrapolates Ookla data out to 2023. Tucker says that's a kind extrapolation because it is linear, not the exponential growth in bandwidth use one would expect to see.
Using that method Tucker puts his name to an expectation among Australian internet users of "... average download and upload speeds in 2023 of around 34 Mbps and 8.5 Mbps, respectively. This is about the same as in the USA today."
Tucker also takes issues with Communications Chambers' analysis of heavy users. Here's his analysis:
"For example, the Vertigan report claims that in 2023 the average household will require 15 Mbps, but the 0.01% most internet-active households will require 48 Mbps. In other words, the most active of households require about three times the average of 15 Mbps. This enables Vertigan to come to the conclusion that by 2023, everyone will be well served by the Coalition's multi-technology mix (MTM) using fibre to the node (FTTN), delivering 50 Mbps. How very convenient."
He continues:
"If we multiply my projected average download speed of 34 Mbps by the three-times ratio used by Vertigan between high-end users and average users, we find that high-end users will require download speeds of 102 Mbps. If I replace my conservative linear projection by an exponential projection, the required download speed for high-end users will be more than 200 Mbps. A FTTN network cannot provide these speeds; a FTTP network can."
Tucker's conclusion is that if Communications Chambers had used his assumptions, and "realistic data for growth in demand, their cost-benefit analysis may well have shown that a FTTP network will provide Australia with the best long-term value for money."
Tucker was a member of the panel that advised former Prime Minister Kevin Rudd on the NBN, so has skin in the game. His analysis also appears not to address the fact that DSL successor G.fast is projected to deliver 200Mbps to 500Mbps downloads, while emerging HFC standard DOCSIS 3.1 has gigabit-per-second capabilities. ®