It's official: Vendors are NOT shifting that networked storage
EMC still top dog, reckons IDC's tracker as woes spread from high-end to mid-range
---
IDC's second 2014 quarter storage tracker shows networked storage array revenues fell for the second quarter in a row, with both high-end and mid-range array sales affected. It marks 12 months of high-end storage revenue decline.
The tracker looks at networked arrays (external-controller-based storage) and also the total disk storage market (internal and external controller-based storage).
Network storage factory revenues of to $5.9bn saw a 1.4 per cent decline from the second 2013 quarter to the second 2014 quarter. Conversely, total disk storage revenues for the quarter were $7.8bn, 0.3 per cent higher than a year ago.
Head IDC storage tracker (Research Director) Eric Sheppard said: "The high-end decline was not as striking as last quarter but it was coupled with a drop in midrange sales, suggesting weak demand is spreading to other parts of the market. Bright spots within the global storage market include growth from entry-level storage and increased sales within EMEA and Latin America."
This IDC finding supports a view that server SANS, all-flash storage and cloud storage are eating into networked disk storage array sales.
Within the external storage array market vendor positions changed as follows:
EMC was the big cheese with 30.1 per cent of the revenue, down from 31.2 per cent a year ago.
IDC class NetApp and IBM as joint second with 13 per cent and 12.1 per cent respectively. They were 13.2 per cent and 12.5 per cent a year ago, so both, like EMC, declined.
HP had 10.1 per cent, up from 10 per cent last year.
Dell and Hitachi (including HDS) tied for fifth with 7.2 per cent and 6.4 per cent respectively. Dell had the same percentage a year ago but Hitachi fell from 7.1 per cent last year.
The chart below shows the quarter-by-quarter changes, with IBM having a noticeable rebound from last quarter's low point. Dell is included in the Others category in this chart, by the way.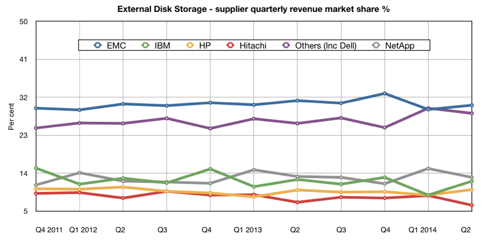 External controller-based storage vendor trends: IDC Worldwide Storage Tracker. Click chart for larger version.
The total disk storage numbers rank the suppliers differently, as the chart shows, with both IBM and HP showing strong quarter-on-quarter growth: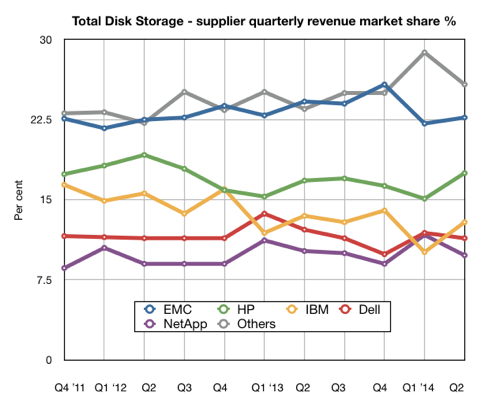 IDC notes EMC was top dog here too, with a 22.7 per cent share, down 5.2 per cent year-on-year, with HP in second place enjoying a 17.5 per cent share, up 4.7 per cent year-on-year. IBM was third with 12.9 per cent (13.5 per cent a year ago) and Dell fourth with 11.4 per cent, down from 12.2 per cent last year.
NetApp was in fifth place with 9.8 per cent, lower than last year's 10.2 per cent. Hitachi (HDS) is lumped in with the remaining suppliers in the Others group.
It will be fascinating to see if the overall declines continue next quarter.
Find out more about IDC's Worldwide Quarterly Disk Storage Systems Tracker here. ®