This article is more than 1 year old
LOHAN premieres spaceplane mission summary vid
Enlightenment for ballocket virgins, as our Kickstarter campaign rolls on
Video summary of the entire LOHAN mission.
In response to calls for a Low Orbit Helium Assisted Navigator (LOHAN) summary video in support of our ongoing Kickstarter tin-rattling to launch the Vulture 2 spaceplane in New Mexico, we've put together a bare-bones overview of just how our audacious ballocket mission will work when the big day arrives.
Those readers who've been following our progress since it was all fields round here will of course need no such enlightenment, but the vid serves a useful purpose in initiating LOHAN virgins outside the El Reg diaspora.
One thing that is new for spaceplane old timers is a view of the magnificent Vulture 2 mated with the carbon fibre fantastical flying truss, with apprentice boffin Katarina on hand to ensure the whole thing doesn't blow over: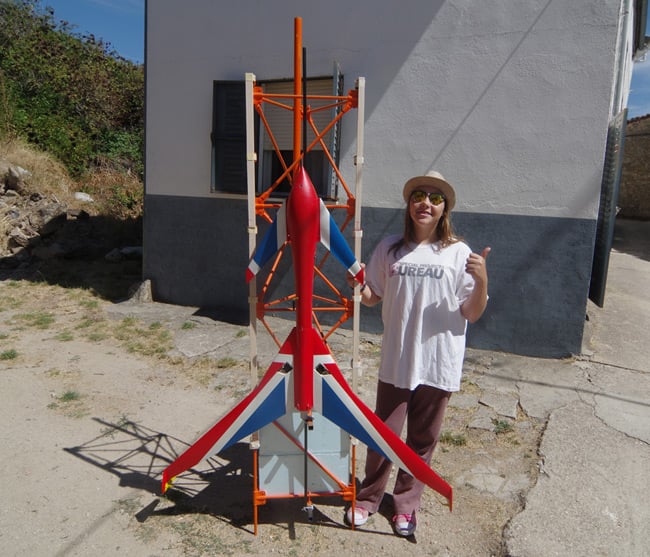 While the whole rig looks truly impressive, we've still got a little bit of work to do on the truss. The aircraft pivots freely on the launch rod, and the balsa strips you can see running the length of the truss are intended prevent the wings banging on the longitudinal truss members. They'll eventually have Teflon glued to their underside, to facilitate the launch. Here's how the whole kit and caboodle works:
We'll bring you a detailed overview of the truss as soon as we've finished fettling, but in the meantime if you want to see it soar majestically heavenwards over Spaceport America, you can exchange cash for tempting rewards down at Kickstarter. ®

---
More from the lovely LOHAN:
---