This article is more than 1 year old
Apple's SNEAKY plan: COPY ANDROID. Hello iPhone 6, Watch
Sizes, prices and all – but not for the wrist-o-puter
Pics Apple's monster event has now been and gone – revealing two new iPhone 6 models and an Apple iWatch Watch, just as everyone expected.
First, there was the introduction of new iPhones. As rumored, Cupertino delivered a pair of larger models: the 4.7-inch iPhone 6 and the phablet-like iPhone 6 Plus, which sports a 5.5-inch touchscreen.
In addition to the larger displays, the new models will have thinner profiles – the 6 is 6.9 mm thick and 129g, whereas the 6 Plus is 7.1mm and 172g, making them heavier than the iPhone 5.
Apple has also returned to the rounded case backing of previous iPhones. Inside, the new iOS 8 models will sport the faster A8 processor with two billion transistors, a revamped 8Mp 1080p camera with image stabilization, and a host of new imaging and video software tools.
So there's a landscape Home screen. 1m pixels on the 4.7in iPhone 6. Or 2m on 5.5in iPhone 6 Plus pic.twitter.com/ZcT9jmKxYk

— The Register (@TheRegister) September 9, 2014
Cupertino is maintaining the price structure of the iPhone 5s for the iPhone 6, with $199, $299, and $399 price points for 16GB, 64GB, and 128GB internal storage, respectively, on a two-year contract. Add $100 if you want a 6 Plus.
Fears that the iPhone 6 Plus would be delayed appear to be unfounded. Apple was able to overcome any (theoretical) production problems or hardware issues to deliver the iPhone 6 Plus on 19 September, the same day the iPhone 6 launches and well ahead of the previously reported 2015 release date (although just how many units Apple will have on hand remains to be seen).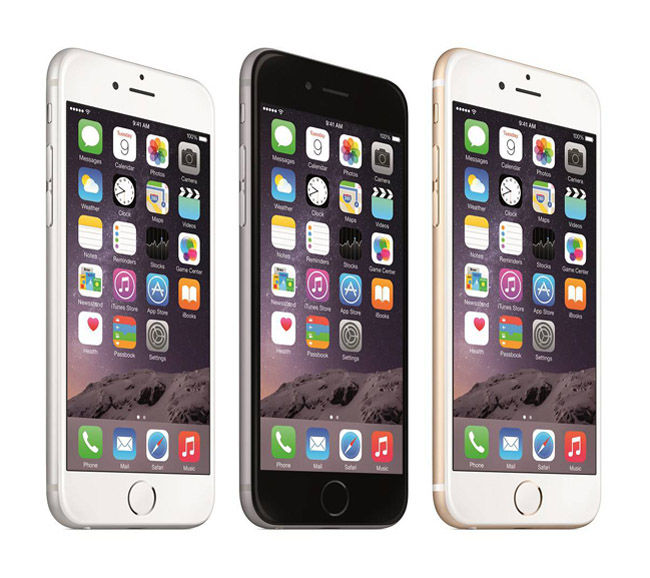 iShiny: The new iPhone 6
The iPhone 6 Plus will retain a reasonable (by Apple standards) price range of $299 for the 16GB version, $399 for 64GB, and $499 for the 128GB phablet.
While the iPhone revamp was hardly unexpected, it nonetheless brings a solid pack of updates that should help Apple catch up with larger-screened Android headsets. The company had been losing ground to its rivals as consumers were finding the benefits of iOS were not enough to overcome aging hardware.
With the new iPhones to help bridge that gap, Apple could once again see its sales figures (and market share) jump over the holiday season.
Sorry Apple #iphone #Apple #Android #Nexus pic.twitter.com/oMsNzSUwer

— ✌ Eduardo ✌ (@TheRedBoy18) September 9, 2014
The second piece of news was the rollout of Apple Pay. As had been rumored, Apple's mobile payment system will integrate with major credit card companies and retail chains and promises to securely handle your card data without exposing it to loss or abuse – though if there's one area where Apple customers should be wary it's on the security front.
This could be one area that benefits not only Apple, but merchants and the mobile payment industry as well. Payment systems succeed when there exists a critical mass of people willing to use them, and the legions of Apple fanbois who will be updating their older iPhones in the coming months will bring a huge potential audience for mobile payments, which could lure more shops to accept them.
And then of course there was the storied "one more thing," as Tim Cook channeled his inner Steve Jobs to give the big news we all pretty much figured was coming but still acted surprised over: the Apple Watch. (Don't call it an iWatch, though – Apple is seemingly done with that particular letter-prefix.)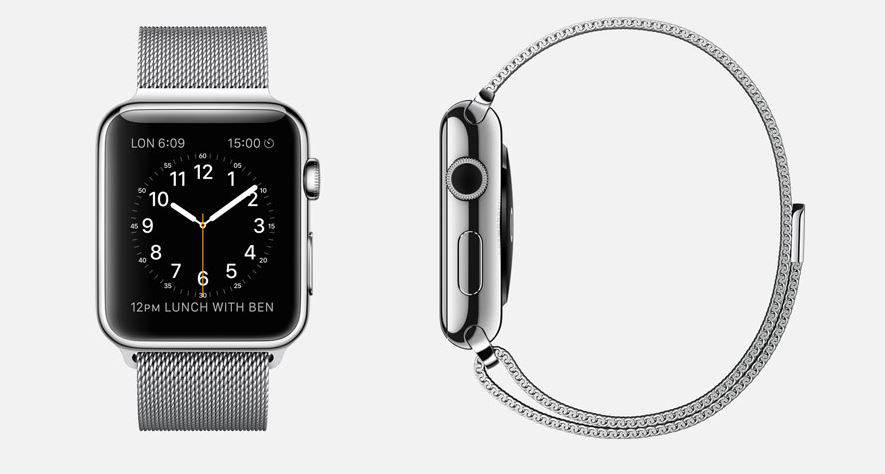 It's a nice-looking bit of kit, if over-the-top wrist-bling is your thing. The company has tried to make the watch look attractive to normal people, as opposed to other smartwatches that have felt like little more than micro-tablets strapped to cheap wristbands.
Apple Watch will combine smartwatch tools such as notifications, wireless phone integration, and customizable watch faces with Apple's HealthKit fitness-tracking tools and Siri support – so you can talk into your wrist like Dick Tracy or Penny from Inspector Gadget, and have Siri answer your questions.
BTW the Apple Watch has Siri support, so you can talk into your wrist. Just like Penny from Inspector Gadget pic.twitter.com/VDzrHU36Jh

— The Register (@TheRegister) September 9, 2014
While these are all right features, none are really the sort of thing that makes us want to bin our Fitbits. The Apple Watch's screen is small, and anything other than basic navigation – controlled by a twiddling a knob on the side – is going to be inconvenient.
Another inconvenience is the battery life: Apple neglected to mention that other than hint you'll have to charge it every night.
A great many people stopped wearing wristwatches some years ago when mobile phones came about, for the simple reason that the device was redundant. When you get down to it, lifting your wrist to your face is not much more convenient than reaching into a pocket.
It's an iPod-minus-minus-minus on your wrist! Isn't that the iPod Nano? And yet the crowd goes wild. The Apple Watch pic.twitter.com/fhKjzj0N6t

— The Register (@TheRegister) September 9, 2014
That's the bottom line with the Apple Watch; it's still an iPhone accessory, and while it has its selling points, are they really worth a device that will cost as much (or more) as your phone? A new iPhone Plus and $349 Apple Watch add up to an eye-popping $850, put together. If forced to choose between updating your iPhone 5 or getting Apple Watch, we suspect many will opt for the bigger screen over the wristgizmo.
That's not to say Apple Watch doesn't have a place and won't ever be successful, but until hardware prices come down, it's hard to see it as anything more than a niche product.
It certainly might make a nice Christmas present, though – ah, but there's the rub. Cook said the Apple Watch won't actually launch until "early 2015." Pity, that. ®