BJ Jenkins' Barracuda has made its first acquisitive bite, buying mail archiver and manager C2C for an undisclosed mix of cash and stock. It's part of a comprehensive product revamp called Data Protection Plus.
Barracuda is a backup, file sync and share and content/application security business, which went through an IPO in November 2013, raising $75m with a share price of $18.
Rod Mathews, Barracuda's GM for storage, says today's workplace is more virtualised, cloud enabled and mobile. The product set revamp and C2C acquisition "accelerates the use of virtualisation, cloud and mobile technologies."
C2C is a 20 year-old self-funded crew of 35 heads that's built a great set of technology, such as MaX Compression and ArchiveOne for Exchange, to manage mail box content (PST files) and archive it. ArchiveOne Express is a version of the product for SMEs.
The problem facing C2C is that it competes with much bigger and better-funded vendors such as Symantec, EMC and CommVault. It seems to have found it difficult to develop the engineering and go-to-market resources to match them.
Barracuda wants to evolve its offerings from smaller organisations into the mid-market, and broadening its product coverage with the C2C assets is seen as the way to do this, with C2C getting access to Barracuda's channel, and Barracuda's products flowing through C2C's channel. The road is clear to integrate the two product sets and build a stronger and combined group of offerings.
The acquisition was actually completed in August. All of C2C's staff, with many in its Reading, UK, office base, are joining Barracuda.
The Data Protection Plus marketing initiative is "aimed at helping customers access, retain and share critical data from anywhere and any device" and features:
Backup v6.0 - which adds "local control to enable operation and management in private "dark" environments without sending data to the cloud, faster recovery times with granular recovery of Microsoft Hyper-V virtual machines without the need to restore the VM, and support for Microsoft SQL Server 2014."
Message Archiver v4.0 - which extends archiving capacity by allowing Barracuda Message Archiver to move or copy data to the Barracuda Cloud. This gives users access to email from any device, regardless if email services are available, extending capacity and offsite disaster recovery. Customers can connect appliances for capacity expansion and federated search. It's available as a virtual appliance for customers not needing additional hardware.
A new Copy Site Server is an on-premises device to enables onsite and cloud-based file sync and share and optimise access, performance and security. It works LDAP, for access control, and supports existing file shares with the ability to act as a local network drive.
A new SignNow Appliance is an on-premises eSignature device that allows organisations to share, sign and collaborate in a secure environment. It comes either as a hardware or software-only (virtual) appliance.
For lovers of marketing arcana, Barracuda sponsors the 2012 world competition climbing champion, Austrian Jakob Schubert. Climbers need protection... perhaps that's the angle. Here's a video of Schubert in action: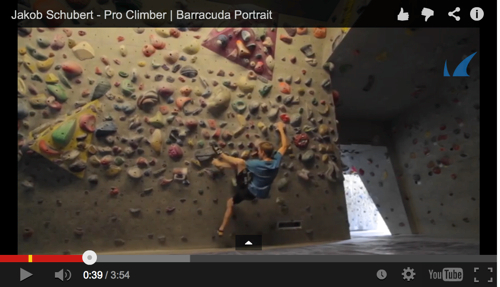 Click the video image to roll short video.
Barracuda also sponsors cyclists and wake surfers - it's pretty athletic in its sponsorship.
Barracuda customers get a much wider and more capable set of products and can look forward to the C2C product set being presented to them as a better way of handling email. Read a Data Protection Plus blog to find out more. ®