TV techies proudly display their MIGHTY BENDERS in Berlin
Would madam care for a TV-cum-vanity mirror with makeup preview tech?
IFA 2014 Tellies, tellies, tellies… big flat ones that don't bend, big bendy ones that flatten out, OLED, LED backlit and beyond were all on show at consumer electronics trade show IFA.
There was a whiff of more of the same about some of these offerings though with Samsung's 105-inch Ultra HD LED TV taking pride of place on its stand. Yes, it's the same now-it's-bendy, now-it-isn't enormo set that El Reg reported on earlier in the year.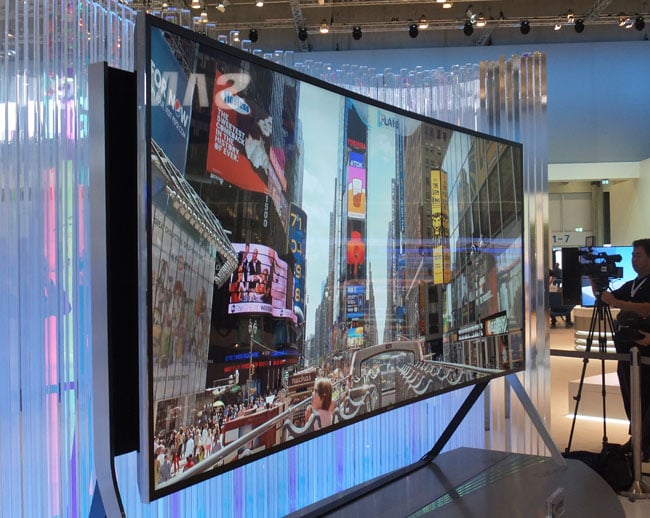 Samsung's flexible telly in mid-bend position
It's said to cost around £160k, so perhaps the lower cost fixed curved alternative, the attractively named UE105S9, will appeal as it looks more likely to go on sale – but don't expect much change from £120k. Remember you'll need a fair bit of space for it and the forklift truck to bring it into your home, as spec details suggest the packaging weighs almost as much as the TV – 90kg panel, 107kg with stand and 185kg with both all boxed up.
The 105-incher measures up at 245 x 108 x 29cm without the stand but you're likely to need it, which enlarges matters slightly to 249 x 146 x 64cm.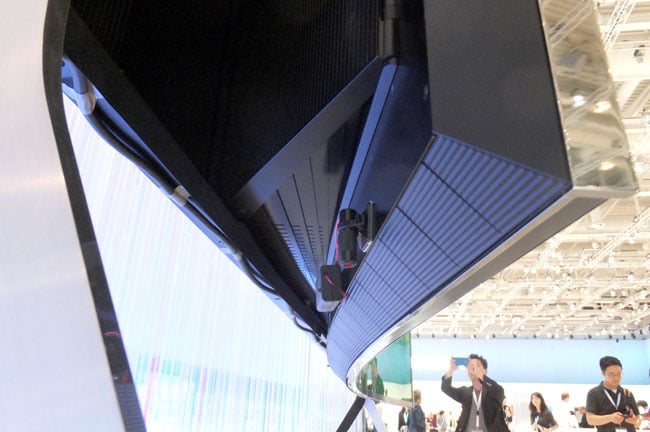 Peeking underneath Samsung's big bender
Not content with 4K, ultra wide "5K" tellies featuring a 5120 x 2160-pixel resolution are the differentiator with these behemoths from Samsung and LG. A peek round the back revealed the UE105S9 wasn't littered with impossible-to-reach AV sockets but instead has a USB port for a camera and a single OneConnect TV interface that disappeared under the platform, presumably to some break-out box, which, apparently, even includes SCART – ah, bless.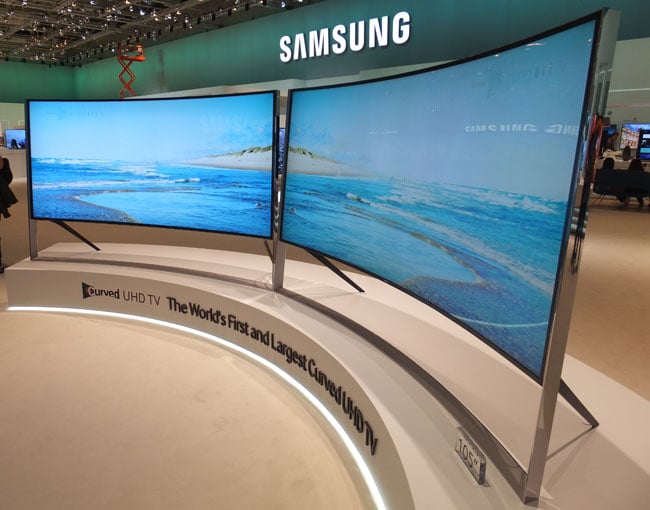 Samsung UE105S9 5K 105-inch curved TVs – the ones that stay that way
If your needs are more modest, and your image viewing preference is warped, Samsung has now notched up 17 curved tellies in its range with sizes starting at 48 inches.
LG had already done showing off its 105-inch curved LED telly at CES, but rather than transforming it into a bendable model, its attention has been on making a smaller flexy UltraHD OLED telly to claim a world first, with its 77-inch prototype on display along with fixed curved 77-inch LG 77EC980V we saw earlier in this summer and 65EC980V 65-inch models that are even on sale in Currys.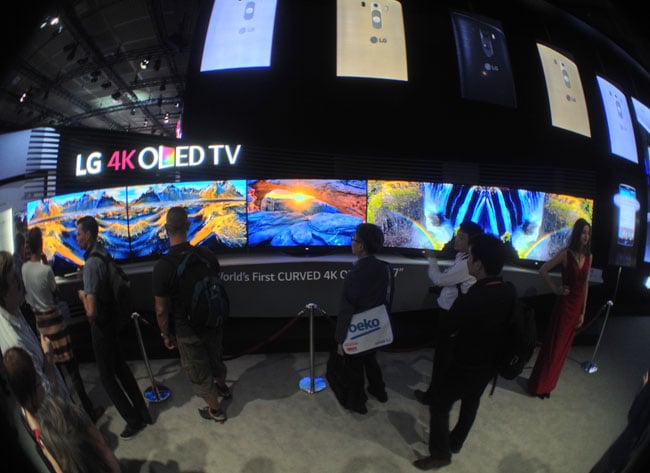 LG's 77EC980V curved Ultra HD OLED tellies take pride of place – yours for £20K
The combination of 4K resolution and OLED image clarity has been oft been considered to deliver sufficient depth be the antidote to 3D gimmickry, but that didn't stop LG rigging up a dozen panels to wow visitors with eye-popping visuals, all from passive glasses.

Passive 3D on OLED TVs works at treat... at least on the demo reel
Another interesting development was LG's presentation of 4K streaming from HbbTV which, you guessed it, was being touted as another "world first". Before you ask "WTF is HbbbTV", we answered that very same question here.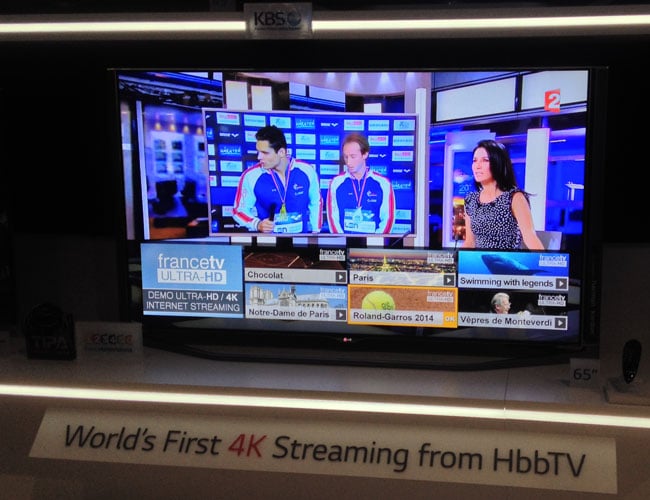 4K streaming on HbbTV – but do we really need it for garish studio presentations?
Besides having a life-sized Android mannequin on stand for photo opportunities in amongst the Ambilight TVs, Philips sidestepped the Samsung v. LG biggest and bendiest battles with its own take on Smart TVs. In recent years we've seen tablets grow to the size of tellies, but Philips has turned things on its head by producing TVs with Android capabilities built in.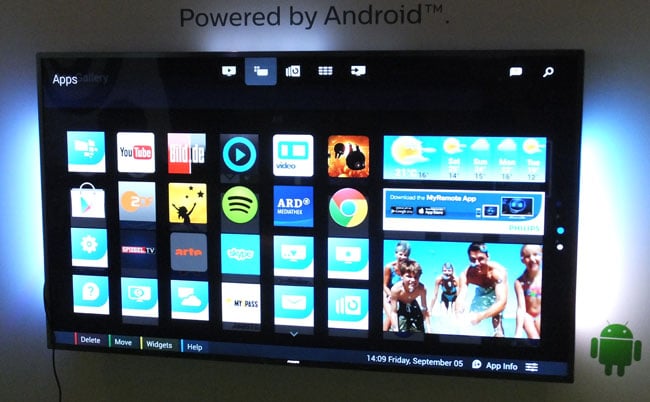 Philips Android TV