WD punts cash at ... no, it couldn't be... another 'tape library killer'?
HGST developing drives for new AmpliStor array
---
+Comment WD Capital has invested $10m in object storage startup Amplidata and has put its HGST unit to work developing a set of high-capacity storage systems with Amplidata, using the latter's Himalaya software. El Reg storage desk believes the end game is intended as a tape library killer.
Verizon is building a Himalaya-based cloud storage offering.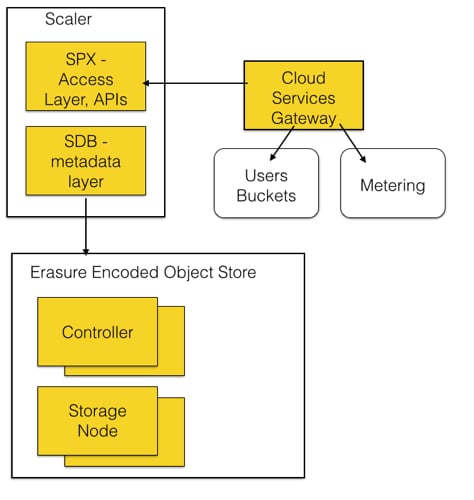 Amplidata's Himaaya object storage software
Amplidata received $11m in a E-round of funding in March, which we thought was a tad ungenerous, considering it builds object storage software and its AmpliStor arrays. Intel Capital led that round and Quantum, which OEMs Amplidata software in its Lattus storage offering, punted in cash too.
Now WD has added $10m to Amplidata's pot which, if we look at it as part of the E-round, makes that funding worth $21m.
Mike Wall, Amplidata's chairman and CEO, was dee-lighted: "We are extremely excited to have Western Digital Capital as a strategic partner and investor."
HGST's Dave Tang, SVP and general manager of its Elastic Storage Platforms Group, declared: "By partnering with Amplidata, HGST aims to leverage our ... storage portfolio along with Amplidata's ... Himalaya object storage technology to enable breakthrough value and scalability for cloud data centres."
+Comment
Does this mean HGST is going to start selling object-based storage arrays for cloud data centres? That's a hell of a stretch for a company used to selling individual disk and solid state drives and neat external storage for consumers' pockets and desktop computers.
The Vulture storage desk is thinking of disk drives with an object storage structure on them, and directly addressed by Ethernet. HGST is working in the Ethernet drive area (see here).
But these little suckers would only need basic get and put object commands. They wouldn't need a whole object storage software suite.
Okay then... try this (hypothetically): Amplidata is going to build AmpliStor arrays using HGST drives optimised/tweaked for being Himalaya storage platters. That sits more neatly as the end-game for this deal, with WD Capital punting in engineering development cash.
And, as a tease, let's suggest that HGST flash might be involved as well, for the metadata handling.
Here's Mike Wall again: "Businesses will be better equipped to face the enormous challenge to manage and leverage their data for competitive advantage by having it all on spinning disks. These new offerings will redefine the storage landscape yet again by allowing businesses to cost effectively keep all their data online."
It seems to us that he's aiming to build a tape library killer – many have tried, all have failed, so if it is true, we wish the two firms the best of luck. ®