Flaming drone batteries ground commercial flight before takeoff
Passenger had Something To Declare, instead fiddled while plane burned
A pile of lithium drone batteries checked as baggage on a flight from Australia to Fiji could have had nasty consequences: a bunch of the Li-Ions burned in the hold of the plane.
Fortunately for the idiot traveller whose baggage declaration said "no batteries" – and the other passengers on the Fiji Airlines flight in April – the fire was noticed before the Boeing 737 left the ground.
Australia's Air Traffic Safety Bureau (ATSB), which has just published its investigation of the incident, says that during pre-flight checks, a ground engineer alerted the captain to "white heavy smoke billowing from the hold". The first officer advised that the aft cargo fire warning light was illuminated; the fire suppression system was activated, and the plane evacuated.
Even when the offending case was removed by fire-fighters and cooled down with a water spray, the passenger denied it contained batteries. The fire-fighters and AFP officers then inspected all bags checked by the passenger and found "19 batteries intact and [an] additional 6-8 batteries that had been destroyed by fire".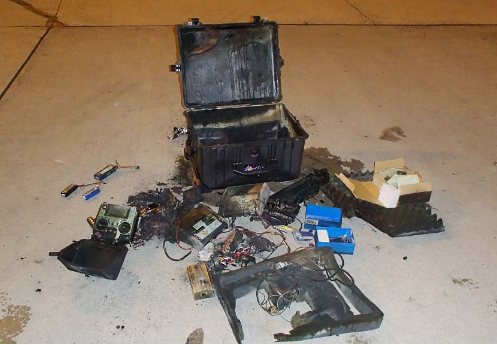 The torched drone batteries. Image: ATSB
The ATSB investigation attributes the fire to a short circuit involving the batteries, drily notes the importance of declaring batteries in luggage, and reminds travellers to pack their batteries properly to avoid short circuits. ®