This article is more than 1 year old
Moto 360 wristputer batt boob, elderly internals revealed in teardown
Motorola says the answer is in the small print after iFixit probe
iFixit's teardown of Motorola's Moto 360 smartwatch has raised eyebrows after revealing a seemingly smaller-than-advertised battery and some very aged components.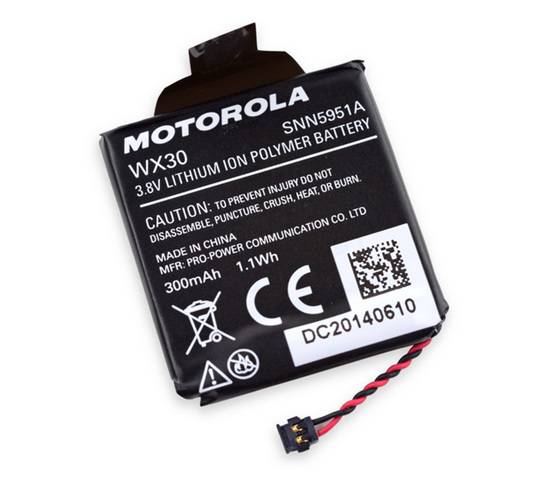 Can't fit 320mHa on there? Er, use a smaller font, maybe?
The team took apart the new Android-powered smartwatch and found that the battery, which is described by Motorola's sales material as 320mAh, was actually marked as 300mAh. The boss of iFixit confirmed to El Reg that the device they took apart was a retail purchase and not a prototype unit.
A Motorola spokeswoman told The Register that, in fact, the 3.8v (1.1Wh) li-ion battery has a capacity of between 320mAh and 300mAh, and it was a packaging decision which had led to the confusion.
"In the mobile industry, sometimes both the minimum and typical capacity is listed on the battery, with the typical capacity quoted as the official battery size," the Google-owned firm added in a statement.
"Both figures are included on the batteries of our Moto X, Moto E and Moto G devices. In the case of smaller devices, we aren't always able to list both figures. For Moto 360 we only had room for one figure and choose to list the minimal capacity of the battery. We see how this can be confusing and we will look into ways to add the typical capacity as well in the future."
Looking at the photo of the battery – designed by Korean biz Pro-Power Communications – it's a bit of a stretch to say there's not enough space to print both figures. And in any case, early reviews of the Moto 360 mention battery life as limited compared to the competition.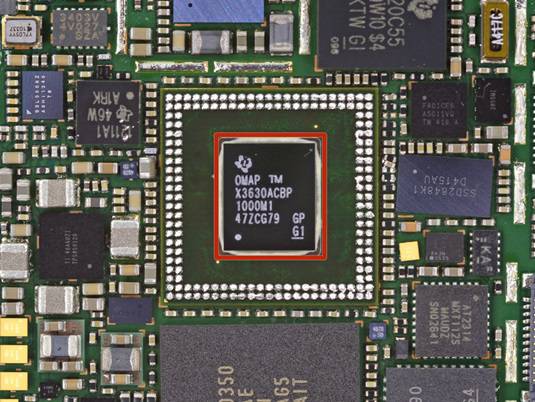 How retro, and cheap
But the iFixit teardown also noted that the Moto 360 also uses old technology: the device uses a Texas Instruments X3630ACBP (OMAP3630) OMAP 3 application processor, which first saw the light of day back in 2010 and which was used in the now-ancient Droid 2 smartphone. It's a 45nm 32-bit ARM Cortex-A8 system-on-chip, essentially.
The gadget also has 4GB of Toshiba flash and 512MB of Micron RAM, plus sensor signal processing, Wi-Fi and Bluetooth transceiver and USB controller chippery from Texas Instruments.
Overall the iFixit team gave the Moto 360 a reparability of three out of ten. The entire unit needs to be disassembled if you want to change the battery, and the same is true for the screen, and doing so breaks the waterproof seals that gives the watch its IP67 water-resistant rating. ®